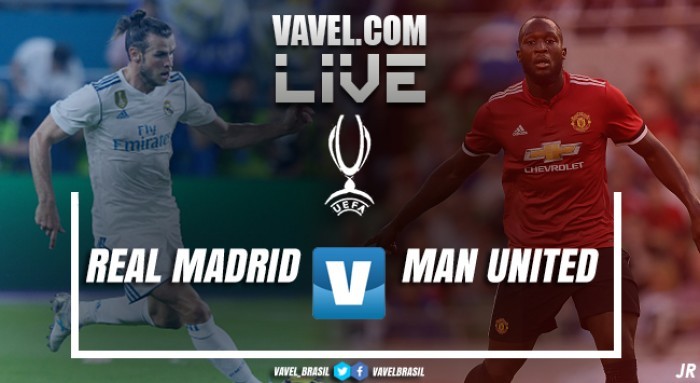 That though brings and end to tonight live Super Cup game between Real Madrid and Manchester United. I hope you have enjoyed our coverage, I have been Brandon Sayer and until next time goodnight.
Well that is that. In the end the game was closer than it should have been for Madrid but they got the job done thanks to goals from Casemiro and Isco. Lukaku was United's goal scorer on the night but it wasn't to be.
Real Madrid have won the UEFA Super Cup!!
90+7' - The referee blows his whistle to end the game. Real Madrid 2-1 Manchester United.
90+4' - Rashford receives a yellow card for bringing Vasquez down on the break.
90+1' - What a save from De Gea! Ascensio thought he had scored but De Gea mad a brilliant diving save to keep the ball out of the net.
90' - The referee has decided to add on seven minutes at the end of the second half.
86' - Ramos is yellow carded for a fouling Pogba who pushed the ball passed him.
84' - Carvajal is yellow carded after tugging Rashford back outside the box.
81' - Rashford should have scored for United after Mkhitaryan played the striker through but Navas managed to divert th ball wide. Ronaldo is now on the pitch to the delight of everyone on the pitch.
72' - The players will now take yet another water break given the heat here in the stadium. Both teams taking on plenty of water at the minute.
62' - Goal for United! Lukaku gets one goal back for United. The goal came after Navas made a brilliant save from a fierce Matic shot but Lukaku was there to stroke the ball home. Game on? We will find out.
60' - Bale hits the crossbar! once again Madrid opened United up with Bale smashing the bar form close range.
56' - Manchester United substitution: Herrera is replaced by Fellaini.
54' - What a chance for United to get one goal back! Firstly Pogba was denied by Navas and then Lukaku's follow up shot went way over the bar when he should have scored.
52' - Goal for Madrid! Isco doubles the Spanish team's lead. A brilliant one two from Isco and Bale ended with Isco being played in on goal and he made no mistake by placing the ball into the net.
48' - Kroos goes close to doubling Madrid's lead but is stopped from doing so by a great diving save from De Gea from the edge of the box.
46' - The referee blows his whistle to begin the second half. Game on!
Mourinho has made a change at half-time with Rashford coming on for Lingard.
Well United will be happy to only be one goal behind given how poor they have played. Casemiro got the goal for Madrid after a long period of sustained pressure. What will Mourinho do to change the game for his side? Stay tuned as we bring you the second half live in a few minutes time.
45+2' - The referee blows his whistle for half time. Real Madrid 1-0 Manchester United.
45' - The referee has decided to add on two minutes at the end of the first half.
42' - Lingard receives the first yellow card of the game for a late challenge on Isco.
37' - Since the water break United have improved slightly but their still finding it hard to break through a stubborn Madrid defence.
30' - It's now time for the scheduled water break and it has probably came at the right for United. Madrid though would not have wanted their momentum to stop.
24' - Goal for Madrid! Casemiro opens the scoring for the Spanish side. Carvajal created the goal with a beautiful through pass which was well weighted for the midfielder to volley home. That was coming to be honest.
16' - Casemiro hits the crossbar! A brilliant corner was whipped into the box by Kroos and the midfielder powered his header towards goal but it came back off the bar. That's a massive let off for United.
10' - After a slow start to the game, United have started to get their game together but some good defending from Madrid manage to keep Mourinho's men out.
3' - Bale almost gives Madrid the early lead. A deflected cross fell into the path of Bale but he put his volley went over the bar when he should have at least hot the target.
1' - The referee blows his whistle to begin the game. Game on here in Macedonia!
No Cristiano Ronaldo for Real Madrid, he's amongst the substitutes. Both teams look like fairly defensive minded picks from their manager's, with Isco part of the Real Madrid front three and Pogba not deployed in a midfield pivot for the Red Devils - Matic starting alongside Herrera.
Real Madrid XI: Navas; Carvajal, Ramos, Varane, Marcelo; Casemiro, Modric, Kroos; Isco, Bale, Benzema.
Manchester United XI: De Gea; Valencia, Lindelof, Smalling, Darmian; Matic, Herrera; Mkhitaryan, Pogba, Lingard; Lukaku.
Here we go, the team news is in!
It'll certainly be interesting to see whether or not Lukaku makes an impact tonight. He had an excellent record against the smaller teams for Everton and it's something that United have been described as buying him for, to help them pick up points against those that will bring the bus. Against the big teams Lukaku would sometimes score but - understandably - didn't have the same effect. To move into the top bracket of European strikers that's something he must change, will it start this evening?
Most of Real Madrid's activity in regards to transfers has been laughing at Barcelona for losing Neymar. They've been fairly quiet themselves, chasing Kylian Mbappe in the background - one that could wait until next summer. After all, back-to-back Champions League wins, why change anything? Dani Ceballos and Theo Hernandez have both been brought in, but most of their movement has been in terms of outgoings. James Rodriguez, Danilo and Alvaro Morata have all gone out of the door.
There will likely be competitive debuts tonight for Romelu Lukaku and Victor Lindelof, possibly Nemanja Matic too. Jose Mourinho reportedly wants one more man in, but three so far is fairly solid. Will any impress tonight?
The last time these two met competitively, they've been known to conduct some high-profile friendly matches, was in 2012-13 - Sir Alex Ferguson's final season. Meeting in the Champions League last 16, United looked well place to go through after taking a 1-0 lead at Old Trafford after a 1-1 draw in Spain, only for a controversial Nani red card to tip the balance in Madrid's favour, second half goals from Luka Modric and Cristiano Ronaldo swinging the tie.
After a disappointing league campaign left them in the Europa League, United sought after it as the best way to qualify for Europe's premier club competition, something that worked for them as they beat Ajax in the final to qualify for the Champions League despite finishing sixth domestically. Tonight's game is an added bonus.
Real Madrid come into this game from their Champions League win. They've been accused of being fortunate with easy draws in recent years when they've claimed the European Cup, but overcame both Bayern Munich and Juventus last season to win the competition for the 12th time.
So, the UEFA Super Cup. We'll be shortening it to the Super Cup fairly soon, because locking in the caps lock button for UEFA every time isn't doing anyone any favours. We have here what is essentially the European Community Shield, kind of. The winners of the Champions League, Real Madrid (again), vs the winners of the Europa League, Manchester United. Arguably the two biggest clubs in the world, playing for a rather nice trophy on a Tuesday evening in Macedonia.
Good evening everyone and welcome to the glitz, the glamour, the showcase clash that it Real Madrid vs Manchester United live score in the UEFA Super Cup! Kick-off in Macedonia, the logical location for such an event, is 19:45 UK time. It's being broadcast around the world, but you're fortunate enough to be with us. We're Brandon Sayer and Oliver Emmerson and we'll be taking you through events as the night goes on. Buckle in!