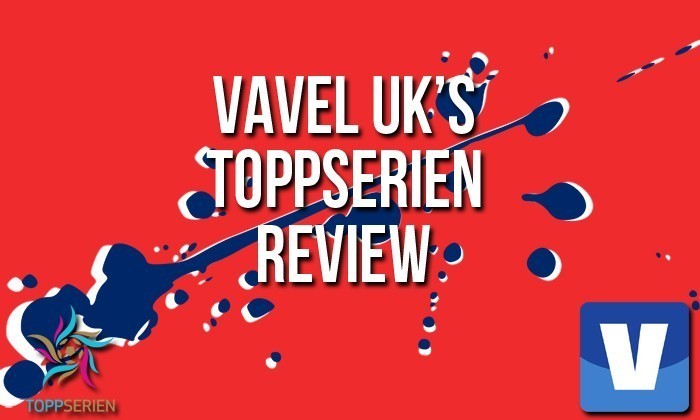 It has been a little over month since we last had any action from the top tier in Norway, but now that the European Championship has concluded it is time to get back into league action for the players.
After game week 12, it was LSK who sat at the top of the table, with a two point lead down to Avaldsnes (and LSK had a game in hand), while Medkila occupied last place with just a single point.
Avaldsnes – Grand-Bodø
Second placed Avaldsnes started the second half of the season with a game against Grand Bodø who are second to last in the standings. Avaldsnes has had the upper hand against Grand Bodø in previous meetings, and have taken five victories and two games have ended in a draw. Avaldsnes have scored 26 goals in their seven previous meetings, while Grand Bodø had scored seven.
Everything pointed to an Avaldsnes victory heading into the game, and Avaldsnes did live up to the favourite tag. When the game clock hit 45 minutes, Avaldsnes were already ahead with 4-0 thanks to a brace from Elise Thorsnes and a goal each from Cecilie Pedersen and Hanna Dahl. The second half was not as action packed, but Avaldsnes did manage to add another goal to the collection, when Francielle got her second goal of the season and ensured Avaldsnes a 5-0 victory.
Also worth noting that Andrine Tomter, who has been ever-present for Avaldsnes the last two seasons, played her last game for Avaldsnes this round, as she has signed for Dutch club FC Twente.
Trondheims-Ørn – LSK
LSK have been the all-dominating force in Norwegian women's football for the past years, where they have won both the league and the cup three years in a row.
They have not lost a league game since November 2015, which is a streak of 35 games and them losing has almost become an unfathomable occurrence. However, Trondheims-Ørn wanted it differently. Going into the game LSK were first in the league, while Trondheims-Ørn was seventh, and everyone expected an LSK victory, but that quickly changed.
It only took nine minutes for Trondheims-Ørn to take the lead, when Julie Adserø made it 1-0. Adserø left Trondheims-Ørn a year and a half ago, but was brought back to Trondheim during this summerbreak, and she made an instant impact. 1-0 became 2-0 and 3-0, with both goals coming from Oda Fugelsnes, before the clock had hit 30 minutes and everyone was stunned.
In the second half Trondheims-Ørn added yet another goal, when the retuning Adserø netted again, and made it 4-0. LSK got a consolation goal through Marte Berget, but to no avail. LSK had suffered their first defeat since a 4-0 loss to Kolbotn back in November 2015.
It was not all great for Trondheims-Ørn since they had to see Andrea Haugstøyl get carried away on a stretcher with a s uspected knee injury.
Kolbotn - Arna-Bjørnar
Kolbotn has had a miserable season so far, and find themselves in the bottom half of the table. Not where last year's fourth placed team expected to find themselves. Kolbotn has been plagued with injuries, which explains some of their poor form.
Unlike Kolbotn, Arna-Bjørnar has had a good season and is in contention for a third place finish. It was a close game between the two teams, where both teams had plenty of chances and it could have gone either way. In the end it went Arna-Bjørnars way when Maria Brochmann found the back of the net after 58 minutes. Kolbotn never found a response and once again had to leave the pitch without any points. With three points, Arna-Bjørnar continues to add pressure on the likes of Stabæk and Klepp in the fight for bronze.
Worth noting from the game was also that Norwegian football legend Solveig Gulbrandsen has had to come out of retirement due to Kolbotns injury issues, and made her second appearance of the season today.
Vålerenga – Klepp
Klepp has been the positive surprise this season and they are very much in the hunt for bronze. Vålerenga on the other hand had a slow start to the season and is only now starting to kick into gear and have started to climb the league table.
There was one goal in the game, and that came after just six minutes when Swedish defender Jennie Nordin once again found the back of the net and made it 1-0 to Vålerenga. That scoreline lasted all the way to the end and Klepp had to leave Norways capital with zero points, while Vålerenga got their fifth victory of the season. There were quite a lot of expectations around Vålerenga going in to the season due to their heavy investment and the signings they made, and it looks like it is starting gel for them now.
Klepp's top scorer and one of the league's big profiles this season Tameka Butt was awarded a red card in the 86th minute after getting two yellows in the span of three minutes.
Stabæk – Røa
The fight for third is a tough one yet again this season. Stabæk, who finished third last year, entered this round in third place and is currently the team with the upper hand, but they also know that every point counts.
They had a game against sixth placed Røa, who are a tricky side for any team to meet, but Stabæk did not need long before they showed that they were ready for this game. One minute and 20 second was all it took for Stabæk's top scorer Melissa Bjånesøy to make it 1-0. Stabæk added to that scoreline right before the half time whistle, when Andrea Wilmann scored her second of the season to make it 2-0. There were no more goals in the game, and Stabæk earned three vital points in the fight for third.
Stabæk also knows that they have played two games less than Avaldsnes who are seven points ahead of them in first place, as well as having a game in hand compared to LSK who are five points ahead of them. Stabæk is very much in with a shot of finishing as league winners.
Sandviken - Medkila
In the last game of the round, last-placed Medkila was up against another team from the bottom half in Sandviken. Medkila have just one point this season, while Sandviken have five points two places above Medkila.
So it was a crucial game for both sides. There has been a number of changes at Medkila over the summer, and one of those changes meant bringing in Jenna McCormick and the 22-year-old Australian made an instant impact.
19 minutes into the game, she rose to meet a corner and her powerful header made it 1-0 to Medkila. The lead lasted until a few minutes into the second half when another debutant got on the scoresheet. This time it was Sandviken's new Danish forward Sofie Bloch Jørgensen who netted. There were no more goals in the game and it ended 1-1 between the two teams.