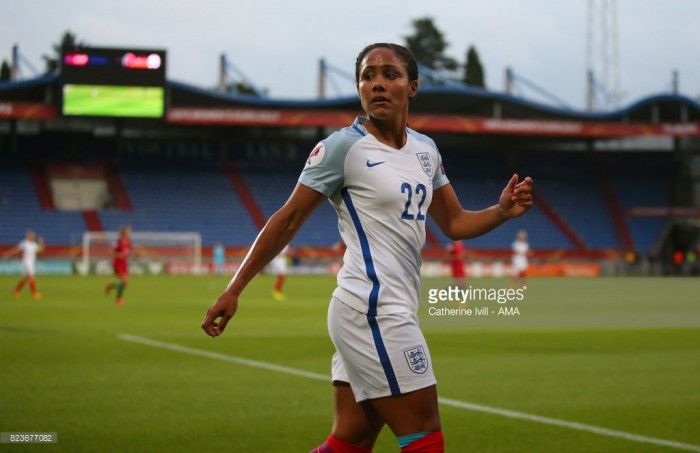 There are very few players who trully define a national team just like Alex Scott. A talismanic figure who has been a role model on and off the pitch for England, since she made her international debut against The Netherlands in 2004. Over a decade later a bitter defeat in the European Championship Semi-Final to the Dutch, will mark her international curtain call.
Whilst the major international honour that Scott craved with England will alude her. The Arsenal defender leaves a legacy and England team inspired and improved in her wake.
Turning the lights out
Scott becomes the latest player post Euro 2017 to announce her international retirement following German striker Anja Mittag. Over the last few years there has been a changing of the guard with England Scott seeing Lucy Bronze making the position her own.
It was a decision that was not taken lightly as she explained in her statement, "Today is the end of a chapter as I turn the lights out on my England career. This decision has not come lightly, but sometimes the right choice is the one that involves some sacrifice."
Reminiscing about her childhood ambition to represent England, playing in the football cages in the East End of London. She probably would have scant belived she would have ammassed 140 caps for her country she added, "My dream as a little girl playing in that football cage in the east end of London was to one day pull on the Three Lions shirt and represent my country. I am so proud and humbled that I managed to do just that."
Scott has taken the opportunity to thank the England backroom staff as well as her team-mates, as she outlined "To every single one of my England coaches and all the backroom staff, the team behind the team, who never get the credit they deserve, you have all played a part in helping me grow into the person I am today. Thank you."
Adding, "To my team-mates, every single one of you. Where do I even begin? I have been so fortunate to be surrounded by dreamers, believers, thinkers, and doers. I feel blessed to have shared my journey with you, and you are all inspirational women who kept a smile on my face during the past 13 years. I cannot thank you enough."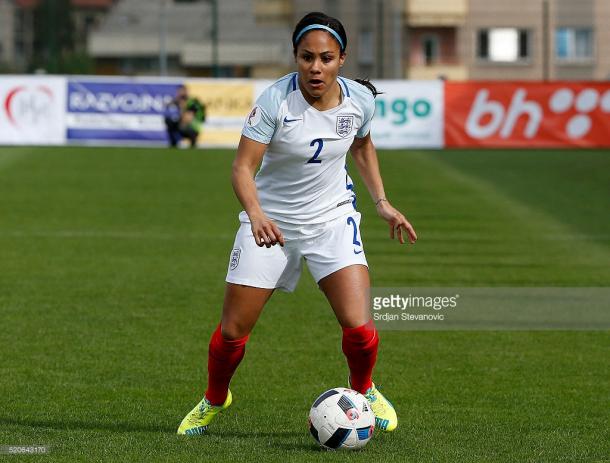 Football in a different place
Kelly Simmons, FA director of football participation and development, praised Scott in bringing the game forward in terms of improving the game, "Alex is a fantastic ambassador for England and the wider women's game both on and off the pitch."
"She is an incredibly talented and hard-working footballer. No doubt the women's game is in a very different place to when she started playing and Alex has played a big role in that. She has always been committed to helping grow the game and has inspired many young girls to kick a ball or watch a game."
Second only to Fara Williams in terms of caps, it will come as little surprise that England manger Mark Sampson believes Scott is one of the greatest players to ever wear an England shirt, as he explains, "Alex has established herself as one of the greatest players to ever wear the England shirt, a jersey she graced on 140 occasions."
Further adding to his admiration of the defender, "Alex has given women's football fans all over the world so many great memories with her performances for England. Her talent and work ethic are the qualities anyone who has had the pleasure to watch her play will remember."
In 2012 the world's attention firmly focused in on the United Kingdom as the Olympic Games caught the imagination of a global audience. Scott was firmly front and centre of Team GB's first and only women's football team. Featuring in Team GB's memorable 1-0 over Brazil in front of a 70,584 Wembley Stadium crowd, providing the women's game with a major water-shed moment. Scott further garnishing respect for her performances and status within the global game.
International retirement leaves broader game that much richer
Off the pitch she has been a core figure and advocate in ensuring young girls and women feel empowered through the sport. As one of games pioneers Scott's decision may leave England poorer. The decision to call time on her international career will undoubtedly make the wider game richer.Enabling Scott to invest more time into engaging with projects like Save the Children's project to build football pitches in Iraq, which she supported.
Scott's responsibility and ethos in using her status within the game to enact positive change is clear, as she outlined before going to Brazil to see preparations for the Street Child World Cup in 2013, she said "It is up to us to go back into our communities and say look there is different path you can take"
Scott is currently in pre-season preparations with Arsenal ahead of the new FAWSL season.