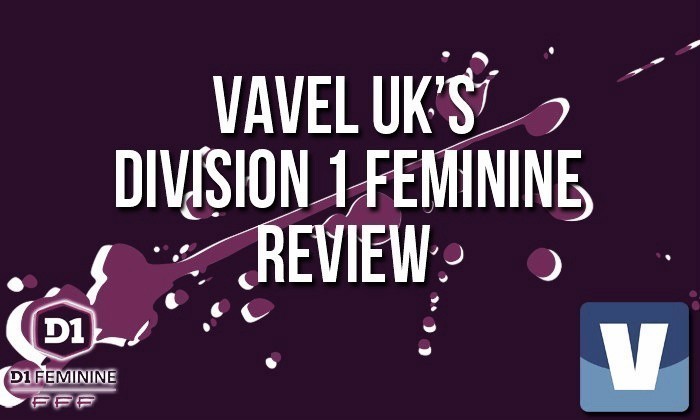 The first week of the Division 1 Féminine started off today and both Olympique Lyonnais and Montpellier HSC put on a show for their watching fans while newcomers, Lille OSC, put in an impressive performance to start their first division campaign with three points.
OL blaze past Rodez in their opening match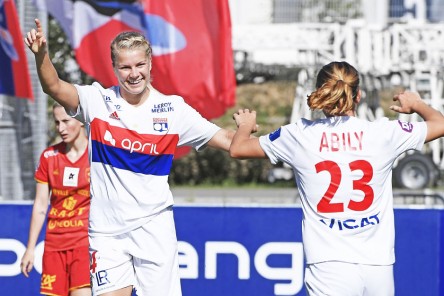 The current champions may not have the services of Alex Morgan any more but scoring goals was never a problem for them and they showed that with a rampant 7-0 win over Rodez AF to open up their campaign.
At the midst of OL's performance were goals from Ada Hegerberg and Eugénie Le Sommer who look ready to start their battle for top goalscorer in the league once again. Hegerberg opened the scoring in the ninth minute and added her second of the game one minute later.
Le Sommer then nabbed her first goal of the season in the 25th minute and Hegerberg made it four without reply in the 41st minute.
The second half was no different as OL continued to overawe Rodez with their quality on the pitch. Le Sommer made it five in the 77th minute and then Kheira Hamraoui got her first goal of the season in the 79th minute. Hegerberg then completed her hat-trick in the 82nd minute, completing an emphatic performance from the favourites to retain their league title.
Rodez knew they were in for a tough start to the season but their collapse in the first half and in the latter stages of the second half will be a cause for concern for manager Sébastien Joseph. The team finished in a disappointing eighth place last season and will want to quickly put this performance behind them if they are to avoid a similar season to the last.
Montpellier match OL step-for-step with win against Albi
After a late surge in the latter stages of the last season to finish in second, Montpellier were determined to prove that those performances were not a fluke. Instead, they pulled off an impressive 7-0 win over ASPTT Albi, placing them on equal footing with OL at the start of the season.
New singing Katrine Veje had a fantastic start with her new team as she gave them the lead in the 23rd minute which was followed by a 27th minute goal by Montpellier's stalwart Valérie Gauvin.
The away side had to wait until the 65th minute to extend their lead through Clarisse Le Bihan and then Stina Blackstenius nabbed two goals in the 75th and 88th minutes of the game. There was still enough time left for both Manon Uffren and Le Bihan to make the score 7-0 by the time the final whistle blew.
Albi were no match for Montpellier today and it showed. The home side struggled to cope with the creativity and pace that Montpellier have up top and a scoreline of 7-0 did not flatter Montpellier when all was said and done.
Albi will be looking to do better than a ninth place finish this year but this is not the start they would have wanted.
Sarr caps her first hat trick in D1 to push Lille past Bordeaux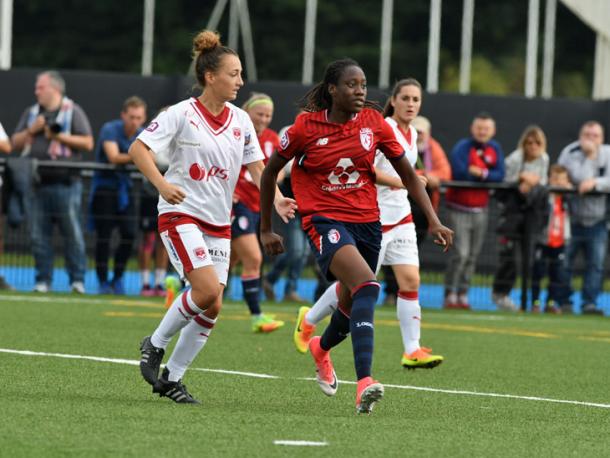 This was one of the more surprising results of the weekend as Lille started their first division campaign with a great 3-0 win over FC Girondins de Bordeaux. Former Paris Saint-Germain striker Ouleymata Sarr was the pick of the players as her hat trick earned her new team their first win the D1. Sarr got her first goal of the day in the tenth minute, added her second in the 21st minute and then finished things off in the 78th minute. Lille could not have picked a better start to their campaign and will look forward to surprising more teams as the season rolls on.
Bordeaux will not be happy with how easily Sarr got by their defenders and if they want to stay in the first division, they will have to win games like this, against teams that are considered to be in a battle with them to avoid relegation.
Paris FC get their new lease on life started the right way
After merging with FC Juvisy, Paris FC showed no signs of assimilation issues as they picked up a 5-1 away win at newly promoted FC Fleury. Captain Gaëtane Thiney was the star of the show as she also opened her campaign with a hat trick. Thiney got things started off in the sixth minute with the opening goal of the match but Fleury responded four minutes later through Charlotte Fernandes to level things up. Inès Jaurena then put Paris ahead in the 13th minute and the score remained at 2-1 when the half time whistle blew. In the second half, a more composed Paris FC side made their quality count as they poured on the attack. Camille Catala made it 3-1 with a goal in the 47th minute and then Thiney completed her hat trick with goals in the 52nd and 73rd minutes of the game.
This was exactly the kind of start that Paris FC would have wanted this season as they look to put Juvisy's past failures behind them and challenge for top honours once again in France. As for Fleury, they were given a very harsh introduction to the first division and will now know what they are up against in order to survive their first season in Division 1 Féminine.
Paris Saint-Germain drop points against Soyaux
Last season was one to forget for the perennial second place finishers, PSG and this 1-1 result against ASJ Soyaux will not calm fears that this season could be different from the last. In what should have been a straight forward win after their rivals had picked up three points with ease, PSG succumbed to a 90th minute goal by Siga Tandia and had to settle for an opening home match draw. Things had started well for the home side when Marie-Antoinette Katoto had given them the lead in the 29th minute but they did not capitalize on the chances they created after that goal and paid for it. The lapse of concentration right at the end of the match will not please Patrice Lair and it will not ease fans' concerns either.
As for Soyaux, they will come away from this match buoyant with an unexpected result against a team that is considered one of the best in the league. It will also help their self-belief as they look to better their seventh place finish from last season.
Marseille and Guingamp see out a 0-0 draw
Last season's dark horses, Olympiqe de Marseille, could not find a way past a solid EA Guingamp and saw their first match of the season end in a deadlock. The home side would have liked to come away with an opening day win but will take solace in the fact that many teams around them were soundly beaten and that a 0-0 draw will be a good platform to build off of this season. Guingamp themselves will be of a similar mindset, knowing that a point away on the first day of the season could be what they need to try and finish higher up the table this season.