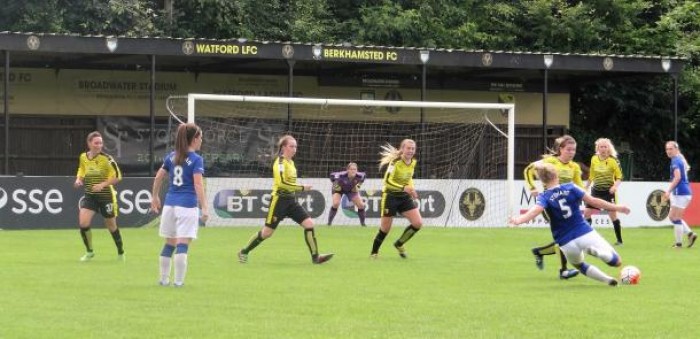 With as many wins (two) in nine Spring Series matches as they managed over the entire 2016 season (18 matches), Watford have picked themselves up off the floor of WSL 2 and finally look to have found safety.
Rocky beginings
Since their first season in WSL 2 where they finished seventh with a record five wins and three draws, Watford have at times, appeared in free fall, finishing dead last in both 2015 and 2016 with five and seven points respectively.
Another WSL 2 side short on funds, the team are a far cry from the side they once were and looked set for implosion come the eve of the Spring Series, the side having to cancel a cup match against the Belles at the eleventh hour.
Radio silence followed, before the club announced Keith Boanas as the new head coach, the club finally looking to have a modicum of direction once more following the departure of Katie Rowson part-way through the previous season. Boanas quickly did all he could to strengthen the side and ready them for the Spring, notably bringing in England youth international Rinsola Babajide from Millwall – the 19-year-old attacker surely one to watch.
Elsewhere in Herts
The Spring Series also brought about a relocation from Berkhamsted to Kings Langley and the hopes of a better pitch to play on in Hertfordshire. Routinely blown out of the water during their tenure in WSL, whilst their first five match of the year brought about no wins (though two draws) the team consistently scored goals and only lost by one each time out, a trend that carried until the last day of the mini-season (a 4-0 at Goodison Park the only exception).
Their 12 goals in nine matches just one shy of their 2016 haul and the same as their 2015 total, though in both 2015 and 2016 they'd played double the games. Only 17 goals conceded in the Spring a far better return than the three full seasons previous, even if you were to double the total – the Golden Girls having been suckered for 53, 55, and 37 (working backwards).
More resolute under their new coach, Boanas has used the summer to strengthen too bringing in Bianca Bragg, Sarah Jones, Kylie McCarthy, Laura May Walkley and Ellie Sargent as Fran Kitching has joined on loan from Chelsea. As Lauren Jordinson and Lucy Gillett have both departed, Boanas can also boast the addition of former Watford-favourite, Helen Ward. The Welsh record-holder and local girl potentially set to be one of the most important signings across WSL this summer, the attacker bringing vastly needed experience.
Finally looking like a side ready to compete once more, Boanas will be hoping to turn the 2-1 and 3-2 losses from the Spring into wins and guide Watford to a safe finish that didn't seem at all likely at the start of the year.