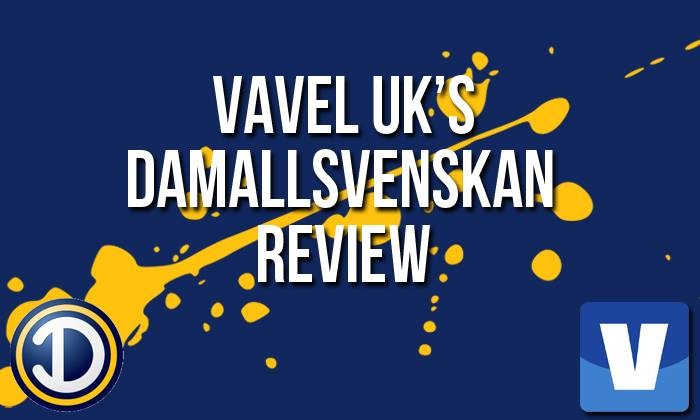 There was plenty to dissect from the 17th match-day of the Damallsvenskan as league leaders Linköping moved further clear at the top of the table.
FC Rosengård's bad form continue as they lose to Kristianstad
FC Rosengård took on Kristianstads DFF away from home in the first of two Skåne derbies this weekend. It was the first game in charge for interim manager Malin Levenstad after Rosengård mutually terminated Jack Majgaard Jensen's contract a few days ago.
Rosengård's ambitions of winning the league took a serious dent when a well-playing Kristianstad team became too much for them.
The hosts took the lead when Amanda Edgren stormed down the left side and delivered a great cross for Alice Nilsson, who fired past Erin McLeod in Rosengård's goal on 21 minutes.
Rosengård came back in the 35th minute when a short corner led to Iva Landeka delivering an inch perfect cross to the back post, where Caroline Seger headed past Brett Maron.
Parity lasted until 10 minutes into the second-half when Tine Schryvers scored directly from a free-kick to not only secure her side all three points, but post a Goal of the Year contender.
The loss means that Rosengård have now gone four league games in a row without winning.
Vittsjö take all three points against LB07
In the other Skåne derby this weekend, IF Limhamn Bunkleflo (LB07) welcomed Vittsjö GIK. The first-half was uneventful, but the second-half was less than five minutes old when Vittsjö were awarded a penalty.
Their top scorer Linda Sallström made no mistake from the spot and gave Vittsjö a 1-0 lead. LB07 thought they had equalised shortly after when Eveliina Parikka had the ball in the net, but after deliberation between the referees, it was ruled offside.
Not long after, the result was cemented when Osincachi Ohale scored a header and made it 2-0 to seal three points.
Goals galore as Göteborg and Kvarnsveden draw
Kopparsberg/Göteborg FC's game against Kvarnsvedens IK was a really important one for both sides in their fight to avoid relegation.
Göteborg were second-bottom in the table before this weekend, while Kvarnsveden were above the relegation zone - just one point ahead.
The away team got the best start to the match when Temwa Chawinga cleverly rounded a defender and played a ball in to her older sister, Tabitha Chawinga, to score her 22nd goal of the season.
Göteborg had plenty of chances to get back into the game, and eventually did through Elin Rubensson, who took advantage of a great pass from Nathalie Persson and made it 1-1.
However, just four minutes later Kvarnsveden took the lead once more when Elizabeth Addo connected with a cross from Agnes Dahlström and made it 2-1.
Dahlström was also the creator of the fourth goal in the game, but unfortunately for Kvarnsveden it was a header into her own goal. That levelled the score at 2-2, which was how it finished.
Important win for Hammarby against Eskilstuna
It was top versus bottom when Eskilstuna visited Hammarby. With a win, Eskilstuna could put serious pressure on Rosengård in second, while a win for Hammarby could put some distance between themselves and the relegation zone.
For a long time it looked like the two teams would share the points, but Hammarby nicked all three points when Julia Zigiotti Olme connected with a cross from Filippa Angeldahl for a 1-0 win.
That ensured three important points for Hammarby, who are now four points ahead of Göteborg. Eskilstuna, on the other hand, missed a golden opportunity to put more pressure on Rosengård and are still six points further back in third.
Piteå eyeing bronze after win against KIF Örebro
Another top versus bottom encounter saw KIF Örebro travel to the north of Sweden to play Piteå IF. While Piteå enjoy being a part of the medal fight, KIF are last in the table and have had a season to forget thus far.
It was a long afternoon for KIF who had just one shot in the game, while their opponents from Piteå had 13. Piteå's strong central defender Faith Ikidi scored two goals in the second-half and thereby secured Piteå a 2-0 win.
That result means that Piteå move up to fourth place with the same amount of points as Eskilstuna in third. KIF remain last, but they know they only need three points to catch up to Kvarnsveden.
Linköping takes a big step toward the title as they defeat Djurgården
With Rosengård losing to Kristianstad, Linköpings FC were in prime position to take a serious step towards the title. They did, however, have a tough game against Djurgårdens IF on their hands.
The first 20 minutes of the game were even between the two teams, but two quick-fire goals from Kristine Minde and Anna Oscarsson gave Linköping a 2-0 lead going into half-time.
Djurgården got back into the game in the second-half and created a number of chances. One of those chances came after a corner, where a scramble in the box resulted in a combination of Djurgården's Mia Jalkerud and Linköping's Maja Kildemoes putting the ball past the keeper to make it 2-1.
Djurgården pushed hard for an equaliser, but Linköping stood firm and took all three points.
The result means that Linköping now have a nine point lead over Rosengård. Piteå overtake Djurgården in the table, but Djurgården are still just two points behind third-placed Eskilstuna.