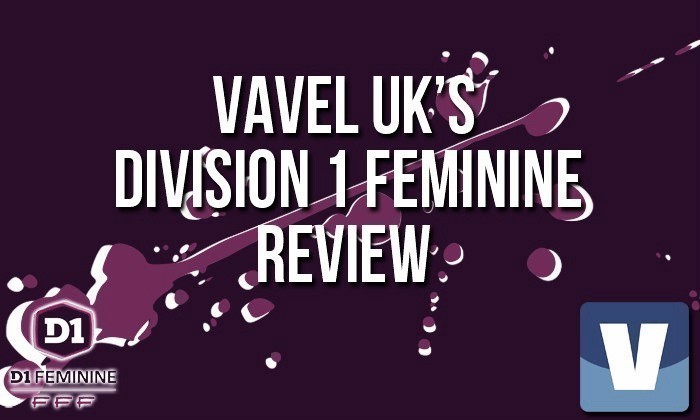 The key match up of Week 4 in the Division 1 Féminine saw Olympique Lyonnais travel to Montpellier HSC to see which team would create some daylight at the top of the standings. Paris Saint-Germain and ASJ Soyaux also had meaningful games this weekend that saw them rise up the table.
It took only 23 minutes for Ada Hegerberg to breach the home side's defense and OL did not look back from that, instead going on to score four more goals in a dominant 5-0 win over Montpellier.
Shanice van de Sanden, who has settled in well at OL, and Dzsenifer Marozsán worked the ball between them before finding Hegerberg who thumped the ball home. Sakina Karchaoui made it two in the 51st minute when Eugénie Le Sommer's ball evaded van de Sanden who made a run to the near post but found Karchaoui unmarked and able to make it 2-0 to the visitors.
Le Sommer made it three in the 59th minute when she feinted one way before finishing the other way after Camille Abily had played a great ball in to her. OL weren't done and Kheira Hamraoui was next on the scoresheet, making it 4-0 in the 66th minute. Marozsán made it five late into stoppage time after Méline Gérard had raced out to close down Le Sommer. The French international unselfishly passed it to her teammate Marozsán who put the ball away into an empty net.
This was not at all the scoreline many had expected when they tuned in on Saturday afternoon to watch two of France's powerhouse teams go head-to-head. Not only were Montpellier ripped apart by a vibrant OL but they could not muster enough shots to trouble Sarah Bouhaddi in the other goal.
Players like Stina Blackstenius who has been in great form this season, barely got a sniff and what had previously been a stern Montpellier backline had no answers to what OL had in attack. The season is far from over but OL definitely shown that they are more than ready to compete for another league title and it will take some doing to stop from doing so once again.
PSG had no problem in finding three points against an EA Guingamp side that is struggling for form this season. Once again, the striking pair of Marie-Antoinette Katoto and Marie-Laure Delie were the most exciting duo on the pitch for PSG as they continue to develop what could be a frightening attack in the near future.
Ashley Lawrence got forward well before delivering a cross into the box that Katoto made a diving header for to give PSG the lead in the 29th minute. Maévane Drozo then compounded her teams problems when she deflected Eva Paredes' cross straight into the path of Delie in the 41st minute and the French international was not going to miss from close range. Delie added her second of the day in the 69th minute when Jennifer Hermoso found her in the box with a good pass and it was pretty much game over after that.
The win pushes PSG into second place and only two points away from OL as the Parisiennes look to put behind what was a bad season by their standards last year. Guingamp knew that they would have a tough time of it against a team with the quality that PSG has and the result did not do anything to dispel prematch predictions. The loss leaves the home side with just two points this season and sitting in eighth.
By the time ASJ Soyaux kicked-off their match against Fleury 91, they knew that a win would push them into third place, a position that not many would have seen them be in at this point in the season. It was more difficult than they would have imagined to get the three points but a 2-1 win was the end result on Sunday afternoon.
Siga Tandia started things off after the home side had began the game brightly with a goal in the 27th minute. Elba Vergès sent in a free kick that found the head of Anna Clérac who then nodded the ball back to Tandia to give Soyaux the lead. Some quick thinking by Justine Deschamps gave Soyaux the second of the game when she took a short throw-in that found Laura Bourgouin who then marched into the box before finishing past the goalkeeper. Julie Rabanne got a consolation goal for Fleury in the 71st minute but it was not enough to give them anything more than a loss.
Soyaux, thanks to their win and Montpellier's loss, are now in third place after four games. It might not be where they end up by the team the season ends but they have started of the season well, picking up three wins and a draw, and will want to keep their momentum going for as long as they can. Fleury registered their fourth defeat in a row and are looking like the first division may be a step too far for them. They've only managed to score two goals but concede 14 which leaves them right at the bottom of the division at this stage of the season.
Gaëtane Thiney continued to lead her team by example as she scored a brace in a 4-0 win over Rodez AF for Paris FC. Her first goal came in the seventh minute when a long ball over the top allowed Paris FC's captain to race through, and then proceed to lob the goalkeeper who had tried to close down Thiney.
The second goal came in the 26th minute when Thiney found Théa Greboval on a set piece which Greboval then nodded on and then Clara Matéo added the finishing touch. Thiney was again the architect of the third goal when she found Camille Catala in the 77th minute inside the penalty area and the striker got her second goal of the season. Thiney then ended the scoring with her second which she finished off of a rebound of a Catala shot in 87th minute.
The win lifts Paris to fifth place and only three points off the top of the table. The team seems to have taken all of their shortcomings from last season and used them to become a stronger force this season, and so far, it seems to be working. Rodez, on the other hand, are spiralling.
After being the surprise story of the league two seasons ago, they finished just above the relegation zone last season and so far this season, have only managed to get one point. It's early days yet in the season but if Rodez want to avoid another 'fight for survival' this season, they will need to find some form soon.
Another team that is struggling this season after performing so well last season, is Olympique de Marseille. The team lost key players during the summer transfer window and those that they brought in as replacement have not made the impact that the coaching staff would like.
Marseille went down to a 1-0 loss against FC Girondins de Bordeaux. It took the home side until the 89th minute to find the breakthrough and it came via a goal by Juliane Gathrat. Before that, neither side seemed to be able to create many chances and the match looked like it would end in a draw but Gathrat had other ideas and helped her team to a big three point.
Bordeaux have jumped into sixth place after this weekend and will be looking to keep high up the table after the international break as well. Marseille on the other hand, sit in ninth with only one point in four games. For a team that finished just outside of the Champions League spots last year, Christophe Parra's side is having a difficult time asserting themselves this season.
Lille OSC Métropole are finding ways to secure the points they need to stay in the top division for another season after gaining promotion. This weekend, they pulled off a 1-1 draw against ASPTT Albi but will be slightly disappointed at not finding a way to win the game after giving away their lead in the first half. Ouleymata Sarr started things off in the 25th minute but the lead only lasted less than ten minutes before Kimberley Cazeau drew Albi level. That was how the game ended as neither team could get the game-winning game.
Albi move out of the relegation zone into tenth due to goal difference and will want to keep things that way for as long as they can. Lille may not have gotten the win but will be happy with their seventh place in the standings right now as it puts them three points away from the teams near the bottom and gives them a platform to build off of in the future.