Sheffield Wednesday manager Carlos Carvalhal was left frustrated once again following his side's 1-1 draw with Barnsley in The Championship at Hillsborough on Saturday afternoon.
The Owls had a number of great opportunities in front of goal in the first-half but were only able to find the back of the net once through a scuffed Adam Reach strike. The home side were punished for not taking their chances in the second-half as Harvey Barnes' superb effort secured a share of the spoils for the away side.
Carvalhal was left to rue these missed opportunities. He said: "Before we scored our first goal we had three, four or five clear chances on goal to score, even in the first 15 minutes. We achieved one, we tried to find the second."
He added: "We are in one period where to score one goal we must create six or seven chances. This is the period that we are in."
Barnes' superb strike difficult to prevent
Carvalhal does not believe his defence could have done much more to prevent Barnes from cutting in from the left-hand side and curling in his second-half equaliser. He stated how credit must go to the 19-year-old for what was a stunning effort.
He said: "They score one goal because it was credit to them not because we did any kind of mistake. They scored one goal in maybe two, maximum three situations (where they had a chance to score). We had much more than this."
He added: ​"They play hard, they play compact, they scored one goal but they played against an opponent that created a lot of chances to win the game. I think we deserved much more than we achieved today."
A torrid run of form continues
This result means that Wednesday have now only won one of their last seven Championship matches. For a side that was expected to be challenging for automatic promotion, this is simply not good enough. However, Carvalhal believes that his side's luck will change and that they will go on a good run to take them up the table.
Carvalhal made comparisons to Wednesday's 3-0 win over Leeds United at Hillsborough a couple of weeks ago which is arguably his side's best performance to date.
He said: "That day we created five chances and scored three, today eight or ten and scored one."
Due to Wednesday's poor run of form, Carvalhal is starting to come under increased pressure from the club's supporters as boos rang out around Hillsborough once again at full-time. However, Carvalhal believes that this reaction was very different to the one that followed their 2-1 defeat away at Bolton Wanderers.
He felt that the reaction was not because "we did not run, we did not fight, we did not create chances" but was instead purely frustration that his side did not get the result that they deserved.
The 51-year-old Portuguese manager understands that the only way to stop the rot and turn his side's form around is to "win as soon as possible."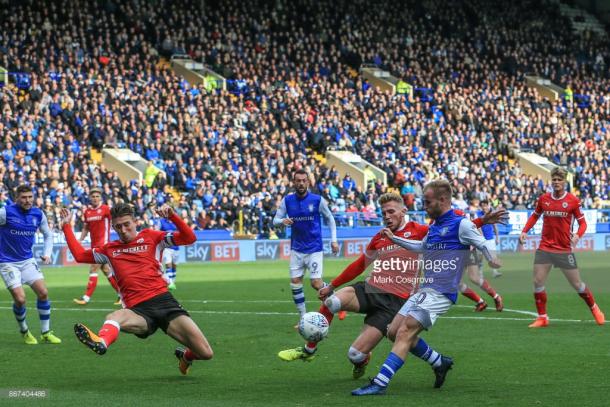 What next for Wednesday and Carvalhal?
The good thing about The Championship being such a demanding league is that there is always a chance to respond from a defeat quickly. This is exactly what Wednesday will be looking to do on Tuesday night when they welcome Neil Harris' Millwall side to Hillsborough.
One player who might be unavailable for this clash is Daniel Pudil who was substituted off with a muscular problem against Barnsley. This could reopen the door for Morgan Fox who had been dropped from the starting line-up purely because Pudil had been "training very well".
However, one boost for Carvalhal is that captain Glenn Loovens will return after serving his one match suspension for his dismissal against Derby County last weekend.
Carvalhal believes that Millwall will pose a very different test on Tuesday night for his side to contend with.
He said: "I believe it will be more different. It will be more physical. It will be different for sure."