Barnsley manager Paul Heckingbottom was delighted with his side's second-half response to claim a 1-1 draw with Sheffield Wednesday in The Championship at Hillsborough on Saturday afternoon.
The Reds really struggled to gain a foothold in the first-half and deservedly went into the break 1-0 down courtesy of a scuffed shot from Adam Reach. However, Heckingbottom made some important changes at half-time that changed the game and Harvey Barnes' sublime equaliser secured his side a share of the spoils.
Heckingbottom believes that in the end, a draw was a fair result despite Wednesday squandering a number of opportunities in the first-half.
He said: "I always want three points but I think we have to sort of take that in the end, especially after the start we had."
Half-time change makes huge impact
Heckingbottom recognised that his side could not get anything out of the game if they did not make a change at half-time. This resulted in him making the tough decision to take off 22-year-old winger Mamadou Thiam and scrap the 4-4-2 formation from the first-half in favour of a shape that was better suited for his squad.
He felt that the 4-4-2 set-up was not working due to individual players "not carrying out instruction" and making it very difficult for themselves. Heckingbottom felt that his side "had lots of things wrong" in the first-half.
He added: "We have been working hard on the 4-4-2. First-half we looked a threat on the counter but when we countered we got countered back. When we lost it (possession), we were wide open."
It was clear for everyone to see that a change had to be made if Barnsley were to get back into the game and it was one that paid off for Heckingbottom and his side. He said: "We had to do it. It was something that needed to be done to give us more of a foothold."
However, Heckingbottom felt that it was the determination and character of his side that got them back into the game and secured them a very valuable point. He said: "It takes a lot to then turn that round. The determination, the running power, the determination to put their body on the line is what got us back into that game."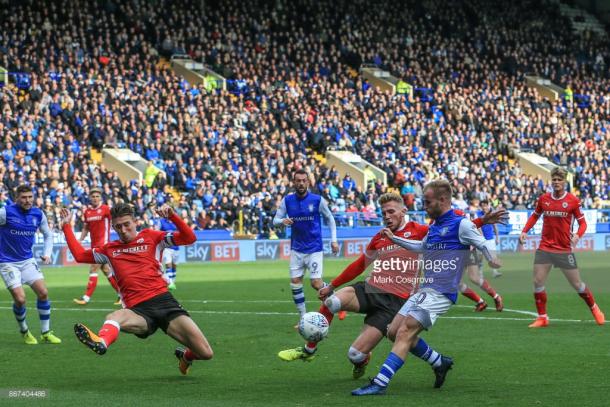 Reds looking to get better all the time
Heckingbottom was not surprised with 19-year-old winger Barnes' stunning effort in the second-half to secure his side a point as he knows what he is capable of. He said: "We know he can do that."
However, the 40-year-old manager was quick to point out that he still has a lot to learn about his players and that they have a lot to still improve on.
He said: "We are trying to learn about the players all the time and the players are trying to get better all the time."
Unlucky not to claim all three points
The first-half was largely dominated by the home side, much to Heckingbottom's knowledge. However, the Reds were much-improved in the second-half following the tactical change and possibly could have even claimed all three points had they been more clinical in front of goal.
He said: "Yeah we had a few (chances) throughout. (In the) second-half Harvey hit the bar, we had a goal disallowed. We had good opportunities and we got into other good areas. I always say that you get what you deserve in a game."
​Next up for Barnsley is a trip to struggling Burton Albion at the Pirelli Stadium on Tuesday night and Heckingbottom hopes the Reds can use this point as a springboard to go on a good run of form.
He said: "I hope so. We try the same in every game."