 A Melbourne native who's been playing for Brisbane since 2009, Emily Gielnik has been making herself known to audience across the world since she was a teenager, the rangy attacker having plied her trade in England, Canada, Japan and most recently Norway with Avaldsnes during the summer months in the northern hemisphere.
An Australian international who's keen to stay sharp and continue her footballing development, we caught up with Gielnik at the end of the Toppserien season, moments after the 25-year-old had helped Avaldsnes win their first Norwegian cup.
As anyone who's ever been in Norway in the winter has said, "it's cold, I'm cold."
With the Norwegian league running from April to the start of November, Gielnik has been exposed to temperatures well below what most Aussies can deal with, the first word out of the attacker's mouth when asked about adjusting to the Scandinavian league, "Cold."
She continued, "It different to Australia, that's for sure. But it's good, it's similar football just a little different style but the main part is, back home it's the off-season so it's good for me to be playing games, but it's been nice, a big change… mostly the weather."
With the main bulk of W-League players splitting their time between the Australian league and the American NWSL, so they can play all year 'round, Gielnik is one of the handful who opted for Europe over North America to keep herself at the top of her game,
"Before coming here, the goal was to score ten goals but I'm on eight, so that was a bit disappointing. The goal was mainly to get as many games as possible and get in good condition for when I go home and be in good condition for the Australian national team – and I've been away with the Matildas twice since I've been here so it's been good."
Friends and teammates
Far from the only Antipodean in Toppserien this year, Gielnik has been in good company at Avaldsnes and admits it's been comforting to have other Aussies around her,
"Even though everyone speaks pretty good English over here, it helps having someone you know with you and I've ended up growing closer to the girls and they all happen to be in the national team too so it's been nice to bond with them and have someone to talk to who enjoys speaking English because most of the Norwegians don't like speaking English (but they are pretty good at it)."
Though Chloe Logarzo had already returned home for the start of the league season and teenager, Ellie Carpenter was only in Rogaland for the first half of the season, Gielnik has been happy for their companionship, as well of that of defender, Gema Simon,
"But at the same time, I've been overseas when I've been by myself and you just become friends with everyone and I'm kind of one of those personalities where I can grow to like anybody but it has been really nice having the Aussies here."
With the focus on getting her teeth sunk into the 2017-18 season with Brisbane, Gielnik is undecided on her future beyond February but remains happy to take herself out of her familiar Australian bubble and explore football across the world,
"In Europe? Maybe. In Norway? I'm not sure. I'm sort of that player that I like to explore and experience a team and a place once, whether it goes well for me or not, and move on and try to grow as a player and see what's out there for me. But as of now, I don't plan to go overseas next year but in terms of my development and everything else if the opportunity arises I might take it."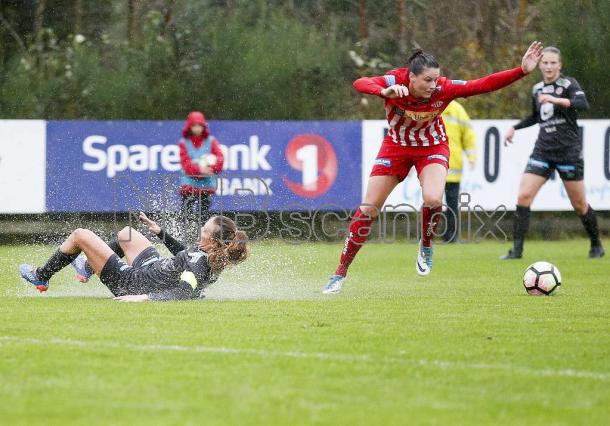 The Mighty Matildas
With women's football in Australia enjoying a boom, the team looking like one of the strongest in the world ably led by Alen Stajcic and home crowds surrendering their hearts to the Matildas, Gielnik is one of the players at the heart of the mini-revolution.
"It's been a gamechanger this year, the last games we played against Brazil, we had 15-17, 000 people at them and we played some good games there. And our previous tournament in America, the Tournament of Nations," America, Brazil, Japan and Australia's answer to what to do whilst UEFA teams were keeping themselves occupied at the European Championship, "we won that and things have just changed over the last one to two years with our new coach."
A team that excites on the pitch, the Matildas are on the cusp of marrying their superlative form and maybe, at long last, the touch of luck a team needs to go on grab major honours. The team experiencing a boost on and off of the pitch, the players coming through giving to a golden generation,
"There's just a lot of development and growth happening and it's just exciting especially now… I feel that we're not on the same level of respect as the Socceroos but back home women's football is getting there and the Australian women's national team is getting more recognised and it's been really nice."
The Asia Cup looms in the near future for ACF teams hoping to qualify for the 2019 World Cup in France, barring a major disaster, Australia is sure to take one of the five qualifying berths. In a tough confederation, the Matildas are likely to have the chance to flex their muscles against notoriously tricky national teams, China and Japan, the greater goal for Australia; to be top of the world rankings.
"For us we want to be number one, right now we're sitting in the top six. We've only beaten the USA once in 28 years so we want to beat them consistently from now on. But it's not just the US, we want to come up against the best like Germany, Brazil and Japan and beat them, constantly."
Having already beaten the Netherlands, China, Japan, the US and Brazil (three times) this year whilst looking stylish and sleek on the pitch, the team growing with stature every time they took to the turf, Gielnik senses a world shift, the Matildas the emerging force in women's world football,
"We used to fear those kinds of teams but now, I feel like times have changed and we're the team to fear so it's a really nice change and we're only getting better from here and I think good things are going to start to happen in the World Cup and the Olympics for us."