Today Sheffield United have unveiled development plans for an extension to their stadium following an outline consent first granted in 2009.
Alongside the proposed extra 5,400 seats to the South Stand include new executive boxes, media centre and changes to the Cherry Street car park, slightly reducing the existing capacity of 310 but allowing spaces to be spread between the ground and new basement level.
The Blades had previously outlined these plans when Premiership football looked likely, but relegation to League One in 2011 scuppered this.
Some key elements of this design include four semi-circular staircase enclosures and large expanses of natural glazing to help promote active frontage and allow daylight into the main entrance.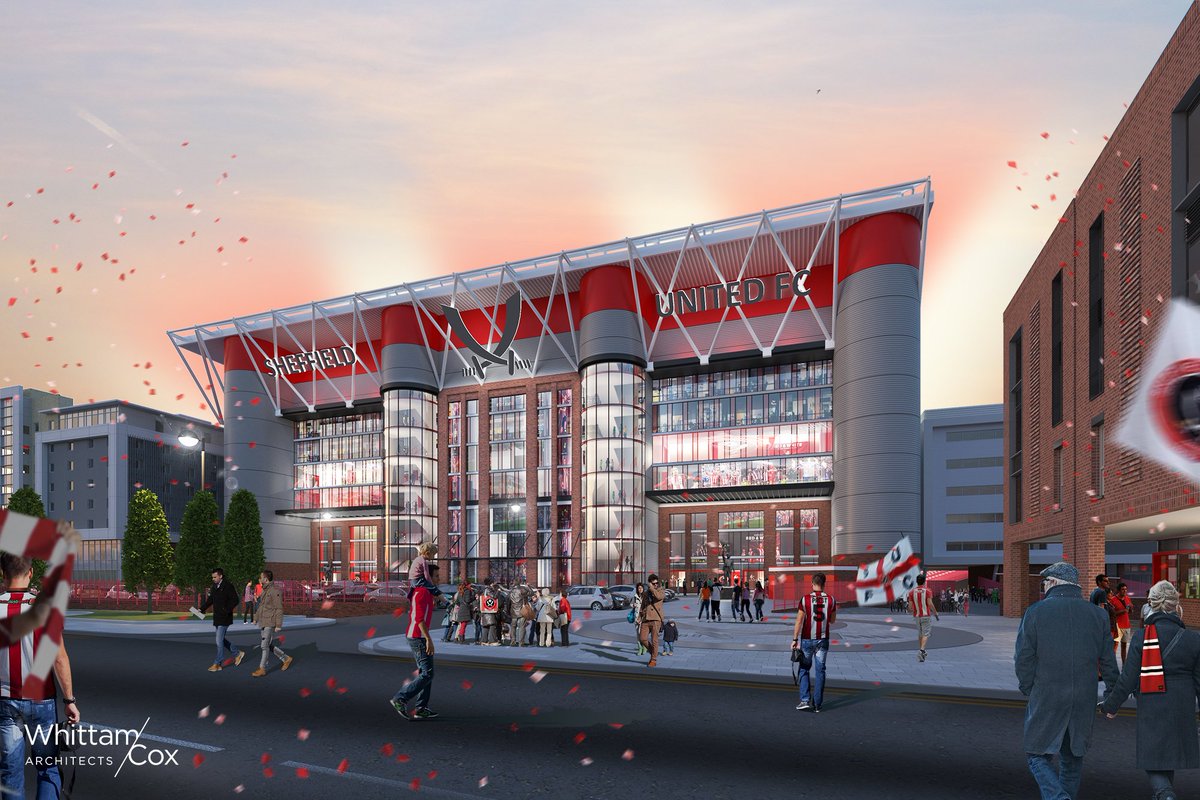 The proposal relates back to the local heritage
The ground is used for a number of different non-football events so the upgrade would a big step for the club. They are seeking approval for a new second tier with an additonal 5,400 seats with its own concourse and food/drink kiosks. The stadium itself will be overhauled with improved facilities for the less ables, new executive facilities, a multi-purpose function room, an exhibition space and a brand new ticket office.
In a statement released on the clubs website, Sheffield United Operating Officer Andrew Birks said; "This is about the club planning for the future, seeking an extension of the current planning permissions based on an exciting and extended scheme.
"This is very much about looking ahead following our promotion to the championship and potentially a place in the highest tier of the English game. We have a rich historical background in the city and within football. Our stadium of the future will reflect this relationship and be capable of contributing to the long-term future of the Blades."
A significant landmark within the city
The architects for the scheme are Sheffield City Region-based Whittam Cox Architects. They and the club have consulted closely with officers from the local authority in developing the proposals. Chief Executive Ashley Turner, said: "We have taken into consideration influences from the local housing and industrial heritage which have been integrated into an exciting design for the South Stand with a number of stand-out features.
"Bramall Lane is a significant landmark within the city. We are presenting proposals where high quality and strong development plans are paramount
Locals of the immediate area of Bramall Lane will be notified of a display of the plans at a small exhibition. The plans are anticipated to be submitted to Sheffield City Council December 2017/January 2018 and an anticipated decision is expected in early Spring 2018.