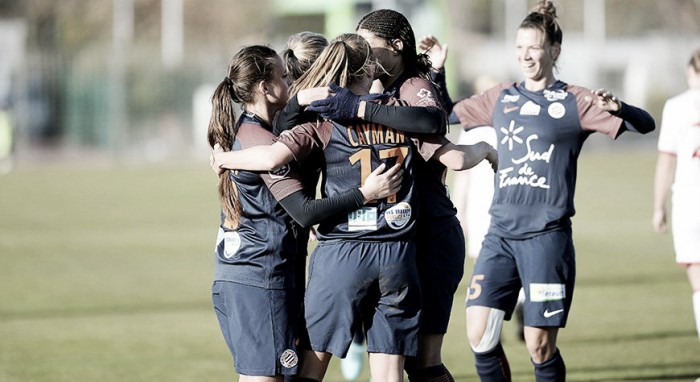 With only two more rounds left in 2017 of Division 1 Féminine football, all eyes were on those below the top two as Montpellier HSC stepped closer to Paris Saint-Germain with their Week 11 victory and Fleury 91 picked up another big three points.
Montpellier currently sit in third place in the league and their aim this season is to finish once again in the top two spots so they can play European football next season.
The 4-1 win against Lille OSC this weekend brings them one step closer to that goal. Montpellier got in front quickly thanks to goals in the fourth and 25th minutes by Marie-Charlotte Léger and another goal in the 28th minute by Janice Cayman.
The second half saw a different Lille step onto the pitch as the away side created enough chances to get back into the game but were thwarted due to their inaccuracy in front of goal. Valérie Gauvin then made it four for the hosts in the 84th minute however Jana Coryn managed to sneak in a consolation goal for Lille in stoppage time.
Montpellier remain in third but are now only two points away from PSG, having played a game more than the Parisiennes. PSG did not feature this weekend as they will be travelling to Lyon to face champions Olympique Lyonnais so this may prove to be an even bigger result for Montpellier should Monday's result favour them.
Lille knew they would have a tough time against one of the better teams in the league and it showed during the first half. They slip back into the relegation zone but still have a game in hand over the teams around them at the bottom of the table.
Fleury's impressive recent run continued this weekend with a 2-1 win over EA Guingamp. Léa Le Garrec gave the home side the lead in the 27th minute after some good work out wide by Desire Oparanozie at the byline. Guingamp could not see out the half ahead and ended up conceding a goal to Fleury in the 40th minute when Salma Amanis' long ball found Julie Rabanne who finished into an empty net.
Amani and Rabanne were at the heart of Fleury's winner in the 70th minute when their combination play found Charlotte Fernandes unmarked in the penalty area to finish low into the near post.
It was no more than what Fleury 91 deserved and they now have managed to pick up three wins in five games. They now sit in ninth place, level on points with Guingamp but ahead of their opponents this weekend due to the better head-to-head record and their superior goal difference.
Rodez AF bounced back from their previous loss to Fleury to exact a thumping on strugglers Olympique de Marseille. It took just four minutes for the hosts to get things started as Julie Peruzzetto opened the scoring for her team.
Flavie Lemaitre then converted a penalty in the 56th minute after being brought down in the penalty area by Marseille goalkeeper Geneviève Richard. Peruzzetto then turned provider three minutes later when she found Clara Noiran who used her pace to beat the defender and then chip the onrushing goalkeeper.
Marseille pulled one back in the 67th minute when Vivianne Asseyi pounced on a mistake by a Rodez defender and slotted the ball through for Cindy Caputo to tap home. Lemaitre then put Rodez up by three goal again when produced a diving header in the 85th minute to nod home Peruzzetto's cross. Marseille managed to grab a second through Asseyi but it was too little, too late for the away side.
The result was a welcome one for Rodez as it lifted them further up the table and away from the relegation zone. They have two points over Lille in eleventh and will look to use this result going into next weekend to secure some stability before the winter break.
Marseille continue to flounder this season and it looks like last season's fairytale story will end in misery this season as they cannot seem to get anything going. Marseille are rooted to the bottom of the table with no wins so far this campaign and based on their overall play, they may not get that elusive win for a long time yet.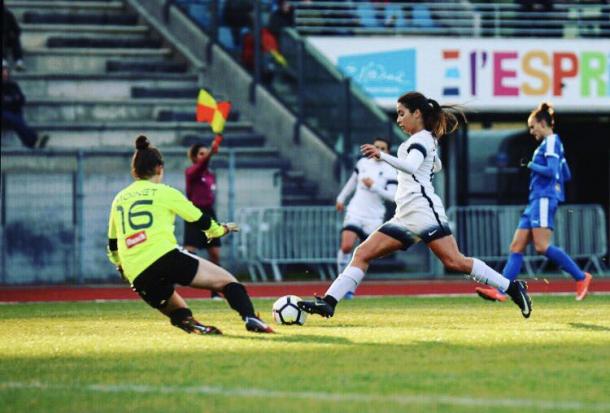 Paris FC continue to stay in touch with the league leaders as they picked up a narrow 1-0 win over ASPTT Albi. Considering the form of both teams, this should have been an easier win than it turned out to be for Paris but they got the result in the end. Anissa Lahmari met Gaëtane Thiney's corner in the 25th minute and managed to turn home her own rebound after her initial effort had been blocked.
That was the only goal Paris FC could muster on the day and they stay in fourth, albeit with a game in hand over those above them in the table once this round is over. Albi, despite the loss, actually moved into seventh place due to the results of teams around them and sit three points clear of the relegation zone. They have one more chance to create even more daylight for themselves in this calendar year and will look to bounce back from this loss.
There was not much to see in the match between FC Girondins de Bordeaux and ASJ Soyaux as they ground out a 0-0 draw in front of the home fans. Neither team really threatened the goal and it seemed as though after 70 or so minutes, both teams were content to settle for the draw. Both teams sit in fifth and sixth respectively and will be fine with only picking up a point in this round as it not only keeps them far above the relegation battle but it also puts them safely in mid-table with only one more match to play in 2017.