 Posters calling for senior officials to resign were spotted at the Liberty Stadium as Swansea City sit bottom of the table through 19 games, now temporarily with Leon Britton at the helm.
Swansea were once regarded as an extremely well run club that rose from League Two to the dizzy heights of Premier League football – with a Capital One Cup trophy to their name in the process – and they did it in a way that was commended by all.
However the values that Swansea used to posses have been slowly eroded through mismanagement from the decision makers at the club.
In a recent interview by Swansea captain Angel Rangel shed a light on the topic that hasn't gained much traction outside of South Wales.
"That is my way, (the Swansea Way) and I think now I miss it a bit," Rangel told the Independent.
"You can see that Swansea don't do it now.
"We always talk about it, some of the players who have been here a long time.
"That's the way we succeeded. Why are we changing it? That's my only question.
"I know we have different players now, different managers. But the philosophy of the club could still be in place. And it's not."
Transfers
Swansea never had a huge transfer budget, when they were rising through divisions or during the six years they have spent among England's elite, which meant they had to spend smart.
Something which co-owner Steve Kaplan echoed, saying to BBC Sport in August 2016: "We're not going to outspend many other clubs in the Premier League. We've got to be a little bit faster, a little bit smarter, a little bit craftier."
In the American owners' second summer in charge, Swansea's net spend was -£30.5 million. They made more profit than any other club in the league.
This included selling their two most important players in Fernando Llorente to Tottenham Hotspur and Gylfi Sigurdsson to Everton.
Llorente, at 32-years-old and sold for approximately £12 million, represented good value. Swansea were able to adequately replace him with Wilfried Bony and Tammy Abraham on loan.
Sigurdsson is a different story. The saga involving the Icelandic international lasted the majority of the summer, and ended up with Swansea receiving upwards of £40 million for their star man.
Swansea's main priority this past summer should have been replacing Sigurdsson, and they failed to do so. I won't delve too much into this again, having written enough on Sigurdsson in October.
Not only did Swansea not replace Sigurdsson well, no player at all was signed in the 'number 10' role and there was no ready-made backup at the club.
Proper planning prevents poor performance is a saying that was drummed into our heads in school, but chairman Huw Jenkins and the senior officials at Swansea failed to abide by it.
This isn't new though.
In the summer of 2016, Swansea sold Andre Ayew to West Ham United and Everton took another Swans player in Ashley Williams.
Ayew was Swansea's best winger in the 2015/16 season, and filled in as a striker because Bafetimbi Gomis was misfiring. However no winger was signed by the side that Francesco Guidolin managed at the time despite Ayew bringing in £20 million.
Alfie Mawson was eyed as Williams' replacement, and the defender brought in from Barnsley was exactly that. After six months. In the meantime, Guidolin and Bob Bradley relied on a centre-back partnership of Federico Fernandez and Jordi Amat that during the American's spell in charge, conceded an average of 2.64 goals per game. If not for a miraculous turnaround under Paul Clement, Swansea would have spent this season in the Championship.
For years, Swansea have relied on the legs of Wayne Routledge and Nathan Dyer to provide width while their rivals have bought smart in those areas.
Swansea's most consistent chance creator Jefferson Montero – despite his injury problems – was shipped out on loan to Spain alongside a record signing in Borja Baston.
Under Jenkins, Swansea used to be one of the smartest clubs in terms of transfers. However the days of Michu, Pablo Hernandez, Jonathan de Guzman – and previously Rangel, Ferrie Bodde and Roberto Martinez are well and truly gone.
Managers
Clement's sacking meant that Swansea have now parted company with a manager in each of the last three Decembers, with Guidolin also leaving in October 2016.
Swansea's last four managers have lasted an average of 342.5 days in their job – just shy of a year – which isn't ideal for a club that supposedly has a certain style they want to keep intact.
Each of Swansea's last four managers have had different styles of play, albeit Clement, Guidolin and Garry Monk all had a varied pragmatic approach, none of them did particularly well over the past three years.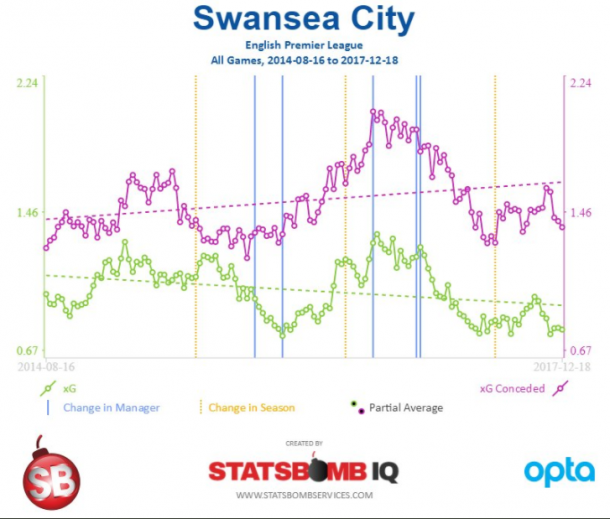 Ted Knutson tweeted this picture, which is Swansea's three-year rolling Expected Goals average, and ended the caption with "Problems seem to run a lot deeper than who manages."
The numbers back it up. Just under a year ago Bobby Gardiner wrote a piece using stats highlighting how Swansea have dramatically changed on the field in recent years.
Former Swansea manager Michael Laudrup recently said: "It's really hurting me to see that Swansea in the last couple of years have changed completely the way that they play," Laudrup told beIN Sports .
"What they (Swansea) did with Roberto Martinez, Brendan Rodgers and also when I was there, that has changed."
Clement took over a side that was bottom of the league with 12 points. He miraculously kept them up, had his two most important players sold with little reinvestment into his already poor squad, and then got sacked with his side bottom of the league with 12 points.
Swansea used to seek young managers with a flair to their style of play, and bring in players to suit that Spanish-inspired fluid football.
Since Laudrup's departure, Swansea have only hired managers to solely keep them in the Premier League and in time have lost the ingredients that made their club different.
Long-term planning went out the window, and so did The Swansea Way.
At this point, who Swansea appoint as their next manager might not really matter because it hasn't really made much difference over the past three years under Jenkins & co.
Takeover
The problems at Swansea are epitomised by how the club was sold in 2016.
Investment into the club was never a big issue for fans, as it was seen as a necessary risk if Swansea wanted to become a bigger club.
How the deal happened – however – is a different story.
In summer 2016, a consortium headed by Kaplan and Jason Levien purchased a 68% controlling stake in Swansea.
That consortium consisted of 26 investors – including TV star Mindy Kaling - were only named publically last week.
While former Swansea directors Steve Penny and Don Keefe were not even informed of details about the sale by Jenkins, for fear it would leak to the media.
The Swansea City Supporters Trust – which has a 21.1% stake in the club – were initially kept out of negotiations between selling shareholders and potential new owners.
The Trust considered taking legal action in October 2016, while Levien admitted that the Trust was "not involved until about February or March 2016" even though negotiations began in August 2015.
Phil Sumbler, the Trust's chairman during the takeover said: "We should never get away from the fact the club was sold behind the backs of the Supporters' Trust."
"That's the bit that has ultimately led to the changes we've seen and I think it's led to the culmination of the position we're in.
"I don't think anybody would have begrudged the shareholders who'd been there for so long," said the man who has since left the Trust and joined a new group, the Swansea City Supporters' Alliance, "feeling the need to sell and making the money the did from the sale.
"The bit that really turned the atmosphere sour was the fact the sale was conducted behind the backs of the Supporters Trust and, ultimately, that means behind the backs of the fans."
It is no coincidence that the less the Trust has been involved in the club, the more Swansea's core principles have been eroded.
What's next?
Staying in the Premier League is feasible for Swansea this season. As poor as they have been, the Swans are just four points adrift of safety.
Throwing money at the problem won't necessarily solve it, but spending wisely will.
Swansea failed to sign a Sigurdsson replacement in the summer, and have the January transfer window to rectify that.
Reinstating The Swansea Way has to be the club's top priority, to do so the Trust has to be more involved, and a manager has to be appointed in line with the values that the Trust represents.
Swansea have reportedly sounded out Martinez to re-join the club after he takes Belgium to the World Cup, which would be a step in the right direction.
Taking Swansea back to where the club once was is not impossible, but right now the fans do not trust the club.
It will take a long process, Jenkins doesn't necessarily have to step down, but Swansea cannot continue on the same path they have been on for the last three years.