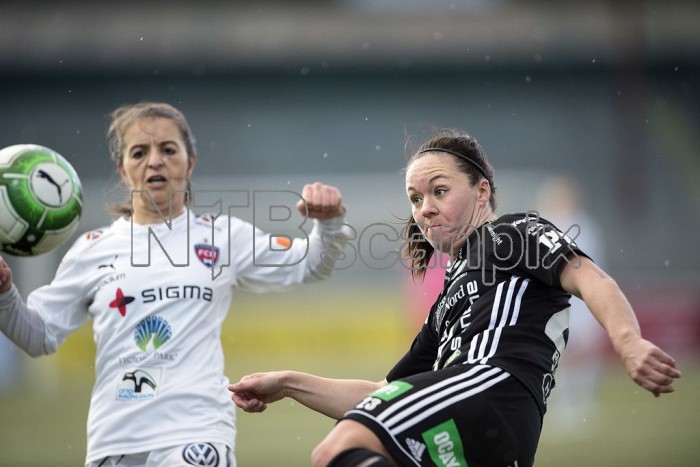 Still determined to break into the Norway squad, VAVEL UK caught up with Piteå defender June Pedersen about her footballing journey so far.
'Never give up'
The second-oldest player in the current Norway camp, Pedersen remains of the players with the fewest caps with just three to her name, her senior debut not arriving until she was 30, in 2015.
"I may have my age against me but I think I'm like wine, I only get better with age," the defender jokes. "Of course I was surprised but at the same it shows, you never give up on your dream. This is the national team and I'm very proud to represent Norway so yeah, I was very happy but it gives me motivation for the new year with lots of games and training with Piteå."
Having started her Swedish adventure in 2006 with giants of the time Umeå, Pedersen is well versed with the top level of football though her international experience is still lacking.
"It depends on how you look at it because I have played at the highest level in Sweden for 11-12 years; I have played at Umeå with the best players in the world so my experience in that sense if very good but in the international team I don't have the but I just look at it as motivation to never give up and you can still develop – you can make an old dog sit."
Still a newbie in the squad, the defender admits she hasn't sat down and talked at length with coach, Martin Sjögren but is taking heart from her inclusion.
"[I] just keep doing what I'm doing, obviously he coached Linköping for many years so he knows my skills and maybe what I need to improve. It feels good to have a coach like that and I understand what he says – because I've been so long in Sweden, so I understand, it's kind of weird because I have lost my language but it's a different way to play but I feel home. So, no he hasn't said much but right now I'm in the squad of the 20 best in Norway and I'm just happy about that and I'm just going to take that one step at a time."
School first
Made to focus on her studies, Pedersen didn't get her big break until she was 20.
"When I was 16 I moved to Tromsø and I wasn't that good in school and a lot of clubs wanted me at the highest level in Norway. But I got a letter home from my school that said, "you have to spend more time on work" and my mum, who's a teacher – I hated her at that time for it (but I love her now) – said you're going to focus on your school for three years then you can do whatever. So I did, I in played Division two for three years and scored 60-70 goals and every year I got offers from other clubs, so when I was finished at 18 I had new offers I moved to Grand Bodø. I didn't go into the highest level, just Division one."
And as fate would have it, the move to Grand would be what saw Pedersen move to the best team in Europe at the time.
"They had a project where they went to Sweden to see the organisation of Umeå and with the project they could take two players with them to train. The coach at Umeå said, "only for the warm up" but it was in February and the team was so drained and tired, their legs were heavy and I f***ing ruled. So, the coach let me train the whole training and he was like, "who is that?" then he said, "come back tomorrow and train" and tomorrow the same, then he invited me back for the Easter and then the Summer and that's how I got the contract."
After three seasons with Umeå, the defender moved to near-by(ish) Piteå, the cold weather not enough to drive her away like so many other footballers.
"In North Norway we have the Gulf stream so it's not really that cold in the winter but it's not even warm in the summer but Piteå is inland and it's extremely cold but it's very warm in the summer so we just go from winter to summer and don't have anything in between. But we have training indoors because it's like, -25°C right now But it's so close to home and my partner is in Örebro so it's perfect place to be. And I'm still developing in the team and that's the most important thing to be balanced and keep developing as a player."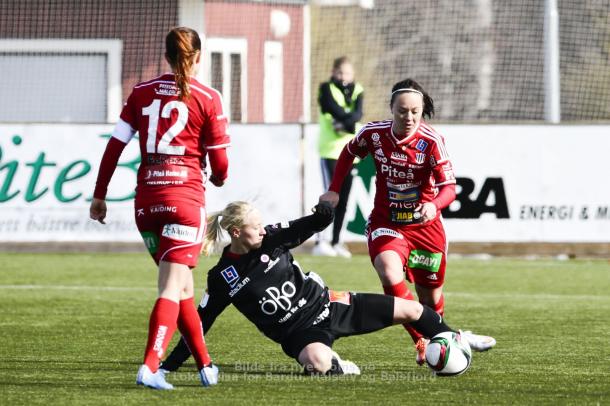 Stalwart of the game
One of the few players to have stayed faithful to one club for the majority of her career, the Norwegian is somewhat of an anomaly in women's football.
"I think it has to do with yourself, I felt for me, my mentality is as long as I keep developing and I'm balanced, I don't care where I am. The team keeps developing and we have a very, very good coach and he keeps asking me questions so I always have to think, "what did I learn today?" and I absolutely love that and he's challenging me."
She continued, "Of course when you have the life outside of football it's very important and I have that but at the same time I don't have any family in Piteå, there's nothing holding me there except for football. So, when I'm done footballing I think I will move for sure but at the same time you are a superstar in Piteå, everyone knows you. Everyone would like to say they don't like it, like when you go grocery shopping and everyone recognises you but it's really fun – we have a lot of fans who support us during the games at the arena."
Boasting a coach who's held in high-regard in Stellan Carlsson the team has been dealt a blow with the news that the coach will be taking a step back for personal reasons. Though Damallsvenskan remains increasingly open, the team is still looking to that elusive top-two finish.
"The board has been talking about Champions League for a few seasons and we want to take that step of course. Now with Stellan's family issues… he had planned the whole half of the year he already, so he was prepared everyone else around and he will be there in spirit and he will come to some of the trainings. But of course it took us aback and in training on Friday one of the best players, Elin Bragnum, broke her foot and that will put us back a little bit."
"But we have faith and we have a good new goalkeeper, but we have the central line, the spine of the team set so of course I think we can keep developing and we have new players who have new energy, they're young so we'll see. A lot of players, including myself, will develop a lot this year because of Stellan, he's gone so we have to take more responsibility but we want to be better than last year."
Notably one of the more miserably away days for Damallsvenskan teams, historically, few sides have left the LF Arena happy, the team from the north boasting fine home form although 2017 saw a dip in their home strength.
"We talked about it because our home field has always been our strength and usually we take points at home but last year… But we've always been strong at so we need to take our home back again; that's our strength and it will be a castle this year too."