 A year after Martin Sjögren first took charge of Norway and 55 weeks since she joined up with Chelsea, VAVEL UK spoke to Maren Mjelde about the lessons learned in 2017 and what 2018 could have in store.
Early exit
A national team known for excelling and handling tournaments with aplomb there was little for the Norwegians to get excited about last July, the team bowing out at the group stage without a point or goal to their names. Although as low an experience as the exit from Euro 2017 was it's provided a valuable learning experience for the Football Girls.
"We know that we didn't do well at the Euros and there are high expectations with Norway, always, but going out in the group stage… That wasn't easy but we have been learning from it and we had a really good camp just right after."
A stilted match against the Netherlands looked like it would keep World Cup qualification open in their shared group until Vivianne Miedema's pass-cum-shot found its way into the back of Ingrid Hjelmseth's net at the death.
"Then we had Holland away and we should have gotten a point there, that's a hard one but now we can see positives on again because Holland drew against Ireland so now I feel we have all the chances to go through so we want to play a championship again, especially because of the Euros," she laughs, "Mainly you want to go to every tournament, last summer was hard but as a group I think we have learned a lot from it."
The midfielder admits that there was an immediate uncertainty after the loss to the Netherlands but with the European Champions being held by Ireland, the group has opened back up and Norway are gunning for their spot at the next World Cup.
"It was only like the third game of qualification but still, right then it felt like "Are we going to go through to the world cup now?" but then we were fortunate that Ireland played well and drew with them. But at the same time we can see that Ireland is a good opponent also and now the group is open again and now anything can happen really so even though it's been a hard 2017, it is good coming here now knowing it's up to us and we can do something about the whole situation so that's been good."
A tough experience with lessons to learn, Mjelde is aware that it's not just about getting to a certain level and holding steady but staying ahead of the rising curve.
"It was a hard experience but probably, it the long term it was a good experience for all of us, I think nothing comes easy and you can see the level is getting higher and higher; in the Euros you had no clue who was going to win, it was so open. So, you can see teams who were on a lower level than us before are coming up to the same level so it's getting more and more tight, especially in Europe and it's good for women's football."
Step by step
With new Norway coach, Martin Sjögren having taken charge at the end of 2016 and his first camp a year prior, the Norwegian captain can see the improvements the squad have made over the course of 2017.
"It's getting more and more settled, we've been taking small steps all the way and maybe the Euros came a bit too early but at the same time we have experienced that now and he makes us believe in his philosophy and that's a really good thing, he's really clear with everything we do. All the players know their place in this system and feel safe and that's a really good thing, we need to build it from there in the future, we've used every camp in a good way, every day we train on the same thing so everyone gets more safe in the system."
The women's football calendar is notoriously full, national teams scheduled to frequently meet up throughout the year, the Norwegian squad set to meet back up in less than five weeks for the start of the Algarve Cup, something Mjelde is already looking forward to.
"It will be fun, we've had Scotland and Iceland this week – two good opponents – and next camp we will meet teams we've never met before like South Korea so that will be a cool experience. We'll also play Australia and I think I've only played against them once before – with a lot of really good players, they're really up and coming now. It's interesting to play against different opponents and that's good for us because we have some really important camps coming up."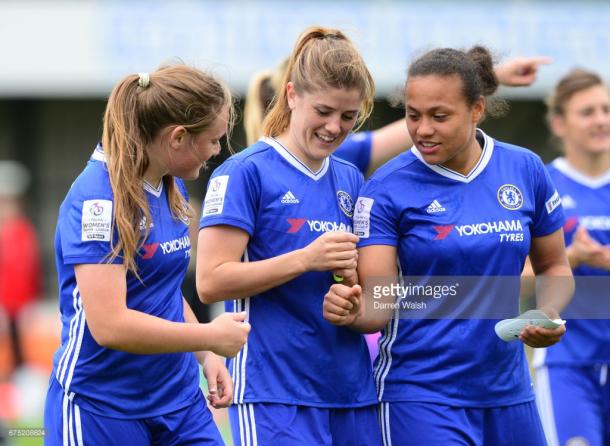 Life in London
Having officially become a Chelsea player on 1 January 2017, Mjelde remains content with her choice to branch out and challenge herself in England, the year already having flown by for the roving midfielder,
"It's been really good. Something new, that's what I wanted after two seasons in Norway I felt like I was at a stage in my career that if I wanted to take the next step I had to do something new. I'd heard lots of good things about England in general because as a Norwegian we're looki[ng] at Premier League like the biggest thing in Norway (for men) but now it's getting more popular to look at England as the league to play in for the women. For me it's cool to be part of, because I think the English league is going to be the biggest league in Europe eventually. Yeah, one year has gone, it's gone really fast, I have a contract until the summer so we'll see but I really enjoy my time at Chelsea, in London and everything."
Despite everyone's ideas of Norway as a winter wonderland, covered with an icing of driven snow, the winters in Mjelde's Bergen home are far more British than many would expect, the London rain not as bad as what she's used to.
"I don't complain because I'm from Bergen on the west coast of Norway and the weather is so bad compared to London, so it's actually been good compared to what I'm used to. When all the girls are complaining and saying," 'S**t weather today!' "I'm like, this is nothing."
A natural midfielder who eases on in attack and doesn't quibble over putting in a meaty tackle or two in defence, the 28-year-old has been given more freedom at Chelsea, released from the centre-back role that she has often occupied for Norway.
"I love the whole aspect of football, I like to attack, I like to defend… especially at Chelsea I've got the chance to be more offensive and I like to be part of scoring goals, assists, things like that but of course if the coach needs me as a defender I'll always play the position the coach wants me to. Now I've started to play more midfield for Norway and I can't lie it's my favourite position."
Much like Arsenal's Dutch collective, Emma Hayes has cultivated a mini-Scandinavia in London, though short on a Dane to complete the set, the trio of Swedes and pair of Norwegians. The commonalities between Norsk and Swedish meaning the midfielder can converse in her own language though far from home, a small comfort.
"It's been good because then I can talk Norwegian; it's easier for us Norwegians to understand Swedish. We also have Ramona [Bachmann] and she speaks fluent Swedish and then there's Anita Asante who's been playing in Rosengård for a long time so she understands Swedish. I think it's good to be able to talk your own language sometimes and then you feel a bit more home and I know Maria [Thorisdottir] from the national team so it's probably for her to come to Chelsea when she could talk to me… it's probably more of a safe feeling to have me there but now she's in the group and she's doing really well and she will be a really good player in the future."
Though it's not just the Scandinavians are Chelsea who've found themselves exiled but so too Swiss dynamo Bachmann, Korean wunderkind Ji So-yun and up until recently, American star Crystal Dunn. The eclectic blend of players bringing about more experience that harmonises on the pitch.
"We have a good mix now of different nationalities and that's a good thing, having a mix because we come from different cultures and have our own/different ways of playing and I think that's good in a group because we can learn from each other so that's good."
Eyeing first league title
A serial runner-up, Mjelde can boast second-place finishes and silver medals from her travels, falling just short of the Toppserien and Frauen-Bundesliga titles as well as missing out on the DFB-Pokal, NM Cupen and Euro 2013 trophies despite reaching the finals. A WSL Spring Series title her first silverware, and after that success, the midfielder is hungry to go one better and win the WSL title this season, pipping current holders Manchester City to the prize.
"That's my biggest goal this year, to win the league but we can see they're a good team – they've been playing together now for many years, the same team almost – we know they're good, but we have good enough players to beat them. It's good for us that we've faced them already, so we know what to work on."
With WSL rather lop-sided and still a clear gap between the top two teams, the Norwegian relishes the chance to prove her mettle, a 6-0 win not enough to push her far enough, "No offense to other teams but I think it was good for us play Arsenal then City because that's the level we need to be at to win the league and maybe we've had too many games where it's more comfortable for us. I would love to play City every weekend, that's the level you have to be at to be the best team so I think that's the reason why I'm so looking forward to the game."