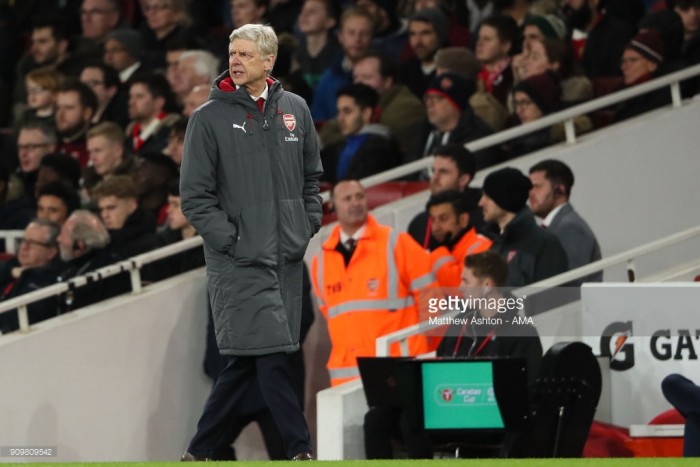 Arsenal manager Arsene Wenger has said he and his team are "happy to take our fans to Wembley" as the Gunners' defeated Chelsea to reach the final of the Carabao Cup.
An own goal from Chelsea's Antonio Rudiger and a close range finish from Granit Xhaka were enough for the Gunners' on the night after Eden Hazard had initially put the Blues ahead.
"We have some time to prepare for the final but we are happy to take our fans to Wembley," the Frenchman said.
"We've been there a few times now and we're happy to be going again."
A game of two halves
It was a difficult first half for Arsenal, who struggled to halt waves of Chelsea attacks until they beat visiting goalkeeper Willy Caballero.
"In the first half we gave Chelsea too much respect and distance. We were a bit scared to go for it and we suffered from that," Wenger said.
"We were not playing in the right position but we amended that in the second half and took control of the game.
"In the first half we watched them play a bit but we were tighter after the break."
Influential again
One player Wenger singled out for praise was man of the match Nacho Monreal, whose initial header was converted by Rudiger for Arsenal's first goal. The Spaniard was excellent again after scoring and registering two assists in last weekend's victory over Crystal Palace.
"It shows that with a bit of confidence and belief after you've scored that you can go for it and score again.
"It was a bit lucky today but it was good timing and with good runs you get to the ball."
Time to move on
With Alexis Sanchez's exit from the club finally confirmed on Monday, Wenger has revealed his relief that the speculation is over and the squad can regain their focus on the pitch after a tough couple of weeks.
"We lost a great player. But when a team doesn't know what's going on there is less clarity and less focus on what's important - the performance.
"Now we know we have to deal with that and get on by everybody giving a little bit more."