When Olivier Giroud switched Arsenal for Chelsea last week, the transfer was received well on both sides. Arsene Wenger received a good price for the forward and secured Pierre-Emerick Aubameyang in the process. A disgruntled Antonio Conte finally got the target man he had been longing for throughout January.
With Alvaro Morata lacking in form and Michy Batshuayi proving a liability up front, the addition of Olivier Giroud seems to make sense. The Frenchman scored 105 goals in 253 games for Arsenal since 2012 and contributed to over 25 Premier League assists, after all.
Nobody has scored more headed goals than Giroud since his arrival at the Emirates but the former Montpellier striker harbours the technical talent to match his brutish, physical presence. One stat that should not be overlooked is his age and, at 31, there is evidence to suggest signing older players could prove detrimental.
Injuries and minutes
Nobody is under the impression that the signing of Giroud is anything but a short-term fix to Chelsea's temporary goal-scoring issues. The Blues scored just three goals in their first five games of 2018 with their forwards suffering from diminished goal returns.
Their incoming forward could be the cure to this unfortunate epidemic with Giroud scoring a Premier League goal once every 93 minutes this season. Conte's men are creating chances and they might have just found the player to put them away.
This goals-per-minute ratio is based on a limited sample size, however, with Giroud finding time on the pitch hard to come by due to injury and alternative striking options in North London. A regression in minutes is actually an inevitable consequence of ageing in most cases.
Time on the pitch often falls away once a forward hits the age of 30. In fact, most who ply their trade in the final third will not have played such little football since they were breaking into the first-team at 20 or 21.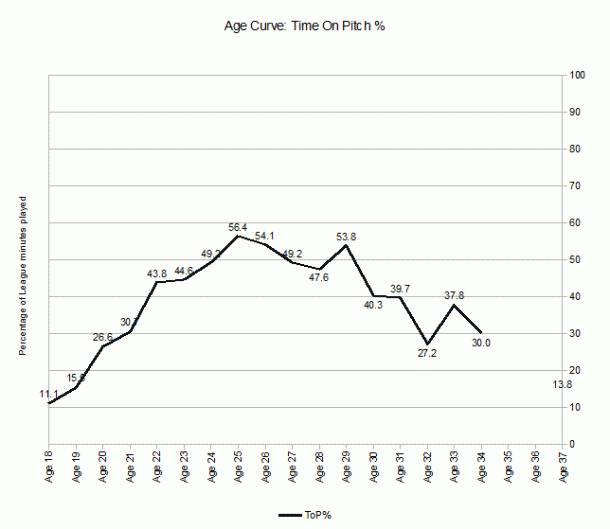 The human body does indeed deteriorate with age and this has a strong impact on an athlete's performance over time. This was evident last season when the league's second-oldest team, Watford, suffered the fourth most injuries overall (77) and the fifth most minutes missed through injury (1,852). Three of the five most injured players over the course of the 2016/17 season were over 30 - the other two were Dejan Lovren (then 27) and Sofiane Boufal.
Giroud missed 13 Arsenal games with various injuries since the start of last season and statistics suggest that putting a string of games together, which he might well need to do for a Chelsea team fighting on three fronts, could be a stretch too far now or in the near future.
An immediate decline
One might argue, correctly, that age does not result in injury but career minutes do. Just as Romelu Lukaku (26,206 minutes) is far more experienced than Harry Kane (18,388 minutes) despite the pair being the same age, Jamie Vardy (19,758 minutes) has fewer wrinkles than Olivier Giroud (29,613 minutes).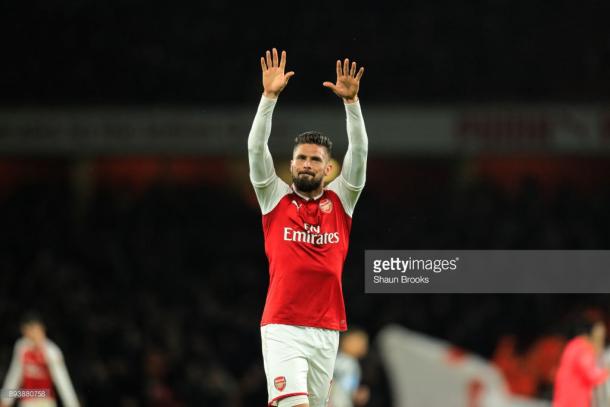 Most Premier League strikers reach their peak somewhere between 300 and 400 games before dropping off afterwards. Fernando Torres' drop in form came as he approached 400 matches while Andriy Shevchenko arrived at Stamford Bridge having already played 462 games. Giroud has already broken the 400-game barrier with 430 games under his belt in England and France.
Arsene Wenger was always hesitant to retain players once they reach the age of 30 but said in 2010 that he would relax this philosophy for defenders and midfielders, but not forwards. This is likely because strikers suffer from a much more immediate decline.
Clubs who opt for the older, more experienced and cheaper alternative are likely to receive a striker 22-25% less productive when it comes to goals per 90. In fact, this area is already in decline by the age of 27 and continues to recede on a gradual basis.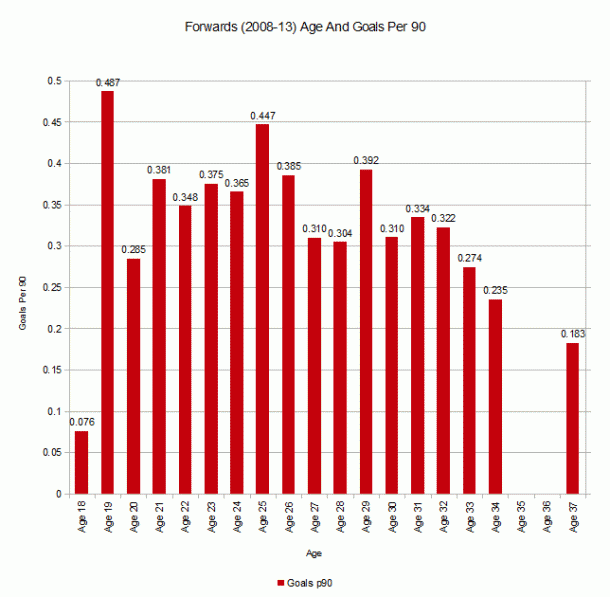 This is also consistent with the sport of baseball. Over a much longer period of time, we can infer that their players also peak from around 23 to 28 before a decline in performance levels remains until retirement.
There are of course outliers but these exceptions are often only reserved for the very best. Cristiano Ronaldo and Zlatan Ibrahimovic both got better with age, but Giroud is obviously not in this elite bracket. He too will face the aforementioned decline with some already suggesting he is already experiencing it.
The younger alternative
The purpose of this article was to show that there is a risk in signing older strikers. The signing of Olivier Giroud might well prove dividends this season but stinks of the 'short-termism' that Chelsea themselves were guilty of following their 2010 title victory.
A sharp decline for strikers even at the age of 27 will be known by all clubs competing in Europe's top five leagues and yet Chelsea still targeted the likes of Andy Carroll, Peter Crouch and finally Olivier Giroud.
If they have no faith in the products of their own coveted academy, they might have been advised putting the £18m spent on Giroud towards a younger model. A talented player eight years younger would have made more sense on and off the pitch.