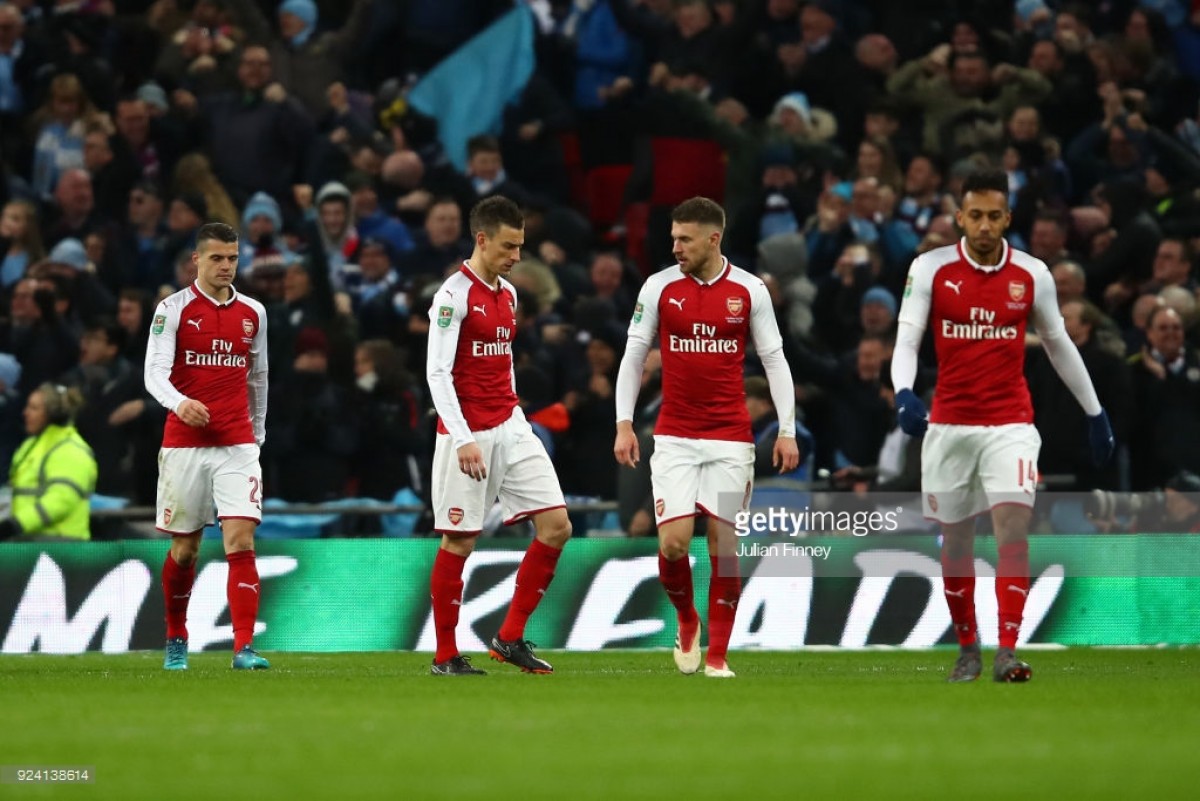 Arsenal's season went from bad to worse after being played off the park by a superior Manchester City side.
The Gunners were desperate for a win at Wembley, in order to shed a little light on what has been an abysmal season.
However, within 18 minutes the job at hand became even more difficult. A route one ball from City goalkeeper, Claudio Bravo, slipped Sergio Aguero through who made no mistake lifting the ball over the stranded David Ospina.
From then on in, it was clear that the trophy would be heading up north with Pep Guardiola.
Two goals in the second-half coming through City captain Vincent Kompany and David Silva, meant Wenger's wait for a first league cup title goes on.
Here's how the Arsenal player's fared:
Mustafi all over the place
David Ospina: 5 – Having been backed by Wenger over first choice Petr Cech, Ospina struggled in a busy game for the Colombian. Was lobbed by Aguero for the first goal, however was powerless to City's second and third.
Shkodran Mustafi: 4 – Arsenal's worst performer on such an important day. Was at fault for City's first goal having been caught the wrong side of striker Aguero, before being brushed aside by the Argentine allowing him to stroll through one-on-one with Ospina. The German looked lost from the the first whistle today.
Laurent Koscielny: 5 – Another underwhelming performance from the vice-captain which is not becoming unusual. Has seriously declined as a player in recent months and struggles to play with the same solidarity that used to come so naturally to him. Couldn't keep up with Aguero's movement and came out second-best in battles the star striker.
Calum Chambers: 5 – Chambers' selection surprised many today and rightfully so as the former Southampton defender has failed to impress since joining the North London side. Looked out of his depth for much of the game today struggling to contain the City forward line.
Nacho Monreal: N/A – The Spaniard only managed 26 minutes today coming off injured for Sead Kolasinac.
Hector Bellerin: 5 – Not much of note today for the pacey right back. Didn't provide any threat going forward and looked second best to Leroy Sane.
Wilshere the best of a bad bunch
Jack Wilshere: 6 – Was by far Arsenal's best player today. The English international was constantly looking to take player's on and work with the Gunners forward line. He proved to be the only threat today and continued to show the passion that so many others lack.
Aaron Ramsey: 5 – Poor return to the team for Ramsey who has become somewhat prolific in Cup finals. Couldn't find the level he was at to score those FA Cup winning goals and therefore looked lost playing against the likes of Fernandinho and Kevin de Bruyne.
Granit Xhaka: 4 – Saved his worst performance of the season for the Cup final. Constantly gave the ball away in dangerous areas to gift Guardiola's side opportunity after opportunity. The Swiss still has not justified his £35 million price tag.
Mesut Ozil: 5 – Extremely quiet game for Arsenal's playmaker who failed to create at the standard he usually does. Went missing in a game Wenger desperately needed him to shine
Aubameyang feeding off scraps
Pierre-Emerick Aubameyang: 5 – Only had one chance of note today after Ozil squared him the ball leaving him a tap-in from six yards, but a sliding Kyle Walker denied the Gabon international the chance to put Arsenal into the lead, putting the ball out for a corner. Needs a couple goals to really get his Arsenal career started.
Substitutes
Kolasinac: 6 – One of the better performers today who actually tried to test Guardiola's side, though it came to no avail. Has been in and out of Wenger's side and will hope his decent performance will put him up the pecking order.
Danny Welbeck: 4 – Was brought on after going 3-0 down and made no impact whatsoever on the game. Welbeck has struggled off the bench all year and is not at the level of nearly all of Arsenal's other attacking options.
Alex Iwobi: N/A – Had just over 15 minutes and made no impact to warrant a rating.