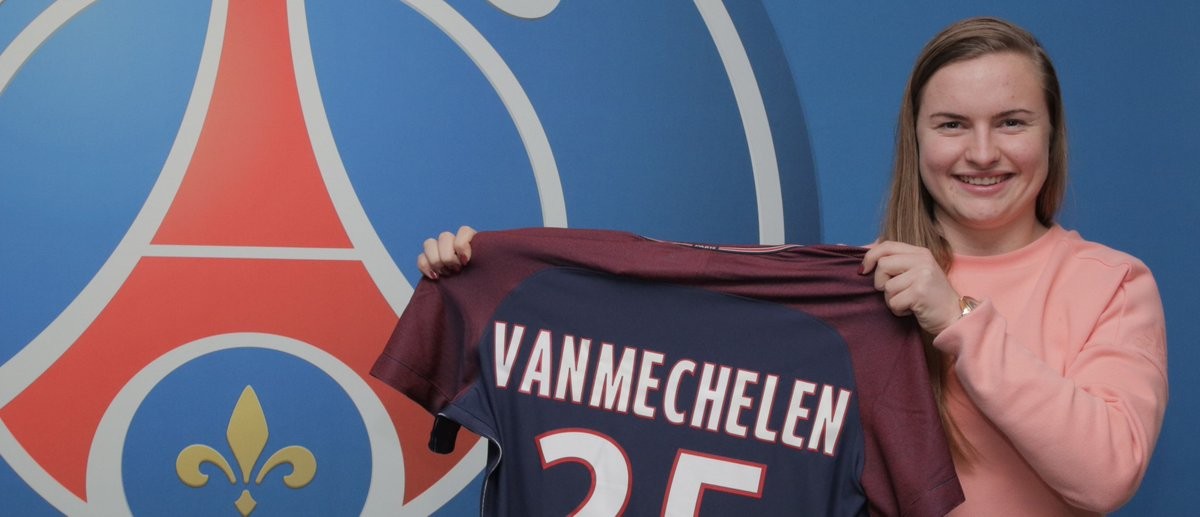 Still just eighteen, the last 12 months have been extra special for the Belgian attacker, from featuring for the Red Flames at their first ever major tournament to completing a move to PSG, Davinia Vanmechelen's star is certainly on the rise.
A higher level
Like many female footballers before her, Vanmechelen credits her pathway into the sport to her family,
"My dad was a coach and both my brothers played football, so I joined them when they went to play in Landen."
A summer move from Belgian heavyweights Standard Liège to KRC Genk was fast-followed by a move away from her home in Belgium to the French capital, the level in France too good to turn down.
"I wanted to improve my qualities as a footballer and in Belgium it felt like I couldn't raise my level but the competition in France is higher than in the Super League so that's why I moved."
Well-known across men's and women's football, PSG's interest was not something the teen was expecting, the surprise nothing but a good one.
"I was amazed when I got the call from PSG and I immediately called my parents to tell them, it was very cool and I was very happy."
Her spell at Genk cut-short, Vanmechelen admits ordinarily she would have seen the season out but with PSG losing Vero Boquete and Shirley Cruz numbers in Paris were fast dwindling.
"Normally, I would have finished the season with Genk and left in June but PSG wanted me in January as they had just lost a player, so they needed me sooner."
Though not that adept in English, the attacker already boasts a strong command of French, having played for so much of her life in a French-speaking part of the country,
"Having played at Standard, my French is very good."
Having been posed a hypothetical, namely what if an big English club had approached her instead of PSG, Vanmechelen conceded she wouldn't have joined right away,
"Firstly, I moved to Paris because it's closer to my home and it's the first time I've ever lived away from Belgium so I don't think I would have been as okay with moving further away. Secondly, I'd want to improve my English before going and right now I just want to develop and mature as a footballer and I can do that at PSG."
Settling fast, her first few weeks have been nothing but a chance to learn,
"My teammates are always willing to help, I'm learning so much from them. From the first day I moved to Paris, I've been learning, every second I'm there I'm learning so it's really been good."
Not just learning but making friends, the Red Flame has instantly struck up a bond with three of her teammates in particular,
"Melike [Pekel], Charlotte [Voll] and Ashley [Lawrence]."
A tournament close to home
Playing all three of their group Euro 2017 games not far from the Belgian-Dutch border, the Red Flames were given a boost by a healthy fan turn-out, all of their matches with a particularly Belgian feel, 
"It was really amazing, because there were so many fans they always lifted us when we were struggling during the matches. It's always motivates you more when there are more fans there."
Going strong in their World Cup qualification group, Belgium boast a 100% record, bagging three wins in their first three matches though the young attacker knows there are stern tests ahead,
"It's looking good at the moment, nine points in the first three matches is very good but we have to stay on the level and keep looking forward every match. Now we've got Portugal and Italy coming up and those matches won't be easy but we have to beat them if we want to go to the World Cup next year."
Still looking for a boom in women's football, there has at least been a shockwave felt in Belgium in the wake of the Euros,
"Personally, I get more attention because I played at the Euros and that's still a special thing in Belgium and there has been a rise in the media coverage."
When asked if there's anyone she bases her style on it wasn't a surprise that the wily attacker has been taking notes from a diminutive fellow Belgian (and a well-known Argentine),  
"Dries Mertens, he's very small like me and he's a technical master. And Messi too."
As for Vanmechelen's best moment and favourite goal?
"The moment I signed the contract at PSG and when I scored in my first match as Red Flame."
Lastly, when given the choice of a superpower she'd want, the teen opted for something more altruistic than many others,
"Healing people, so if I touched them they would be cured."