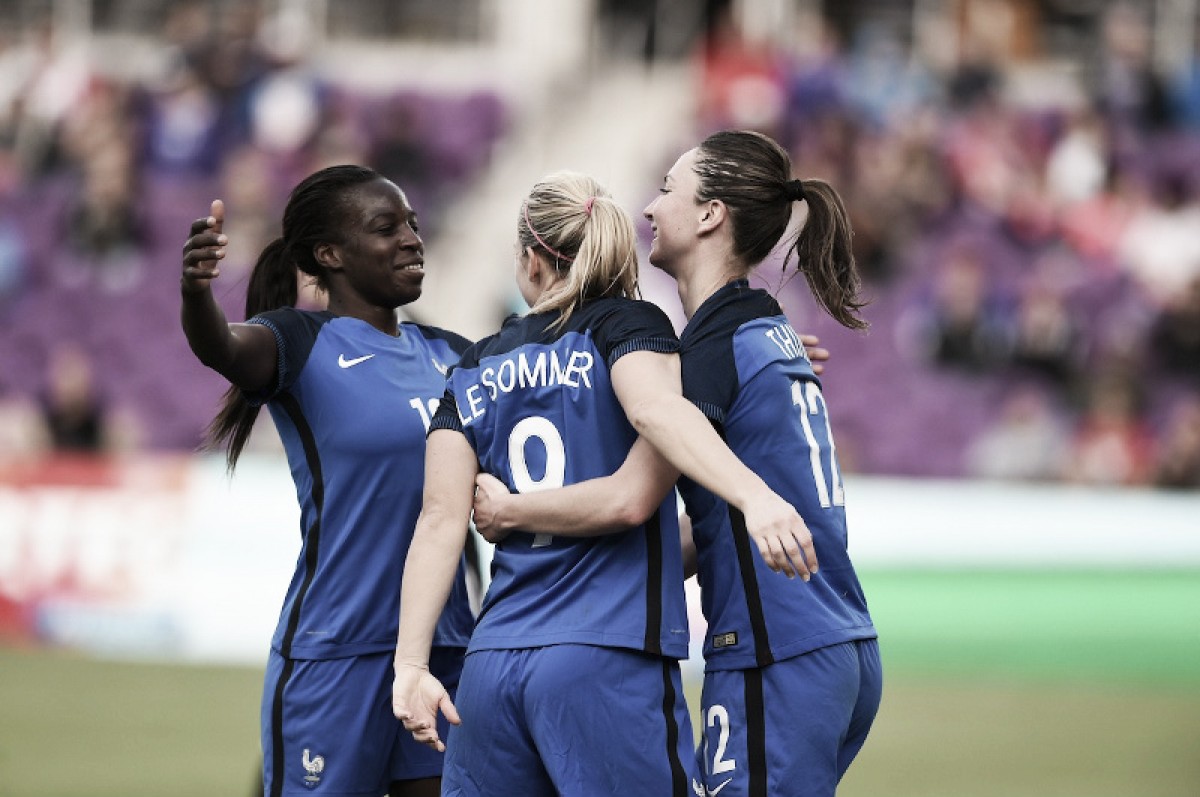 France started off the 2018 SheBelieves Cup with an abysmal performance against England but they made inroads at rectifying that by beating their European rivals, Germany, with a 3-0 scoreline to finish off their campaign.
The performance will certainly please Corinne Diacre even though Aïssatou Tounkara left the game in the first half with a potentially serious injury. Her counterpart, Steffi Jones, will leave the United States of America under even more scrutiny as her team continues their startling loss in performance.
An early goal sets France on their way
Both sides had their opportunities throughout the game to score goals but it was France that found a clinical edge in front of goal. The first of three came in the 10th minute when Eugénie Le Sommer picked out Amandine Henry's run and the midfielder picked out the inside netting from about 23 yards out.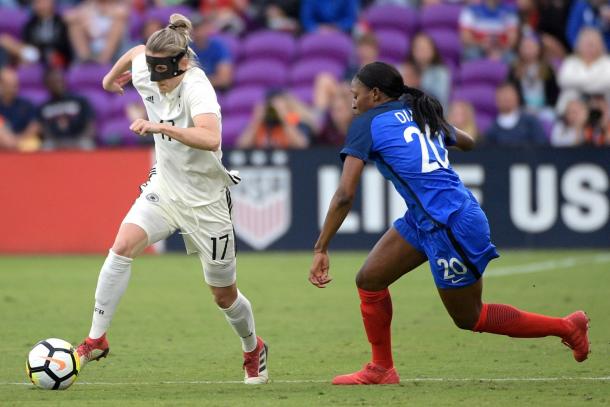 Germany almost levelled things up in the 23rd minute when Dzsenifer Marozsán tried to chip Sarah Bouhaddi from close to the halfway line but the French goalkeeper was alert to the danger and managed to scramble back quickly enough to keep the ball out of her own net.
The game then came to a long halt when Tounkara and Marozsán came together and the defender was left on the ground with a leg injury that looked serious. After the stoppage, Germany did not create much more and they went into the break a goal down.
Germany capitulate in the second half
The halftime break did not seem to help the Germans as they once again succumbed to France's efficiency in front of goal. Le Sommer, who had a great game, was the beneficiary of some brilliant trickery by Gaëtane Thiney. The Paris FC captain spun away from her defender and found Le Sommer unmarked at the far post. The French forward had the easy task of nodding the ball home from close range and put France up by two goals in the 55th minute.
Le Sommer was instrumental in the third goal as well as she moved down the right-hand side and picked out Valérie Gauvin who was left all alone in the penalty area. Gauvin took a touch before finishing well high into the goal and out of reach of any last-ditch tackles from the German defenders.
Germany created a few chances in the second half, particularly when Alex Popp should have found the back of the net in the middle of the second half but they could not reel in France.
The Germans finished at the bottom of the SheBelieves Cup table and will have plenty to think about on their way back to Europe. The team continues to be on a downward spiral and if major changes are not made soon, they could be in for an embarrassing early exit at the 2019 FIFA Women's World Cup.