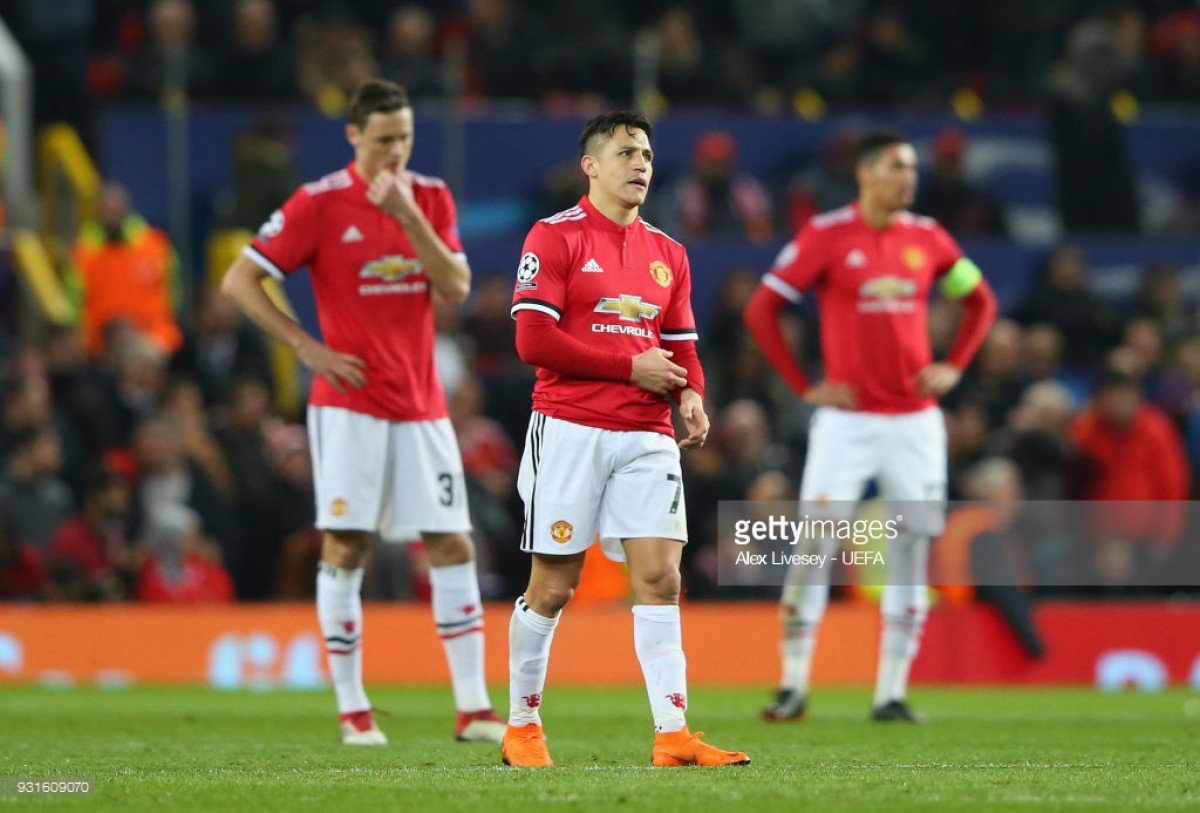 Well it wasn't pretty but United made it through to the semi-finals thanks to goals from Lukaku and Matic. All that matters though is that they have made it threw to the next round. That though is all we have time for tonight. I have been Brandon Sayer taking you through tonight's coverage, I hope you have enjoyed and until next time, have a good night.
Manchester United are through to the semi-finals of the Emirates FA Cup.
90+3' - The referee blows his whistle to end the game. Manchester United 2-0 Brighton & Hove Albion.
90' - The referee has decided to add on three minutes at the end of the second half.
89' - Manchester United substitution: Jesse Lingard is replaced by Marouane Fellaini.
84' - Goal for United. Matic makes it 2 nil to United. Finally United get the crucial second goal as Matic headed home from a great cross from Ashley Young. Will that be enough for United to get through? We will see.
76' - Brighton substitution: Ulloa was replaced by Glenn Murray.
74' - Manchester United substitution: Mata is replaced Marcus Rashford.
68' - Brighton substitution: March is replaced by Isqueirdo.
67' - Locadia again has another chance to equalise but he put his header over the bar when he should have at least hit the target.
57' - Brighton once again threaten to equalise as Locadia forced Romero into a very good save from the edge of the box. United need to up their game to finish off this tie.
51' - Brighton have started very well at the beginning of this second half and Pascol Gross went within inches of equalising for the away side as his shot from the edge of the box just went wide with Romero beaten in nets.
46' - The referee blows his whistle to begin the second half! Game on!
Manchester United susbtitution at half-time. Luke Shaw is replaced by Ashley Young.
In a first half that United have really struggled to create very much they go into the break with the lead thanks to Lukaku's 25th goal of the season. Brighton will feel they have shown enough though to get back into the game in the second half. Mourinho though will be hoping that his side will see the game through in the second half. We will see very soon how it goes. Stay tuned as we bring it to you next!!
45+1' - The referee blows his whistle to end the first half. Manchester United 1-0 Brighton & Hove Albion.
45' - The referee has decided to add on one minute at the end of the first half.
37' - Goal for United. Lukaku opens the scoring. United were patient in their build up play and it worked as a brilliant cross from Nemnaja Matic found the Belgian striker and headed the ball into the back of the net. That is exactly what the home side needed.
32' - Brighton responded well to that chance for United as Lewis Dunk's header from a corner kick was well-saved by Sergio Romero.
30' - That was better from United as quick passing between Martial and Mata ended with United going close to opening the scoring but the Brighton defence made a last ditch challenge to stop a goal. From the resulting corner the ball fell to Smalling in the box, who hit the post with his left foot shot.
19' - Brighton now are starting to get some belief in the game by having a good spell of possession which so far hasn't lead to any chances but it's making the United fans very worried. United really need to step it up.
11' - Finally United start to spring some passes together and it led to a half chance for Lukaku as he turned a Antonio Valencia cross wide of the goal.
1' - The referee blows his whistle to begin the game. Game on at Old Trafford!
Brighton & Hove Albion substitutes: Maenpaa, Bruno, Goldson, Sanders, Izquierdo, Baldock, Murray.
Manchester United substitutes: De Gea, Lindelof, Young, Fellaini, Pogba, Sanchez, Rashford.
Brighton & Hove Albion starting XI: Krul, Schelotto, Dunk, Duffy, Suttner, Kayal, Propper, Gross, Locadia, Ulloa, March.
Manchester United starting XI: Romero, Valencia, Bailly, Smalling, Shaw, Matic, McTominay, Mata, Lingard, Martial, Lukaku.
The team news from Old Trafford is in. Stay Tuned as we bring it to you next!
Team news will be out an hour before kick-off on a busy day of FA Cup action in England. For all the updates on the day, check out VAVEL UK's coverage and stay with us until kick-off for build-up and thoughts from our man at Old Trafford, Alex Turk.
For Brighton, meanwhile, Hughton can welcome back Gaetan Bong, Daley Stephens and Jiri Skalak after they have recovered from their respective injuries. Whether they'll start, though, is another matter.
Ibrahimovic's future has been in the news this week, with the Swede refusing to disclose any information on whether he'll be at United beyond the summer.
Mourinho's injury problems at United remain. Marcos Rojo is still unavailable, but has just signed a new contract at the club lasting until 2021. Ander Herrera, Phil Jones and Daley Blind are all sidelined with no return date set yet. Talismanic striker Zlatan Ibrahimovic returned to training ahead of United's Champions League defeat in midweek, but is unlikely to start.
Hughton insisted that the Seagulls will go for it at Old Trafford and not take the tactic of sitting back as many smaller sides do.
"That's the reason why we're playing in this competition and there will be upsets and there will be teams that have poor days and teams that have very good," Hughton said.?
"We will have to have a very good day and United not such a good day to get anything from the game. That's why we're here and that's why we've got to this stage.
"It's by no fluke or coincidence that we've got to this stage of the competition and once we're here, we want to give it our best shot."
While United and Mourinho are fighting to win the trust back of the United fans, Brighton are on a high. Manager Chris Hughton was recently named Premier League Manager of the Month, the first time ever a Brighton manager has won the award.
With that, Mourinho responded in his post-match press conference in peculiar fashion, but United fans were pleased to see him come out fighting ahead of today's game. "I could be in another country with the league in the pocket, but I am here and I am going to be here and no way am I going to change my mentality," Mourinho said. "I'm not going to disappear from the tunnel, running immediately; the next match I will be the first to go out. I am not afraid of my responsibilities."
Wissam Ben Yedder scored two goals off the substitutes bench for Sevilla to give them a 2-1 win in Manchester. United, at no point during the two-legged tie, attempted to take the game to Sevilla. Fans were furious with Mourinho's tactics and team selection.
The pressure comes after a woeful defeat to La Liga side Sevilla in the UEFA Champions League at home on Tuesday night saw the Reds crash out of the competition at a far earlier stage than they would have liked, and should have reached.
Man United manager Jose Mourinho comes into tonight's game under pressure, though he has reduced that with an impassioned 12-minute monologue in his pre-match press conference, sending a message to the players, fans and board.
Hello and welcome to VAVEL UK's live minute-by-minute commentary of Manchester United's final hope of silverware this season, the FA Cup, as they host fellow Premier League side Brighton & Hove Albion in an evening game at Old Trafford.