Brighton & Hove Albion captain Bruno Saltor has signed a new deal which will see him remain at the club until June 2019.
His current deal ran out in the summer, but after a good display in the Premier League for Brighton, he has been offered an extension.
The 37-year-old full-back has made 21 appearances this season but has recently lost his right-back slot to Ezequiel Schelotto.
Bruno has made 213 appearances for the club since signing on a free from Valencia back in 2012.
He has also made over 100 appearances in the last three years having been ever-present in Brighton's previous two seasons in the Championship before they were promoted.
The manager's thoughts
Seagulls manager Chris Hughton spoke to the club website and had the following to say on Bruno: "Bruno has been exemplary in my time as manager, firstly he has been an excellent right-back for the team, and secondly an excellent captain for the club over the past three seasons.
"The way he looks after himself, on and off the pitch, is an example to any player, and it is due to that lifestyle of professionalism that he is still playing at such a high level at this stage of his career."
Hughton also touched on how regularly the skipper has played since Hughton was appointed: "He has been a regular throughout my time as manager, playing at a consistently high level, and I am delighted to have agreed an extension on his current contract - which is hard earned and well deserved."
Bruno happy to have signed new deal
Bruno himself is pleased to have signed a new deal: "I'm really happy and thankful to the club for keeping their trust in me – I always try to do my job and help the team.
"My aim is to keep being available for selection, I've been here a long time and it feels like home."
The Spaniard also touched on the progress the club has made since he joined in 2012: "I'm so proud when I look back at the progress this club has made, and I don't want to see the club stop now – we have to keep growing and there's no ceiling for us."
He also discussed how important the new deal to not just him, but his family: "A new contract is important for both myself and my family. As players, we're used to these types of situations with contracts, but for my wife and my children, it's important.
"Especially because you have to think about all sorts of things, like schools and how it will impact their lives as well as mine.
"It's really important that my family are happy in the city and they enjoy living here – they have stability and it makes me very happy."
He then finally touched on how hard he works both on and off the pitch: "I always try to give my best every single game – that means in training and outside of the pitch too.
"I try to do a lot of community work too, which is something I enjoy and I think it's really important to make that effort alongside the supporters."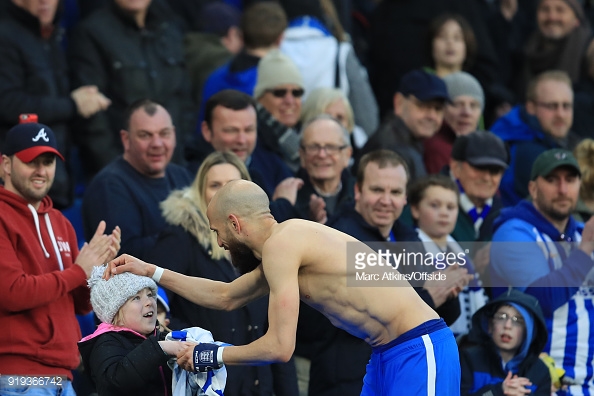 Bruno's season so far
Bruno has so far played in over half Brighton's Premier League games and made an appearance in the FA Cup sixth round win over Coventry City, in which he set up Leonardo Ulloa's first goal back at the club.
Bruno's last start in the Premier League came in the 2-0 defeat away to West Bromwich Albion. His last appearances was when he replace Schelotto in the win over Arsenal. However, considering the full-back in now 37 he has done incredibly well and is still a terrific option for Brighton as a substitute or even a starter.
Now Bruno has secured his contract extension he can now focus on helping Brighton secure their Premier League safety and will be looking to do all he can even if that is only from the bench.