 West Bromwich Albion caretaker manager Darren Moore was left delighted with his side's performance in the 1-0 win against Manchester United on Sunday afternoon at Old Trafford.
It was an outstanding performance from Albion, who remain at the bottom of the Premier League table with just four games to go. They limited United to very few clear opportunities and scored the decisive goal in the second half courtesy of a stooping header from Jay Rodriguez.
Speaking after the game, Moore said: "I am really pleased for the club. It was good performance today and we got our rewards in the end.
"We came up against a very good Manchester United team. In the end, when the ball did break for us, I thought we used it well.
"It is three points and stops the rot of consecutive defeats."
Taking it game by game
José Mourinho stated how he felt that Albion were only capable of scoring from a corner or free-kick at Old Trafford in his post-match press conference. However, Moore felt that this was far from the case.
"In general play, we had a couple of chances as well. There are different ways to score in a football match and ours has come from a set play.
"They dominated the ball. Against Manchester United, your work off the ball always has to be very good."
When questioned on how he has created such a togetherness among his squad in such a short period of time since Alan Pardew's departure, Moore explained how he has tried to create a 'family atmosphere'.
He said: "It is a club I care about a lot. I just wanted to bring a family atmosphere to the club.
"I just wanted to create a togetherness and that is what I feel at the football club. To get performances like that, there has got to be unity throughout the club.
"I am not focusing on the position in the league. All we are focusing on is the next game."
Moore continued: "It was good for the fans to go back down the M6 with the points in the bag. They have been absolutely excellent this season. I am really pleased that they have got something to cheer about."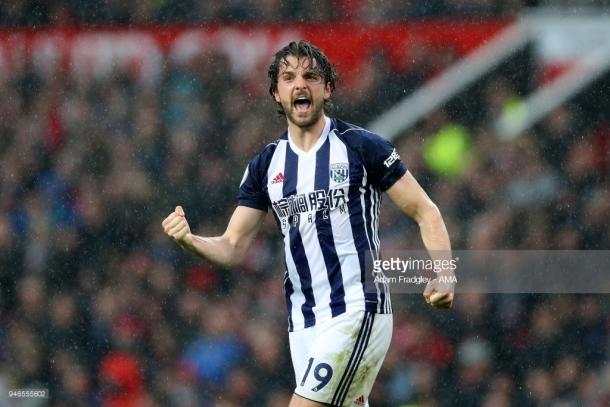 What does the future hold?
With Premier League survival unlikely, the club will be preparing for life in the Championship this summer. Moore will have done his chances of becoming the club's permanent manager no harm with his first two results but he insists this is not something that is on his mind.
He answered: "I cannot stop that. All I am doing is taking it one game at a time.
"I am not really focussing on that. We have got a vital three points which means so much to the football club. Whatever else goes on around you, you cannot do anything about that."
One player who stood out at Old Trafford was 28-year-old striker Salomón Rondón, with his hold-up play causing United problems throughout. The striker is likely to be linked with a move away from the club this summer.
Moore said: "He was a target man for us. His hold-up play is very good. He is a strong man but he has got wonderful attributes to his game. He was absolutely excellent."
Albion's matchwinner, Rodriguez, was one of the beneficiaries of Rondón's aerial prowess, as he bagged his second goal of the two games he has played under Moore so far.
Moore was again delighted with his contribution, stating: "Jay is a fantastic player for us and he is a goalscorer. It is great to see him scoring goals.
"I am really pleased for him. He is somebody who is willing to learn and develop. When you have players like that, it can only be a good thing."
It does not get any easier for Albion as their next Premier League fixture sees them host Liverpool as Jurgen Klopp's in-form Reds travel to the Hawthorns.
However, Moore believes that every game in the league is tough.
"It is another tough game. All the Premier League games are tough in their own right, no matter who you play," the caretaker boss said.
"We can only prepare for one game at a time. We will get some more hard work done in training this week."