Manchester United manager José Mourinho reflected on the influence of midfielder Michael Carrick following his side's 1-0 win over Watford at Old Trafford.
Mourinho heaped praise onto the 36-year-old who captained United on his final appearance for the club. It was a good result for the Red Devils as they ended their 2017/18 Premier League campaign in second place on 81 points.
Speaking about Carrick's role since he arrived at the club, Mourinho said: "It was difficult for me because I got him in the last period of his career.
"It has been difficult for him to play consecutive matches at a high intensity. He has been a fantastic player for the club."
The midfielder arrived at Old Trafford in 2006 from Premier League side Tottenham Hotspur. He has since gone on to make a total of 464 appearances for the club in all competitions.
Mourinho believes that former manager Sir Alex Ferguson must take a lot of credit for luring the midfielder to the club.
He said: "We can call Sir Alex (Ferguson) the 'intelligent one' for purchasing him. I am not sad because it is just the end of his career as a player but he is staying with us."
He added: "I am always more connected to the person rather than the player."
United to operate without an assistant manager
It was revealed this week that United's assistant manager, Rui Faria, is to leave the club following a 17-year working relationship with Mourinho.
However, in his post-match press conference, Mourinho stated that he will not be replacing him and instead operating without an assistant manager next season.
He said: "I will organise my coaching staff in a way where the assistant manager figure does not exist. I am going to have coaches, fitness coaches and a structure where we have specialists in different areas connected to the performance.
"I am not going to have an assistant manager in the sense of the word. I have to make the decisions but my assistants have an opinion."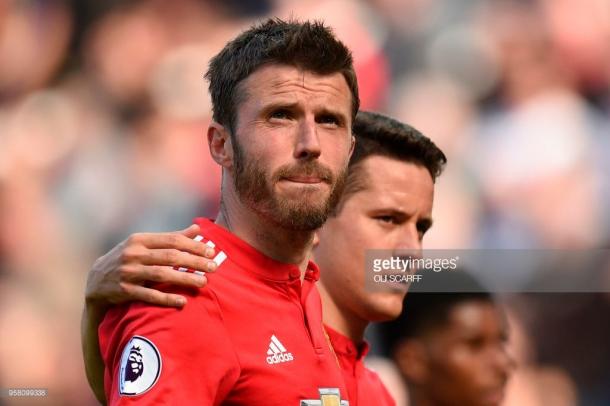 A potential avenue for Carrick?
Many rumours have been sparked by Faria's departure and Carrick's move to United's coaching staff. It has presented a potential avenue that Carrick could pursue as he continues to pick up his coaching badges.
Mourinho admitted that he can see Carrick being his assistant manager in the future. He said: "I do not think it makes sense when Rui is leaving after 17 years (to make an immediate appointment)."
"I have nobody in the world of football ready to be my assistant manager. I think naturally when Michael has the badges, it will be for him."
The 55-year-old United boss went on to explain how it will be difficult to adapt to life without Faria, but also pointed out how it presents other members of his coaching staff with an opportunity to step up.
He said: "It is difficult because he is my friend. 17 years is a long time. We spent more time with each other than anyone else in our lives.
"It is now an opportunity for the other guys to flourish and be more involved with the training process."
At the beginning of his post-match press conference, Mourinho was questioned on the whereabouts of Anthony Martial. The 22-year-old forward was reportedly seen driving away from Old Trafford ahead of kick-off but Mourinho said this was not the case.
He said: "It is not true. He is injured. He picked up an injury in Friday's training session and could not train yesterday."
United will be hoping that both Martial and fellow forward Romelu Lukaku are back fit for their huge clash against Chelsea next weekend in the FA Cup final.