The 2017/18 Championship season comes to an end this Saturday with the play-off final as Fulham take on Aston Villa at Wembley, with so much at stake for both sides.
Ryan Sessegnon, who was awarded Championship Player of the Year a couple of weeks ago, is likely to play a part once again for the Cottagers in what has been an outstanding season for the youngster.
The 18-year-old's future remains unclear but could the result of this Saturday's match be a factor in his decision?
An outstanding talent
Sessegnon made his breakthrough at Craven Cottage last season but he has come on leaps and bounds throughout this campaign. He made a total of 25 appearances in the Championship last season but has featured 47 times this time round, including the two play-off matches against Derby County.
Not only has he cemented his position in Slaviša Jokanović's starting line-up, but he has also been their standout player. It should not be underestimated how difficult it is for a player of his age to feature in so many games, due to both the physical and mental demands of the league.
There is no doubt that Jokanović has played a part in Sessegnon's rapid development over the past year or so. The style that the 49-year-old has implemented at the club has given the youngster the freedom to bomb forward and cause the opposition problems.
He did start the season operating as a left-back but his attacking qualities soon began to show which has seen him convert to a more forward-thinking player.
This positional change has seen Sessegnon significantly improve his attacking statistics this season. He has been directly involved in 23 of the 81 goals that Fulham have scored this season, finding the back of the net 16 times and picking up 7 assists.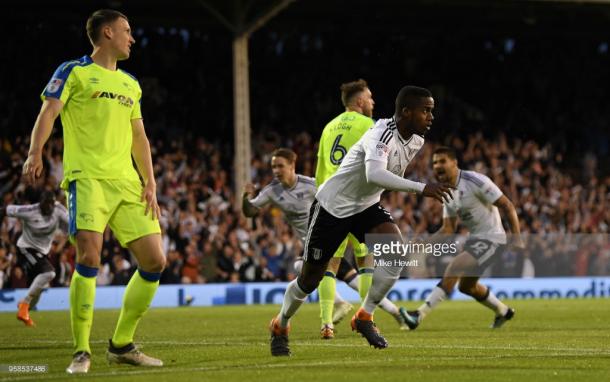 The ability to change a game
The 18-year-old is one of the most promising youngsters to have emerged in the Championship for many years. He has undoubted quality and has the ability to change the outcome of a game by himself.
The best example of this was in the second leg of the Cottagers' play-off semi-final against Derby. Sessegnon was left frustrated in the first leg at Pride Park just a couple of days before, in which he was substituted in the 76th minute as his side fell to a 1-0 defeat.
Many players of his age would perhaps have allowed the frustration from this game to carry into the second leg. However, this was not the case with Sessegnon. He took it upon himself to turn the tie around in the second half in his side's favour, scoring shortly after half-time and then assisting Denis Odoi's winner.
To be able to produce such quality under that sort of pressure against what was a very experienced and switched on Derby side, shows just what a special talent he is. Gary Rowett's side had a number of experienced faces such as Curtis Davies in the starting line-up, but Fulham's youthful energy got the better of them in the end.
Sessegnon's influence on this Fulham side is so great, that they usually win when he gets himself on the scoresheet. He has found the back of the net in 11 different league matches this season, with the Cottagers winning all but one.
This means that Fulham have a win percentage of 91% this season when Sessegnon finds the back of net, which partly proves that when he plays well, so do the Cottagers.
Big move on the horizon?
The season that Sessegnon has enjoyed in the Championship has not gone unnoticed by clubs in the Premier League and across Europe. He has been heavily linked with both Manchester United and Tottenham Hotspur, both of whom have qualified for next season's Champions League.
There is no doubt that the jump between the Championship and the Premier League is a huge one, but Sessegnon does have the ability to test himself in the top flight and still has a significant amount of time to improve his game.
However, the question which will be asked is if he is ready for a big move at this stage of his career. Many players have moved for big money in the past and not lived up to expectations. Oliver Burke left Nottingham Forest for RB Leipzig in a deal worth around £13 million in 2016. He now finds himself back where he started with West Bromwich Albion and has not really progressed in his career.
If Fulham do secure promotion to the top flight with victory over Villa this weekend, the sensible option for Sessegnon would arguably be to stay where he is and play regularly next season for his boyhood club.
However, if the Cottagers are not successful, the chance to work under a manager such as José Mourinho or Mauricio Pochettino might be too good an opportunity to turn down for another season in the Championship.