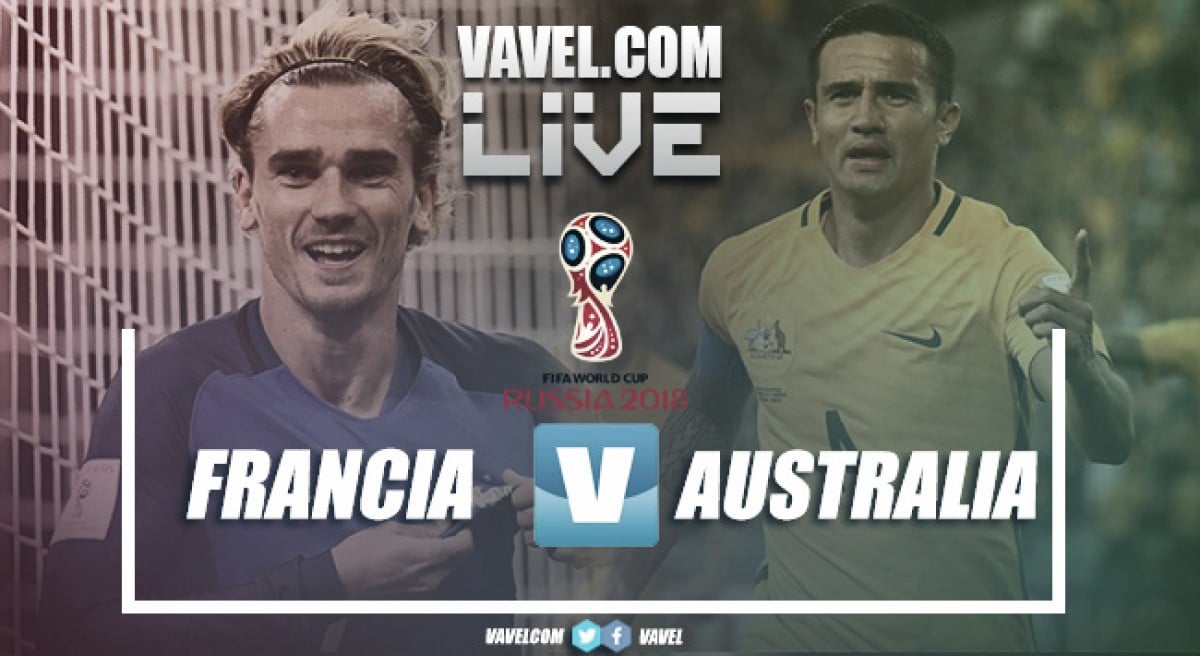 This is all from me, Jakub Bobro, but be sure to check out my colleague Brandon Sayer's live commentary of the upcoming clash between Argentina and Iceland.
Full time! France win this 2-1! Quite unfortunate for Australia, to not get anything out of this game. A very high-quality defensive performance, but France come away with three points here.
90+5: Pogba gets fouled and one the Australian players goes for a "F*ck off mate! F*ck me!" just before the match ends.
90+4: Behich took a long throw into the box, but Australia were unable to get anything there.
90+3: France have done a good job of keeping Australia away from any danger zones and look like they will hold on.
90: France wasted a great chance to put this match away for Mbappe drew Ryan away from his goal, Australia defended the empty net well. There will be five minutes of stoppage time.
88: Fekir didn't get the ball past the wall, but France keep possession.
87: Fekir dispossessed Behich near the box, who fouls him and gets a yellow. Now a chance for Fekir to get an assist after this free kick.
84: Substitution: Robbie Kruse comes off for Daniel Arzani. Quite a surprise from Van Marwijk, as I really expected Cahill to be coming on for these final minutes.
81: Pogba has had a hard time imposing himself on the game up to this point, but he might be the hero for France in this game. Australia now have to chase this match.
GOAL!!!! Pogba chips the ball over Ryan and after Goal Line Technology, this goal will count. 2-1 France!!
80: Yesterday, we saw a late result-changing goal in all three goals.
78: Substitution: Blaise Matuidi comes on for Corentin Tolisso as Deschamps' final change in this game. Australia have one more.
76: A yellow card for Corentin Tolisso after a tactical foul as Australia had the numbers going forward.
72: Forgot to say that Giroud is playing with some heavy bandaging around his head.
71: Substitution: Jackson Irvine is coming on for Tom Rogic, who certainly took his time coming off
70: A double switch from France with Griezmann and Dembele coming off for Nabil Fekir and Olivier Giroud. France trying to get some new options in.
69: France have been putting the pressure on, solid build-up play. Umtiti tries to be a hero from 30 yards out but his shot is blocked.
66: Two thrilling penalty decisions later, we are essentially back where we started. France have to chase the game while Australia will be content with the score as it is.
64: Substitution: Tomi Juric comes on for Andrew Nabbout
62: No need for VAR on that one. An incredibly unfortunate lapse in concentration for Umtiti, sticking his hand up during a cross.
GOAL!!!!!! Mile Jedinak converts, and Australia equalize with a penalty of their own just three minutes after going behind.
61: ANOTHER PENALTY!!!!! Samuel Umtiti handles the ball after a cross. Mile Jedinak will get a chance to tie the game.
59: Australia will have to now come forward, hoping to tie the game, but it was France who were looking for a second right away, with Griezmann and Mbappe giving some trouble.
58: A good penalty by Griezmann, gives Ryan no chance from the spot. A huge decision after the first VAR review ever in a World Cup.
GOAL!!!! Antoine Griezmann does not miss from the penalty spot, France go ahead 1-0!
55: The play now goes to VAR for the first time in this tournament. A penalty is given for France! Risdon touched the ball but also clipped the French forward. Risdon gets a yellow for the play as well.
55: France appeal for a penalty after a swooping tackle by Risdon on Griezmann in the penalty area.
53: Australia now get a bit of a chance. After Leckie found Risdon on the overlap, the right-back crossed the ball in and French defenders had to scramble to clear.
51: France keep on trying intriguing ideas to break down Australia, but just cannot connect as a team.
49: Hernandez goes down screaming after an elbow in the face from Leckie in an aerial. Australia keep on booing the left-back, but Leckie is skating on thin ice. This is his second foul since he got booked early in the match.
France have kicked-off the second half!
France must be disappointed with their first-half showing. After looking strong out of the gate, France have been looking disjointed and unsuccessful to break down Australia. France have been playing in a lot of balls into the box from the midfielders and full-backs, but struggle to connect. Giroud would seem to be the answer as a target man. Tolisso has also looked out of sorts, so I think we might see a change for Matuidi or perhaps Fekir.
Australia can definitely be satisfied. They struggled a bit in the beginning with the French attack, but have successfully killed the game, limiting the French chances and actually having a few of them on. There isn't anything Australia need to change, though I imagine we'll see Tim Cahill get in there at some point.
Halftime!
45: Australia show some initiative towards the end of the half. Behich tried to cross in the ball, and after it bounced back to him, he shot just off target.
42: The Australian fans are booing Hernandez with a passion after he went down easily after some contact with Nabbout in the corner.
38: Nothing much has happened in the last few minutes, just what Australia want. The 'Socceroos' have again controlled the ball for a while, and slow the game down successfully.
33: French opted for a longer build-up and it almost paid off after a dangerous cross from Hernandez.
30: Griezmann received the ball in the box, got it down with a touch, but wasn't able to get a shot away.
29: We just saw a ball pop after a battle between Mbappe and Sainsbury. That's a first for this World Cup.
28: Lloris intercepted the ball quite easily in the end.
28: Pogba has given away a foul about 30 yards out, giving Mooy another chance to shine.
25: France have been trying to get more players forward, especially the full-backs. Deschamps is playing a 2-3-5 when his team are on the ball.
22: Australia have actually been controlling the match for the past couple of minutes, France have struggled to connect with their long passes.
17: Australia get a free kick after Pavard fouled Leckie. Mooy put the ball in, and after a deflection from Tolisso, Lloris almost lost his clean sheet. Australia almost shocked the world.
15: The French midfielders have mostly been trying to thread direct balls for Mbappe and Griezmann to get behind, the success of it seems imminent.
13: Veteran Matthew Leckie gets the first yellow card of the match after mowing down Hernandez. Griezmann played the free kick, France get a corner.
12: France clear it easily.
11: Pavard pulled the shirt of Kruse, and now Aaron Mooy will be able to play the ball into the box for Australia.
9: The big number of Australian fans are really enjoying themselves, cheering every pass and tackle.
8: Griezmann nods down Mbappe's free kick, but it's a simple one to handle for Ryan.
7: Hernandez manages to draw a foul from Kruse, in a similar distance, but it's more of an angle for a cross.
6: Griezmann had shot outside the box past the defense after a good counter-attacking move, but a good save by Ryan
5: Pogba and Griezmann both stood by the ball, but it was the former who took the shot. Gets it on target, but Ryan is right there.
4: Mbappe gets fouled by Milligan after a wonderful pass from Umtiti. France will have a chance from a free kick about 25 yards out.
2: Mbappe had a good run after a pass from Tolisso, gives Australia an early scare. The first corner of the match will follow.
And this match has kicked-off!
Referee Andres Cunha of Uruguay will make his World Cup debut.
The anthems are over and the football will start surely!
I must say, the stands seem to be full here, you would hard-pressed to find empty seats.
As the players walk onto the pitch in Kazan alongside their mascots, I'll predict a 2-0 win for France.
Just under 15 minutes until the beginning of this massive four-match day!
France have gone for a couple of surprises, seemingly convinced of their ability to outclass Australia. Deschamps rotated his full-backs, putting in the young inexperienced Benjamin Pavard and Lucas Hernandez, who only have 11 caps between them. It is also apparent that Deschamps believes skill can give him a better option of breaking down the opposition as opposed to power, starting Corentin Tolisso and Ousmane Dembele instead of Giroud and Matuidi.
Australia go for the expected lineup, making only one chance since the friendlies, which I predicted. Mile Jedinak is in for Massimo Luongo, offering more experience and a more defensive option. We can certainly expect the veteran Tim Cahill to come on at some point.
Australia XI: Ryan, Risdon, Sainsbury, Milligan, Behich, Mooy, Jedinak, Kruse, Rogic, Leckie, Nabbout.
France XI: Lloris, Pavard, Varane, Umtiti, Hernandez, Tolisso, Kante, Pogba, Dembele, Mbappe, Griezmann.
How will they line up? Didier Deschamps has been alternating the 4-3-3 and 4-1-2-1-2 formations, using the latter more recently. This formation has Olivier Giroud in the side as opposed to the young winger Ousame Dembele and also Griezmann dropping behind the two strikers instead of leading the front three: Lloris, Sidibe, Umtiti, Varane, Mendy, Kante, Matuidi, Pogba, Griezmann, Giroud, Mbappe.
How will they line up? Captain Mile Jedinak has been bumped to the bench recently for Massimo Luongo. However, it is likely that Van Marwijk will go for the leader and a defensive shutdown midfielder as opposed to another playmaker in Luongo. Australia have played a 4-4-1-1 and a 4-2-3-1 in friendlies, and I believe that Van Marwijk will go with the former, more defensive setup: Ryan, Risdon, Sainsbury, Milligan, Behich, Leckie, Mooy, Jedinak, Kruse, Rogic, Nabbout.
Yesterday's transfer of the French winger Thomas Lemar made the headlines in France. The 22-year-old, who was close to signing for Arsenal on deadline day last summer, completed a huge transfer from AS Monaco to Atletico Madrid for £52.7 mil. This move adds even more fuel to the pre-existent conversation about a possible Antoine Griezmann transfer away from Wanda Metropolitano.
A headline out of the Australian camp before their World Cup opener is sadly remembering the 6-0 hiding they took last time from the French. Here is what Matthew Leckie said about the match to Australian outlet SBS: "Because of that reason we went into the game very worried, very vulnerable. Tactically we had no idea. It was a tough time. You could see there was absolutely no confidence in the camp. They scored early and the floodgates opened ... it was definitely one to forget."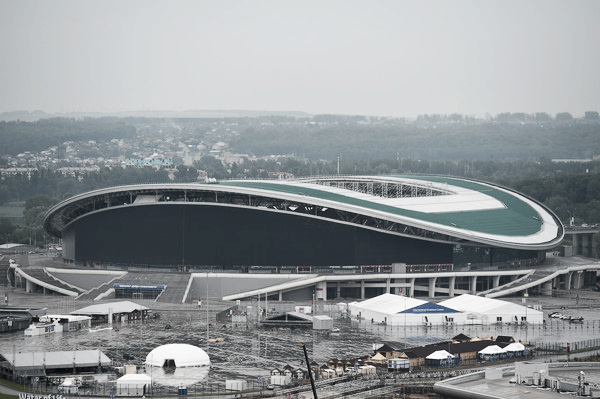 This match will be the first of six held at the Kazan Arena, the home of Rubin Kazan. The 45,000 seater was finished in 2013 and did not need any further construction to prepare for the World Cup. The stadium has also successfully hosted the Confederations Cup and the 2015 World Aquatics Championships.
Australia opted to only play two friendlies, and can certainly take encouragement from their 4-0 win over Czech Republic and a 2-1 win over Ireland. Of the six goals, two of them were own goals by the opposition. Australia, who are expecting goals to be hard to come by, found three goalscorers in their ranks in the last two matches, definitely putting themselves in a dark horse position in Group C.
The French form in friendlies has been a bit of a mixed bag. The European side was looking strong with a 2-0 win over Ireland and a 3-1 win over Italy but ended the friendly campaign with a 1-1 draw against the USA. The fact that the star-studded French attack failed to break through the American defense more than once will certainly give some hope to Bert van Marwijk's Australia.
France and Australia have played each other four times prior to this match, with two French wins, one Australian win, and one draw being the outcomes. The last match was in October 2013 at the Parc Des Princes in Paris. France absolutely stomped through the Aussie defense, winning 6-0. The French bagged all six within the first 50 minutes.
Hello and welcome to VAVEL UK's live minute-by-minute match coverage and commentary. Today, Saturday 16th June 2018, sees France face off with Australia in the 2018 World Cup. This morning's game kicks off at 11:00 GMT, giving the Brits a taste of morning football, which American Premier League fans experience on the weekly. Until then - we'll have plenty of pre-match build-up and analysis from me, Jakub Bobro. Make sure you stay following.