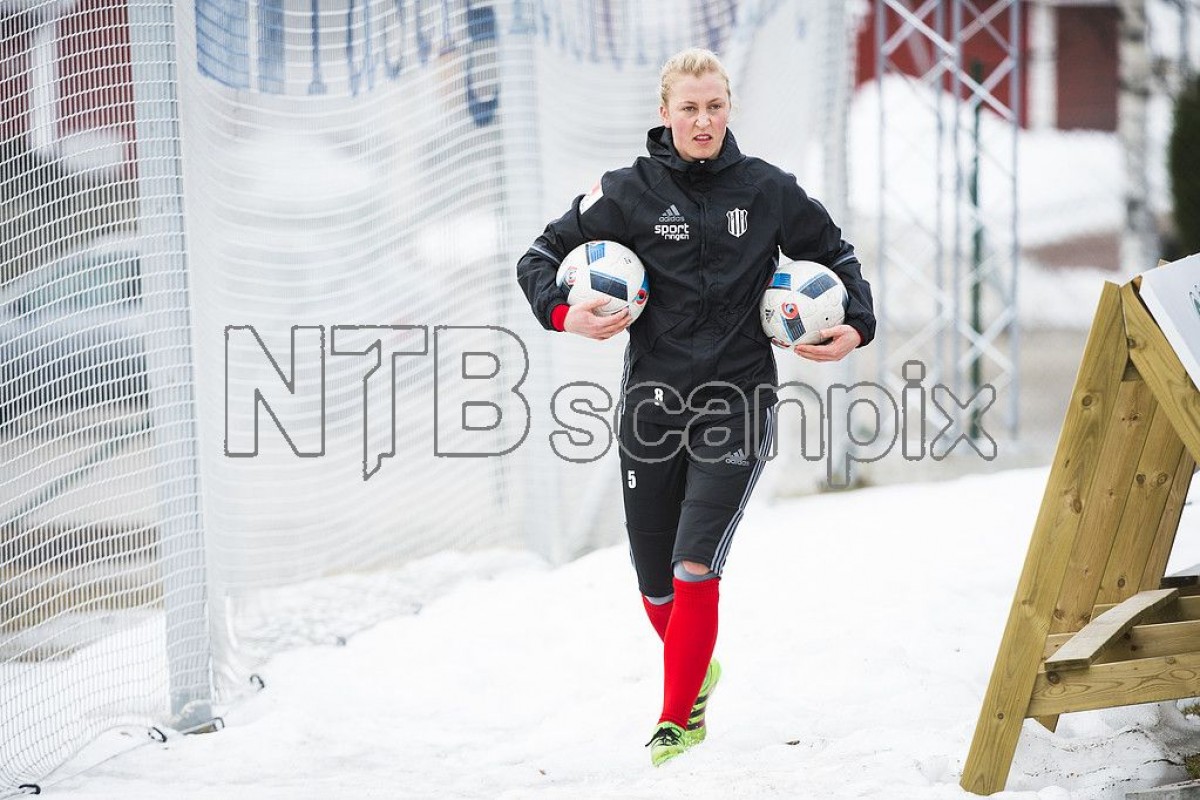 After Piteå's historic clash with Rosengård in Kiruna we spoke to young attacker Julia Karlenäs about her goals for the year and how she prepared for the match.
Tough at the top
Not at their best in the first half, the northern side failed to take their chances when they came after the break, the mood in the dressing room unsurprisingly downbeat.
"Very disappointed, I hate to lose so right now I have a lot of emotions and I've very disappointed. But when we calm down I think we'll be able to say we did okay – it was a tough match – but we need to be a little bit better in our passing game to create more chances but it was a good game."
Looking a different team in the second half, the team used the break to calm themselves down and regain their confidence.
"We said that we need to try and keep the ball and keep it on the ground, be brave and challenge them one-on-one, and I think we did that better in the second half but I think when they scored the goal we got a little stressed with our last pass so we need to be a little more calm."
With the game played from 10pm-12am, it received special billing and saw one of the biggest crowds in Damallsvenskan this season, Lombia IP well over capacity.
"It was really fun, I felt the crowd was really amazing, it was so fun to finally hear people really sing during a game. Kiruna as a town did a good job to get people here, I still think it was a good game, it was two good teams and this time we lost but it was a good game."
For Karlenäs the match could have been played at any time, all focus on the job at hand as soon as the whistle had gone.
"I thought… because I'm usually pretty tired in the evenings – but when you play you don't think about it, it could be like 5pm in the evening right now, I don't know the time." (It was 1am)
The biggest problem with kicking off at 10pm as opposed to 2pm? Trying to kill time.
"It was a bit different but I tried to sleep a little before the game to get the hours moving but other than that it was pretty normal, to eat and get into the mood."
The underdogs
The northern-most team in Damallsvenskan, from a town of less than 24,000, Piteå are the perpetual underdogs, the team having to endure extreme temperatures at both ends of the season. With a constant player turnover, PIF are constantly running into a headwind but consistently pull out strong performances and relatively high finishes in the table finishing top four in each of the last three seasons.
Coming into the match, Piteå were top of the table, having won their first seven match and five points clear of Swedish giants Rosengård, yet the feeling is that people continue to write the team off.
"I don't feel like we have a lot of pressure, before this season nobody believed that we'd even be top four – now that we've won seven in a row, people might now be saying, okay, they're good. But I still think Rosengård have a bigger pressure on them."
With six of their seven wins having been by a lone goal (1-0, 2-1, 3-2) there is no worry about the margin of victory, just as long as the team pocket the points.
"As long as we win the games, I don't care if it's 3-0 or 1-0 as long as we win, we've shown that we can win even if we are one goal down, even if we score the first goal, we've shown that we can win in a lot of different ways."
With a comparative young team, Karlenäs thinks that that youth makes the team more fearless and ready to attack matches, the majority of the age and experience in the team found at the back.
"I think we're fearless but we still have a mix, a little more experience in our backline but it's a good mix."
The goals for the season? To do better than the last.
"We said – we came fourth last year – so we wanted to do better than that."
For the attacker, her goals against spoke to bettering what she manged in 2017.
"My goals were to score five goals, get three assists, start every game and finish top three with the team."