Jonathan Moss has been put in charge of Watford's clash against Brighton in the inaugural match-day of the upcoming Premier League campaign.
This will be Moss' second match already this season, having officiated Manchester City's 2-0 win over Chelsea in the Community Shield on Sunday.
The official took charge of three Watford matches and one Brighton fixture last season - with neither side securing a victory in those four games.
Both sides have poor record under Moss:
Moss oversaw three Watford matches this season with the Hornets securing just a solitary point out of a possible nine. The first came in Javi Garcia's first game, a 0-0 draw with Stoke, while the trip to Chelsea and the home encounter with Manchester United ended in defeat.
The Hornets had a 67% loss rate under Yorkshire-born official, compared to Brighton's 100% as the Seagulls lost 4-0 at home to Chelsea.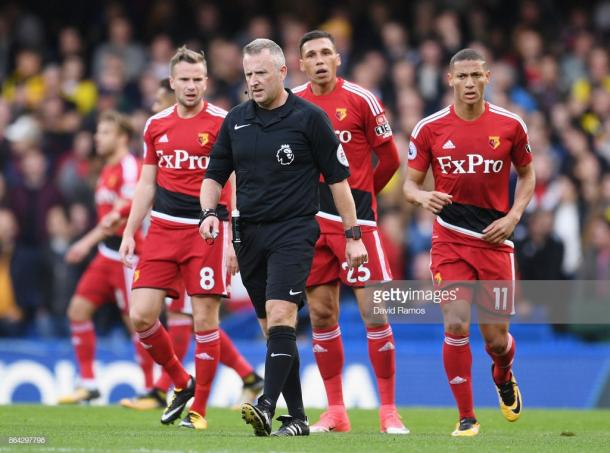 Watford also had a cleaner record than Brighton when Moss took charge, accumulating 2.67 yellow cards per game from Moss compared to Brighton's three. Despite this, Brighton averaged less fouls, committing 1.3 less offences per game. Neither side was given — or gave away — a penalty by the 47-year-old last term.
Home teams are generally more successful under his control, with a 42.2% win rate across the seven seasons which might favour Watford. However, away teams were more favoured by Moss last year, racking up a majority win rate of 37.9%.
Moss is a man of experience:
Moss has been a Premier League referee since 2011 but his career has now spanned 19 years, including vast tenures in the Football League and the lower reaches of the English game. Born in Sunderland, he also took charge of the 2015 FA Cup Final in which Arsenal beat Aston Villa 4-0.
Throughout his Premier League career, Moss has officiated 173 top-flight matches, dishing out 584 yellow cards and 24 reds. This means, on average, the 47-year-old sends a player for an early bath in one out of every seven league games.