 Watford FC Ladies will embark on their first FA Women's National League South campaign when the season begins in August, and the club will have aspirations of competing for top spot after a busy summer in Hertfordshire.
The Hornets stepped down from the second-tier earlier this year after the FA announced plans to restructure the women's game which saw vast changes in the top three divisions as well as heavy rebranding.
With Watford becoming an established name in recent seasons, the club are expected to compete for the league title and return to the FA Women's Championship at the first attempt.
Getting over a disappointing year
Watford FC Ladies will be hoping for a more prosperous league campaign than last year. Watford finished bottom of the Women's Super League 2 last season with just four points to their name. The Hornets scored just eight goals and conceded 57, quickly finding themselves cut adrift at the bottom of the league.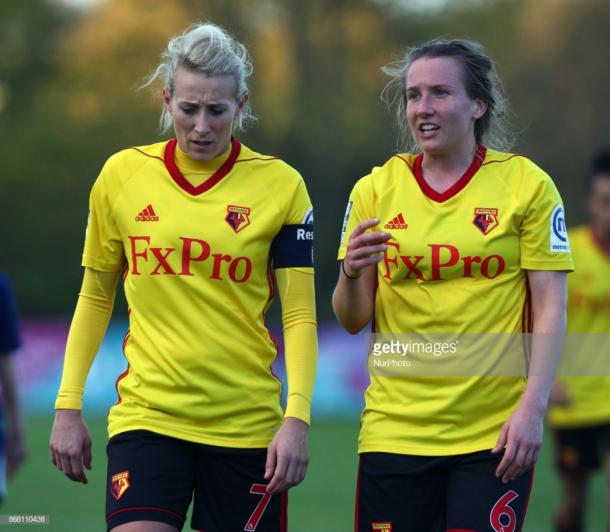 This disappointing return made it the club's worst season since they entered the WSL in 2014. After an improved campaign in the Spring Series earlier in 2017, last season was a huge backwards step. Losing their tier-two status made those nine months one to forget.
A fresh start in the third-tier
Dropping down a division has, however, given Watford a chance at a fresh start and those in charge have made great strides in rejuvenating the squad and retaining some needed consistency in this frantic period.
Head Coach Armand Kavaja has remained in charge after being appointed midway through last season and, crucially, all of the backroom staff are staying on which should mean a fluid start to the upcoming campaign.
While calmness behind the scenes is welcome, the liveliness in the transfer market this summer will be equally as appreciated. Watford have brought in eight players since the start of the league season including some with divisional experience.
Lauren Peck (Portsmouth) and Katie O'Leary (Spurs) have played in the third-tier recently while striker Roschelle Shakes - scorer of 13 in 27 league games in 2016/17 - has joined from Crystal Palace. Andrea Carid has played youth football for Spain and has joined from futsal side Ourense Envialia FSF. The signings of Shanell Salgado (AFC Wimbledon), Laura Baker (Cambridge) and Katie Akerman (Reading) ensure the club are well equipped for the upcoming campaign.
Another huge plus for Kavaja's side is securing Helen Ward, 32, on a new deal which has seen the former Arsenal and Chelsea player become the new captain. Wales' record goalscorer turned down offers elsewhere to stay in Hertfordshire and the striker will be imperative to any success her side might have in the next year.
Pre-season not over quite yet
Watford FC Ladies organised a list of highly-competitive pre-season friendlies with three Championship outfits. Preparation and getting new players settled would have been the main priority for Kavaja so two defeats against quality opposition will not worry the head coach.
The Hornets lost 10-1 to Leicester City Women in their first friendly of the summer before losing 4-3 in a closely fought encounter against Lewes. New signing Katie Akerman, captain Helen Ward, and Anaisa Harney got the goals in the trip down south. A 3-2 win over Cheltenham Town remains their only victory to date with Ward again scoring after a brace from Emily Hill had put Watford ahead.
A trip to The Hive to face London Bees on August 12 will signal the end of their pre-season preparations and they will be looking to put in a good performance ahead of their opener against Cardiff City Ladies a week later.
"We want to get back to the Championship"
In an interview with the club's official website, Armand Kavaja was optimistic ahead of his first full campaign in charge and is happy with his side's preparations. He said: "For the first time we've got a new vision and our core values. I think a couple of the core values for us are commitment, honesty, hard work, transparency, dedication, communication.
"We've planned," he continued. "We really trust each other and let each other speak and share our ideas. We're going to try a couple of things out but everything hopefully to do based on the players needs, based around football and we need to challenge those players as much as we can."
Positivity is rife around the club this summer with the majority of signings speaking of an immediate return to the Championship. Such desire is met by their head coach, who said: "Our goal is to compete first of all, we do want to get back into the Championship, that's our aim long term. But, within that we want to compete in every game and take every game step by step because it's a new challenge for us, and we know it's not going to be easy."
Cardiff City first up for Watford
Watford FC Ladies will begin their Women's National League South season to Cardiff City Ladies at Kings Langley Football Club's CRY Community Stadium on August 19.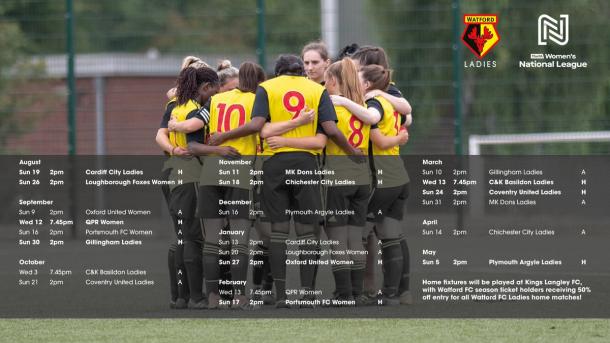 The Yellows face tough opposition in former WSL side Oxford United Women in early September - and again in January - and an experienced Portsmouth FC Women side in September as well as in February.