FC Metz are the other newcomers to the Division 1 Féminine this season and will look to stay up when all is said and done. The newly promoted side have brought in a big signing to aid their quest in former Paris Saint-Germain stalwart Marie-Laure Delie and will hope that her experience will guide a young FC Metz team to a good position in the table.
If given the chance. Delie could push Metz up the table quickly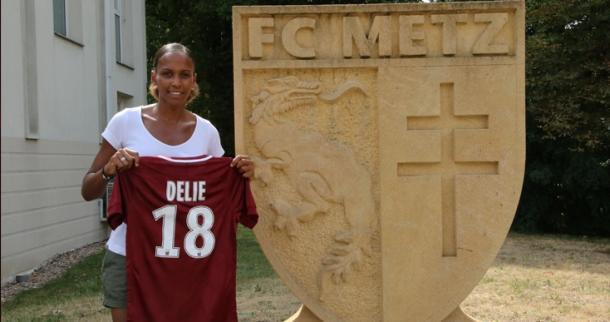 Delie is not an unknown quantity to those that have followed women's football in France. Delie rose to prominence with Montpellier HSC between 2008 to 201 where she scored 94 goals in 197 appearances. That productivity earned her the move to Paris Saint-Germain where she spent another five seasons, scoring 110 goals in 197 appearances. Delie and PSG have parted ways this summer and the French international now looks towards a new chapter with FC Metz. Given the right kind of service, Delie could prove exactly the type of player Metz need to adjust in a higher league and she can also help the younger players in the team find their footing against some tough opposition.
Alongside Delie will most probably be Meryll Wenger. Before Delie's arrival, Wenger was one of the key players for Metz since she joined the team in 2015. Wenger has gone on to score 20 goals in 63 appearances and her goals last season helped Metz gain promotion into the top division. With Delie in the team, Wenger may be able to flourish as most teams will focus on keeping Delie quiet. If Wenger takes that opportunity with both hands, Metz will have a striking duo that will pick up points for them throughout the season.
Picking up points from those around them will be crucial for Metz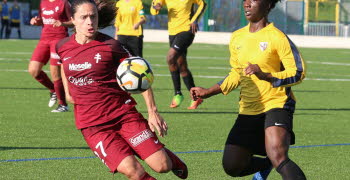 Like many promoted teams before them, Metz will have to find ways to win against the teams around them in the league standings. Most will not expect David Fanzel's side to win against the big teams in the league so their hopes of survival will lie in beating those teams considered their level.
FC Metz now with Delie, have the firepower capable of winning most of their games but it will be the defense that will need to be miserly if Metz want to stay in the Division 1 Féminine. Teams that have managed to stay up after being promoted have managed to keep things tight at the back and FC Metz will look to achieve the same thing this season.
Predicted position: 9th
2017-2018 position: N/A