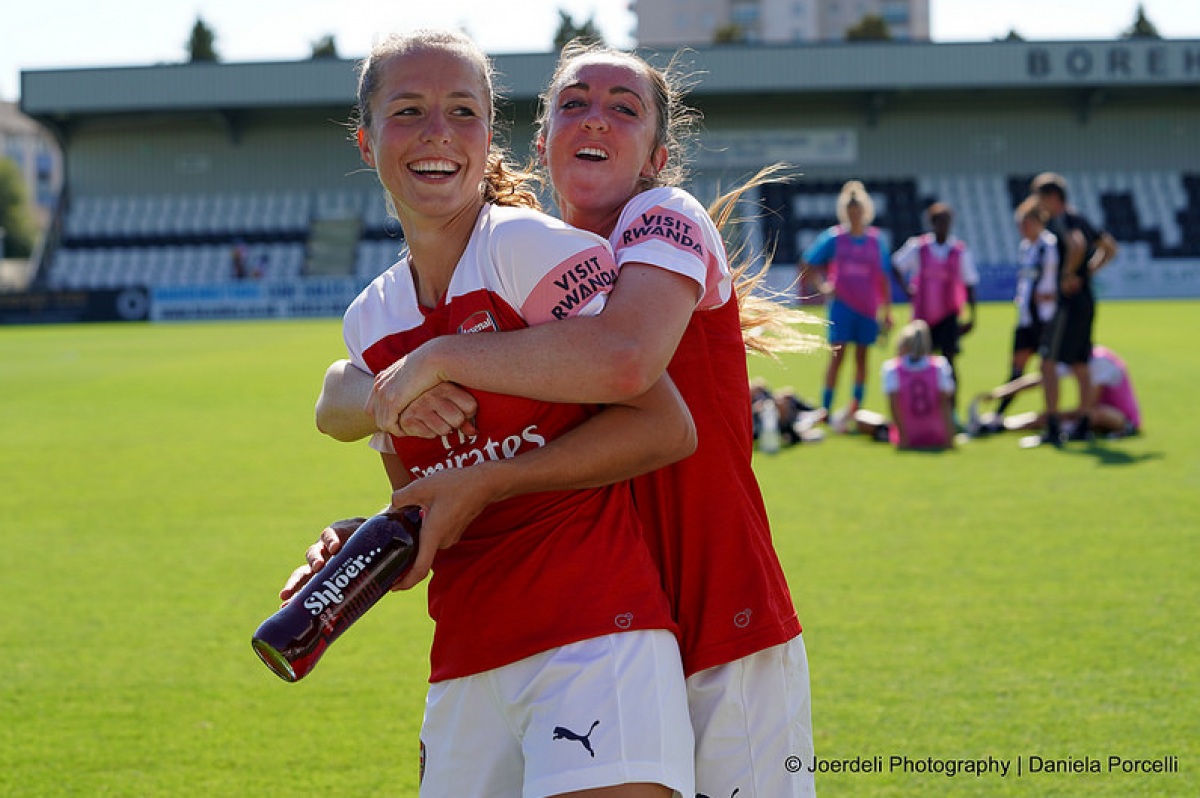 Following on from her summer move from Turbine Potsdam, we spoke to new Gunner Lia Wälti about Arsenal's league cup win over West Ham and how she's settling in her new surroundings.
Perfect start
In control in the first half against the Hammers, the hosts faced a resurgent team after the break, but coming away with the win the midfielder is pleased for the result.
"It was a hard game, we tried a different system than in pre-season, sometimes we had a little luck in our own defence and we had some mistakes that should not happen but at least we could score a few more goals," she said.
Not quite on a song as their opponents came back at them in the second half, Arsenal did enough to regain control in the match and avoid any potential wobbles at 2-1.
"We said, at half time, now we should concentrate on not letting them get an early goal because that can push up the other team and that happened, so we tried to just keep the ball. To stay as a team, compact and not let them create chances.
Wälti added: "I didn't work so well today but we were lucky in some situations and I think it's just important to keep going and create our own chances, we have strikers who are always good for a goal and that happened today."
From Bern to Borehamwood via Berlin
Born in central Switzerland, Wälti has spent the last half decade with former German heavyweights Turbine Potsdam, her transfer to Arsenal is a blank page yet to be written, a different footballing style and culture yet to be learned.
Speaking on the move, Wälti said: "It's a big move, it's a big change. There are so many differences between Germany where I've played for the last five years.
"The mentality is completely different, the style of playing football is quite different, it's interesting; you can change as a person, as a player, you can improve and that's what I try at the moment.
"I think I needs a little more time but the girls are very good and they help with everything else."
With an increasing number of WSL games available to those around the world, the midfielder leant on her own ability to research, wanting to understand those she'd be playing with before making the move.
"I tried to watch some games in the last half year so I know the players I was going to play with and I think that's the most important to know the players because you need to know everyone as good as possible and that was the thing I could do before I came here.
"From the first day I've tried to talk to everyone to just keep in contact and give a lot of me so they know me, they know how I want to play and that's the most important I think, so we can play as a team."
As well as Dutch and Scottish collectives at Arsenal, there's an increasing number of German speakers, from Turbine teammate Tabea Kemme who made the summer switch with her to former Bavarians, Vivianne Miedema, Viktoria Schnaderbeck and Lisa Evans.
Knowing a handful of her future teammates instrumental in helping the move, or as Arsenal has sold it, she was recruited by Agent Evans.
"Of course it's nice and it was a big help for us before we decided to come here, when players are already here they told us a lot and they said, it's so professional," Wälti continued.
"The English league is improving and I think it's going to be the best league in Europe, and Viv and Lisa were a big help and now it's nice to speak a bit of German with Viki and Tabbi as well."
When looking at goals for the season, Wälti was looking much more at the bigger picture, hoping to be as big an asset to her new side as possible.
"I don't have many personal goals I just want to improve and have a big role in the team to help team to have control in each game and of course we want to win titles as a team and I don't know if it's possible yet because don't know the other teams but we have a good squad and if we don't have many injuries, it will be a good team this season."