Football's back, but you probably already knew that, it's hard to miss. From the glory of the summer World Cup to the metaphorical cold days with just pre-season fixtures and European tours to keep you warm through the inflated transfer window.
But finally, the summer is over and it's time for the good stuff, the 'Barclays, the Prem', the Manchester City: All or Nothing show.
Praise Pep and Jürgen, the Premier League is back.
What a glorious spectacle, what wonderful delights to behold, 38 finger-licking match weeks to get you salivating. For so many, it will be about safety or the pride of a midtable finish, but for those select few it will be all about the splendour, the dazzling silverware, their own European tours.
Whether Sarri's smoking habit, a dismal lack of an on-site fromagerie at White Hart Lane v.2.0 or Mike Ashley, the football Gods have already graced fans with a plentiful bounty to feast upon.
The FA Women's Super, great, fantastic League
But wouldn't you know it, women's football is back too! Oh, you wouldn't know it, never mind then.
In a country that runs on football, there should have been a veritable assault coming at you about the start of the new WSL season – or any of the new seasons in women's football in England, whether that be the Super League, the Championship or any of the national leagues. But unfortunately, the well runneth dry.
The brand spanking new league, the rebranded, reshuffled, London-heavy, top two tiers all but exist in a vacuum.
Manchester United, oh those wonderful footballing boys, that global brand, that powerhouse that draws fans from all across the world, has relented and formed a women's team. That you may already know. Just like you may know that their opening fixture was against Liverpool, oh how delicious, oh how naughty of the footballing Gods.
There was, predictably, a good media buzz around United and the fixture, it even got its own slot on BT Sport, there for whoever wanted to watch the special day in the history of the club. Numbers at the ground (Tranmere Rovers Prenton Park) were poor, a clash with the men's team undoubtedly didn't help but there was a lacklustre feel to it.
But it wasn't just on Merseyside where numbers were low and promotion lower, it was, as ever, nationwide.
If a tree falls in the forest and no one is around to hear it does it make a sound? The answer is probably similar to that of, if Remi Allen punches a hole into the back of the net with a rocket from 30-yards but no one was around to see it, is it still a goal? As I have talked about before, the promotion for women's football is minimal which doesn't help get fans to games, fans who are key to having a sustainable league.
But the product on offer is far from the finished article, the league continues to exist in disarray and confusion. Having been green-lit by the FA for another season of tier two football, Sheffield withdrew earlier in the summer freeing up a berth for another team, a handful with ongoing appeals.
Would it be pre-existing Sunderland, newly founded Southampton, or another side from London given the nod to join the Championship?
Inevitably, London teams saw their numbers increase as Crystal Palace were let in before the proverbial bouncer re-hooked his velvet rope and turned away the stragglers.
Crystal Palace who had already started preparing for a season fighting for promotion in the third tier had to go part-way back to the drawing board and gear themselves up for a season of derbies and survival.
For the likes of Sunderland, the waiting game continued, the clock running down to the start of the season, players already leaving, a successful appeal would see them crippled for the start of the new campaign, confirmed relegation the final insult.
A beacon of women's football in the north another casualty left to rebuild, those teams with tier one and two licences feasting on the carcass of the felled side.
The appeals seemed to stretch on and on, two-time WPL North champions, Blackburn Rovers were left to ask what more they could do after having reached back-to-back play-off finals. Changes at Watford and Oxford United weren't enough to save the WSL 2 teams, Derby County and C&K Basildon failing where Palace succeeded.
On the road again
It wasn't just Sheffield who withdrew after having their bid accepted but fellow Yorkshire side and mainstay in women's football, Doncaster Belles. Two teams out and one in leaving the second tier unbalanced, with 11 teams in it – the same as the top tier – but criminally, London-heavy.
Whilst this is all well and good for London-based fans it puts the squeeze on promotion hopefuls Durham whose nearest rivals are Sheffield United, 125 miles (each way) away. The Wildcats will spend more time on coaches than pitches this season with six [league] roundtrips that are in excess of 500 miles, their Conti Cup campaign (subdivided into regional groups) having started with a 550-mile round-trip to Reading's Adams Park home.
Durham is not the first team that springs to mind when you think of sides with money to spare when it comes to travel and hotel arrangements.
Only the clubs and those involved in the licence allocation will know the substance of the bids and appeals put in, though Sheffield and Doncaster's withdrawal raise questions about the stability of those allocated to the Championship.
The fall-out from Millwall's financial issues continues to rain down onto the league, not just that a team could get to that point without intervention from the powers that be but that the players still haven't been compensated. Whilst the Lionesses dodged a bullet and live to fight another day, the team has had to undergo a facelift to see in the new season.
Maybe Derby, Basildon, Southampton, etc didn't have strong enough bids and really wouldn't have been able to cope in the second tier, but deliberately moving forward with an odd number of teams seems short-sighted. One team will always be forced to sit out, as the Belles found out on their return to WSL 1 in 2016, you can be playing catch-up in no time, two games under your belt to your opposition's five.
Focusing on the league cup, which kicked the season off and will see two rounds of fixtures before the international break which will be swiftly followed by the first round of league fixtures… not at all confusing. So, women's football is back, but the league won't kick off until the second weekend of September (or the third Wednesday for West Ham and Charlton Athletic).
The regional groups have come with their own pitfalls, the FA steadfast in wanting a group-based competition that filters into knock-out matches, aiding fixture pile-up. Dividing 22 teams into four groups has left two with five teams and two with six, both Chelsea and Manchester City, who'll be competing in the UEFA Women's Champions League, put into the larger groups.
Designed to create competition and interest, the groups are unlikely to throw up too many surprises, representatives from the top tier historically ruthless against the part-time sides a level down. A teachable lesson for those gunning for promotion and looking to take the next step in the second division but too often a little too bruising on the smaller sides, with little interest for the neutral.
Geographically unbalanced, Reading have been placed in a group with Manchester United, Liverpool, Everton and Durham whilst Bristol City have a slightly more geographically logical group that contains Sheffield United, Leicester City, Manchester City, Birmingham City and Aston Villa. Those in charge of schedule kind enough to put their clash with Manchester City at 3pm on a Sunday, not at 7pm on a weekday.
In keeping with the rules from last season and the re-introduction of the group stages, teams are awarded three points for a win, one for a draw, with a further point awarded for winning the subsequent shoot-out in the event of a draw. With each draw forced straight to a shoot-out as a tie-breaker, shoot-out rules always honoured even in the case of the bottom two teams in one of the groups last year, playing their last match that would only change who came bottom. Dead rubber as a good as shooting practice.
But even then, there was confusion with the official WSL website showing three points for a shoot-out win, club sites listing one point, fans left confused and angry on Sunday night. A quick email to the FA clarified that it was indeed just a clerical error and whoever was inputting the results wasn't aware.
Disaster averted but fans not pacified, those whose interest and business is key to keeping the league alive quick to judge an organisation that has seemingly often acted without rhyme or reason.
No lack of irony in the fact that Manchester City – a team, like other big clubs, many feel have benefited from FA favour – were shown as top of their group with three points after beating Birmingham City on penalties, Sheffield United's 90-minute win over Aston Villa not even listed, the group toppers left to sit on the floor.
A simple mistake corrected the next business day but the fan's ire quick to flare.
Champions, relegated
From back to front, there are questions about the FA's suitability to run women's football in England. Their approach often askew, a rasping need to trailblaze and force professionalism leaving a rising body count of civilian casualties. I have often talked about the cost of progress in what is being done but few things sum it up as well as the end of season WSL 2 table.
The Belles; champions, relegated.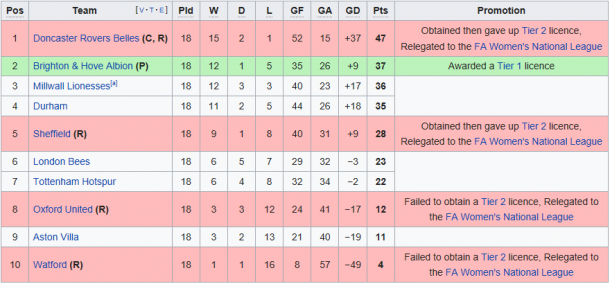 The league isn't user-friendly and too often the box comes without instructions.
Too frequently, the association is perceived to play favourites, delight at United having a women's team but clearly as accommodating as they can be when other clubs are left in the cold. The novelty of United, a professional team in a semi-professional league, not one taken kindly to by fans.
Even a dismal first season in the top tier wouldn't be enough to take the Red Devils out of WSL but the club steadfast in wanting a first season in the second tier, time to get accustomed to each other, to grow as a side, but to leave every other team in the division at a massive disadvantage.
Against a Liverpool team that had just had its own overhaul, ironically losing a number of players to United, the "smaller" team found a win away from home in Leigh. The match not without its charm, but the parity stark, one team almost magicked into existence over the summer, the other having struggled for a handful of years with a new lease of life but not enough to overcome a team from a tier below with a bigger budget.
Liverpool one of three teams not to have announced a fixed home for the new season, Prenton Park likely to host them throughout the year, whilst neither Everton nor Sheffield United have announced where their home fixtures will take place.
The Blades at home on the September 8th, the venue of their 5pm clash with Durham still TBC, the location of Everton's league cup match on the September 16th similarly as unknown.
Women's football is back but the confusion and anger remains.