After going down and coming back up again, all ASJ Soyaux want to do is to remain as a mainstay in the Division 1 Féminine. They made great strides towards that last season, finishing in fifth and chasing down a fourth-place finish for most of the season.
Jean Parédès and his charges will look to do the same again this season.
Babinga and Bourgouin spearhead Soyaux's attack

They may not have been at their very best last season but Pamela Babinga and Laura Bourgouin are the players that make Soyaux tick.
Their performances, with goals or without, usually determine how the match will go for Soyaux and they remain the heartbeat of the team.
Babinga only scored two goals last season while Bourgouin faired slightly better with five but even though they did not produce what was expected of them in front of goal, they were still a great creative force for the team and helped them achieve a solid campaign last time out.
This season, many will expect them to rediscover their goal-scoring form and that can only be a good thing for a team that finished in fifth despite Babinga and Bourgouin's goal-scoring woes.
Stability within the team gives Soyaux a good platform to build off of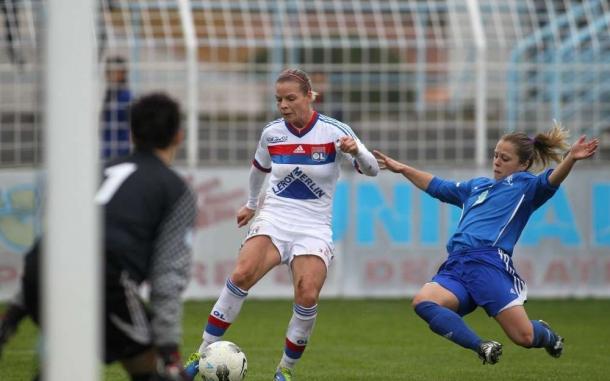 As the oldest and most experienced player in the backline, much will be expected of Anaïs Dumont once again this season. Soyaux were not exactly tight at the back last season but they did enough in key games against teams around them in the table to stay high and away from any relegation battles.
Part of that was due to how well Dumont marshalled the backline.
The 28-year old diminutive defender will be asked to help the defence once again this season and if she and the rest of her backline can perform as well as they did in spells last season, there is no reason why Soyaux cannot finish in fifth once again.
Predicted position: 5th
2017-2018: 5th