All eyes were on the Parisienne derby this weekend in the Division 1 Féminine and Paris Saint-Germain showed their superiority over Paris FC while Montpellier HSC were humbled by FC Girondins de Bordeaux.
PSG 5 - 1 Paris
Things started off badly for Paris FC and got progressively worse when they traveled to the Stade Sébastien Charléty. Karima Benameur had made some early saves for Paris but was at fault for PSG's first goal when her missed clearance allowed Marie-Antoinette Katoto to score her first goal of the season in the 14th-minute.
Benameur was again the culprit in the 39th-minute when her weak save allowed Shuang Wang to pounce on the loose ball and get her first of the season as well.
Perle Morroni then created two more goals in the second half for PSG as she provided the assists for Grace Geyoro and Kadidiatou Diani in the 50th and 59th minutes, respectively, and Eve Perriset converted from the spot when Wang was fouled inside the area for a PSG penalty.
Perriset was guilty of giving Paris their only goal of the game in the 80th minute with an own goal but it was too little, too late for Paris.
PSG not only brushed off a competitor with ease today but also kept pace at the top of the league as they look to win the title this season.
Paris FC have a lot of catching up to do based on today's evidence if they ever want to challenge for the title.
Montpellier 0 - 1 Bordeaux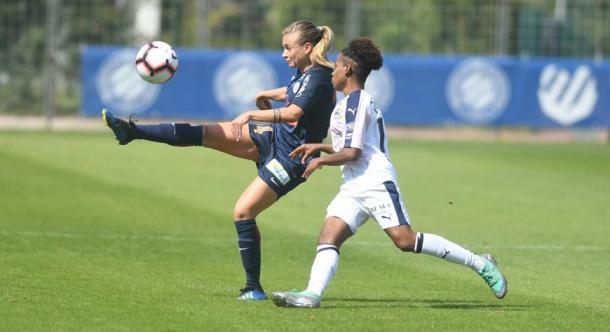 FC Girondins de Bordeaux' first match of the season turned out to be an upset win away at Montpellier HSC.
Their first match of the season had been postponed against FC Metz last week so Bordeaux had the chance to start of their season well against Montpellier and they took that chance with both hands.
Montpellier, offensively, were not entirely convincing in this match and although had some chances here and there, only troubled the Bordeaux backline on rare occasions. Bordeaux realised that they had the chance to snatch a win and they took it in the 61st minute.
Viviane Asseyi made a great play to create some space before finding Mylaine Tarrieu who finished well past the goalkeeper.
Montpellier's attacking woes carried on for a second straight game and with tired players coming back from the international break, their attack was poor for most of the game.
Bordeaux were primed to take advantage of this and were not only sturdy defensively but also took their chance when it fell to them.
Montpellier are now in fifth while Bordeaux settle into fourth after just one game.
Olympique Lyonnais were in no mood to spare ASJ Soyaux and ran out rampant 4-0 winners on the day. Ada Hegerberg was the first to break the deadlock as she got on the end of Amel Majri's square ball in the fifth minute.
After that early goal, you knew that Soyaux were not going to be able to contain OL and their firepower. Hegerberg and Majri then switched roles in the 33rd minute as Hegerberg slipped Majri a great little ball that the French international took in stride before finishing low past the goalkeeper.
The second half had a similar story as Majri got her brace in the 57th minute when she got on the end of Griedge Mbock's pass and Mbock finished things off in the 85th minute when she got onto a rebound after Wendie Renard had nodded goalwards a corner kick.
This may have not been as many goals as OL had previously scored but with many of their players involved in international duty, the lack of ruthlessness was to be expected.
Soyaux may have wanted to surprise OL because of that but they were unable to get anything going against the talent that OL possesses.
OL remain in first and Soyaux slip down to seventh after this result.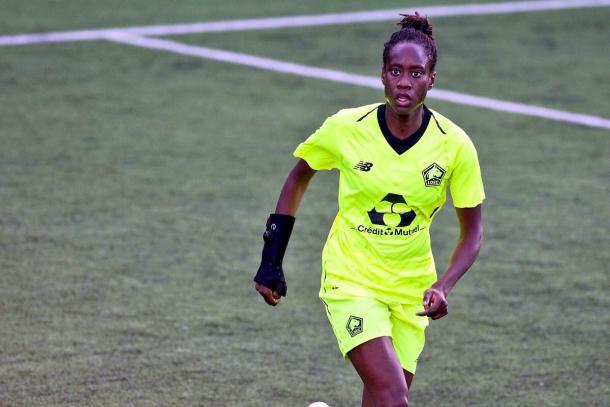 Rodez AF succumbed to their second defeat of the season against the visiting Lille OSC. Ouleymata Sarr was the beneficiary of some miscommunication between defender and goalkeeper in the 31st minute and snuck in to put Lille ahead.
Sarr then got her second in the 45th minute when she got on the end of Julie Dufour 's cross and finished off her hat trick when she headed home Dufour's cross in the 59th minute.
Flavie Lemaitre got one back for Rodez in the 63rd minute when she ghosted in unmarked during a corner kick and Océane Saunier made things interesting in the 81st minute as Saunier was quickest to react when the ball bounced around inside the area after another corner for Rodez.
The home side pushed until the very end but could not find the goal that would gain them something from this game.
Rodez are sitting at the bottom the table after two losses but will take heart from their late rally against Lille.
Lille move up to eighth and recover well from their horrendous performance in Week 1.
Kelly Gadea proved to be the difference-maker for Fleury 91 against FC Metz. Daphne Corboz placed a deep cross for Gadea to touch on and it hit the crossbar before bouncing in, giving Fleury the lead in the 16th minute.
Fleury had to wait until the 76th minute to make sure of the points as Corboz put in a dangerous corner kick that eventually fell to Gadea and the forward made no mistake from close range.
Fleury were full value for their win and now sit in fourth after a bounce-back win.
Metz on the other hand, will not be happy with their season-opening performance.
The home side sit in 11th now and know that they will need to do better as the season wears on.
EA Guingamp and Dijon FCO shared the spoils on Saturday as neither side could find the game-winning goal.
Adélie Fourre put the hosts ahead in the 30th minute but Léa Declercq pulled Dijon level in the 57th minute with a goal that the goalkeeper got a hand to but was too strong to stop from reaching the back of the net.
Dijon slide down into ninth after two games with only one point so far while Guingamp move up to tenth with their solitary point so far this season.