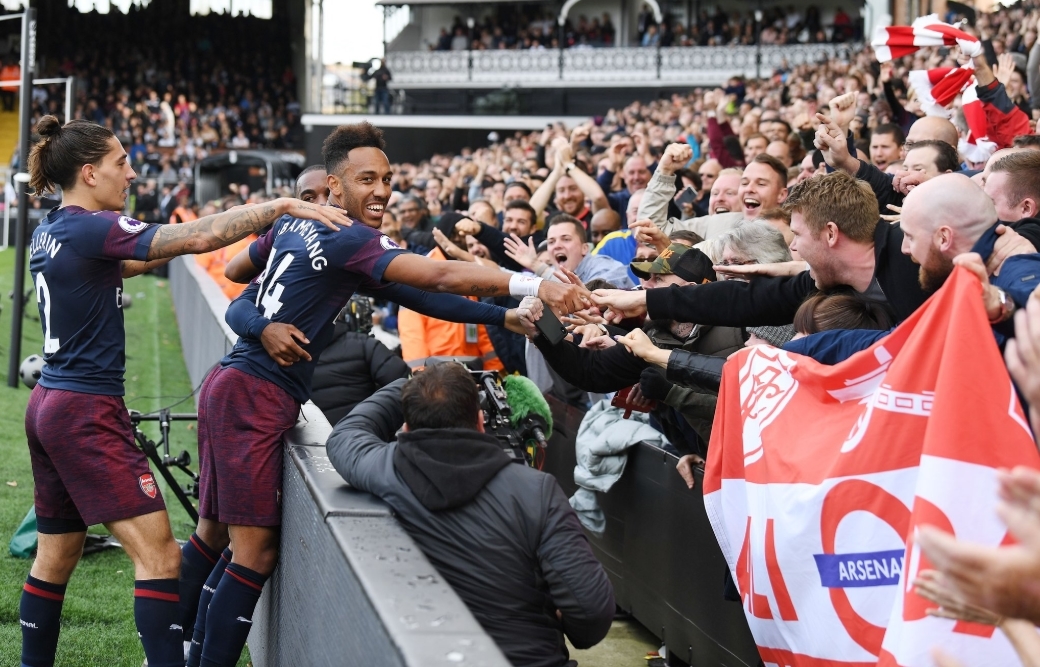 Back in the autumn of 1987, Arsenal put together a winning run of 14 games, setting a club record which remains intact.
More than thirty years on, Unai Emery's Gunners have won nine on the bounce, and if they can come through winnable fixtures against Leicester, Sporting, Crystal Palace and Blackpool unscathed, they will be knocking on the door of history when they take on Liverpool at the Emirates at the beginning of November.
The sizzling streak has seen Arsenal climb to fourth in the table, above Spurs and Manchester United and only two points off top spot.
Yet this has gone somewhat under the radar.
Perhaps, because Arsenal started the season with defeats against Manchester City and Chelsea, it was hastily assumed that they don't have what it takes to compete with the best.
While the fixture list has been kind, though, the run is certainly no mean feat under new management, and when they hit their stride, Arsenal look seriously impressive. The toxicity of Arsene Wenger's final campaign has given way to immense optimism.
So, what's next? And how far can Arsenal go?
Top-drawer attack hitting its stride
Arsenal have demonstrated a level of firepower which only Liverpool and Manchester City, at their very best, can really exceed.
After a slow start, Pierre Emerick Aubameyang has come alive with four goals and a couple of assists in his last five matches. Aubameyang, whose quality was never in doubt after years of starring in the Bundesliga, has proven to be Wenger's parting gift.
The big question, though, is whether he can perform in the very biggest games. He's yet to find the net in his five meetings with the Premier League 'big six'.
Alexandre Lacazette, meanwhile, has found another level after a frustrating first season at the Emirates during which he was never able to truly showcase his abilities. His brilliant double against Fulham marked the continuation of a scintillating run of form.
Crucially for Arsenal, the chemistry between the pair is clear. A side that possesses two top-drawer forwards who can combine with fluidity is very a dangerous side indeed. It's no surprise that Arsenal are the second-highest scoring team in the division.
If Arsenal are to maximise their goalscoring capacity, they'll also need Aaron Ramsey and Mesut Ozil to go up a gear. Ramsey, among the best goalscoring midfielders in Europe when on top of his game, looks to have found form, and if Emery can wring the best out of Ozil, even the best defences may be unable to resist Arsenal's advances.
If that foursome can click, facing Arsenal will become a frightening prospect.
Torreira inspiring steady defensive improvements
Arsenal's defence remains an area of concern, which is of course to be expected. It was frankly woeful in the latter part of Wenger's tenure and there won't be a quick turnaround.
They have shipped ten goals so far this season, considerably more than their rivals, whose solidity they will struggle to match.
But there are positive signs. Those who have struggled the most appear to be improving. Hector Bellerin is performing better in the defensive third and at the sharp end and is playing with markedly more maturity, while Granit Xhaka is at last beginning to carry out his job effectively.
Part of the reason for Xhaka's upturn in form is the presence of Lucas Torreira, who has probably warranted more plaudits for his flying start.
A look at Torreira's performances indicates why Arsenal fans were so impatient to see him integrated into the side. The Uruguayan looks a superb all-rounder and, most importantly, represents the intelligent yet gutsy presence which was desperately needed in the middle of the park.
Already, he is shoring Arsenal up, and if that continues, he could prove to be one of the signings of the summer at a relatively modest £26million.
Elsewhere, Bernd Leno has seized his chance to establish himself as number one in the absence of an injured Petr Cech. Leno is clearly better suited to Emery's style of play than his veteran team-mate and, as is the mark of a top 'keeper, has already won Arsenal some points with some big saves against Watford.
Though these new additions have adapted well, the fact remains that Arsenal's defence will not be able to compete with those of the title contenders until an injection of significant investment.
They've managed only two clean sheets thus far, conceding against West Ham (when they were really struggling) and relegation contenders Cardiff, Newcastle and Fulham.
Moreover, you still get the impression that Arsenal will be the kind of side who outgun the opposition rather than grind victories out. That's fine for the most part, but only the very best possess the steeliness to ensure they claim three points when the strikers' shooting boots go missing.
Should Arsenal fans really be on Cloud Nine?
It's not difficult to pick holes in the winning run. Arsenal, in truth, scraped past Cardiff and Newcastle, were fortunate that Everton were insufficiently ruthless to punish them before a second-half rally and, by many accounts, were second best against Watford.
The streak also includes routine triumphs against Vorskla, Brentford and Qarabag.
On the other hand, the Premier League is considered, with good reason, the toughest league of them all, and you feel last season's complacent Arsenal would have dropped a handful of points in those kind of fixtures.
If the juggernaut continues unabated in the next four games, the aforementioned meeting with Liverpool will be billed as the real test of Arsenal's credentials. Defeat will bring supporters back down to Earth, a point or better would be a fine result and a credit to Emery.
With Manchester United in disarray and Spurs looking more vulnerable than they have in recent years and juggling serious European commitments, Arsenal could yet mount a successful top-four challenge.
Back in August, Arsenal looked set to repeat last season's sixth-place finish but now they appear capable of giving their North London rivals, who finished last term 14 points down the road, a run for their money.
Provided Lacazette and Aubameyang consistently produce the goods, as they should, Arsenal's eventual finish will hinge on the new look defence, shielded by Torreira with Leno between the sticks.
If they provide the platform necessary for the dazzling attack to flourish, it's conceivable that Arsenal will nick that final Champions League place, which would be a quite incredible achievement.
That's not because a period of stylistic transition seemed necessary, but because of the limited investment in a squad for whom the 2017/18 season was an abject, morale-shattering failure.