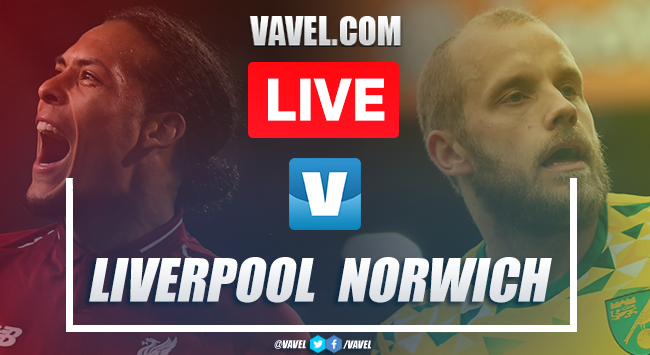 Thank you for joining us
Nothing new
Full-time: Liverpool 4-1 Norwich City
Two minutes injury time
Great save!
Pukki off
Mane returns
He could get quite a few this season...
The first Premier League Cuban comes on
GOAL!!! Norwich! Comeback on?
Off the crossbar!
Leitner on for Norwich
Close!
Off the crossbar...and then the post!
Panic over!
False start!
Second half is about to get underway
Half-time: Liverpool 4-0 Norwich City
GOAL!!! No Mane, no problem
An unexpected debut...
What a save!
GOAL!!! Three for Liverpool!
Good save!
GOAL!!! Liverpool lead 2-0!
Opens up for Norwich again!
Great chance for Norwich!
GOAL!!! Liverpool lead and a nightmare start for Hanley
Talking of rusty
Kick-off
The Anfield Roar
Anfield is almost full...
How important is Premier League experience?
Key battles: Firmino vs Godfrey
Key battles: Aarons vs Robertson
Key battles: Pukki vs Van Dijk
Get in touch
And these two sides aren't adverse to goals...
Friday fun
Season previews
A wonderful window
Norwich hoping Mane stays on the bench
Norwich team
Liverpool team
Welcome back!
...and they don't like opening days either
Norwich don't like Liverpool...
Klopp doesn't want Liverpool to be liked
Norwich's season ahead?
Those three letters make a Premier League debut tonight...
Mane "an option"
Norwich to attack
Klose out
Where to watch
Mane out?
Fortress Anfield
Goals, goals, goals
Pre-season form
Transfer business
Welcome!