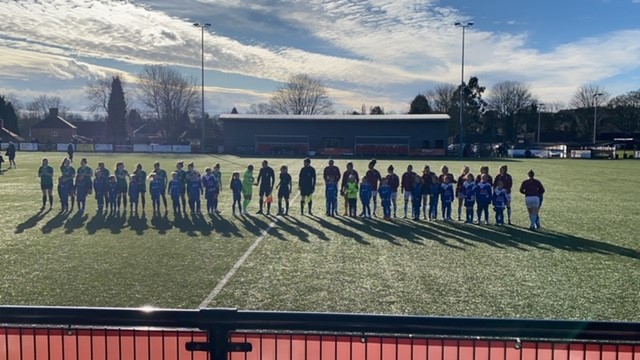 Shania Hayles grabbed a hat-trick as Aston Villa Women took another big step towards WSL football next season by battering Coventry United LFC.
Villa's star striker netted her first, and Villa's second, on 13 minutes. Emma Follis' shot was scuffed across goal and Hayles was quickest to react, pouncing on the ball and converting from close range. Her second came just ten minutes later. Follis fired another shot straight at Coventry 'keeper Sue Wood, but all she could do was parry it back out to the Villa winger. Hayles had an easy task to slot home her second of the match.
Hayles' final strike came halfway through the second half. Following some beautiful footwork from Emily Syme, Hayles was in the perfect position to receive the pass and loop a cheeky effort into the net. The link-up between Hayles and Follis and later Mel Johnson, proved to be devastating for the hosts throughout the game.
It was a perfect first half from Gemma Davies' girls, putting in a dominant performance. Captain Jade Richards opened the scoring on nine minutes. Following a corner in by Follis, Richards lead like a salmon to head home and open the scoring for the league leaders. Jodie Hutton and Sophie Haywood linked up fantastically throughout the half. Both players missed chances to make it three, but it was Hayles that put Villa out of sight on 23 minutes.
Coventry barely posed a threat for the rest of the half. Their only real chance came from a Villa error. Coventry's Shannon O'Brein pickpocketed Nat Heigh on the edge of the Villa box. A defender slid in to block the initial effort and the rebound was collected by Sian Rogers. The whole first half was indicative of why the two clubs have differed in form so drastically this season.
Coventry recovered somewhat in the second half, but still struggled to create chances. Becky Anderson came closest for the visitors shortly after the restart, but all that amounted to was a wild effort blasted into the car park behind Rogers' net.
It's a result and performance that has to make one question how Villa can be stopped this season as they take their unbeaten run into their next fixture away to Lewes.