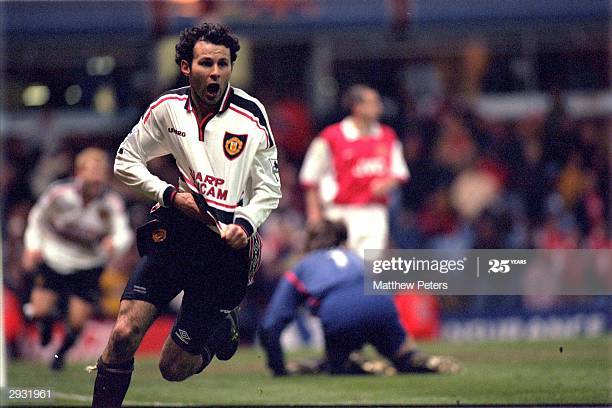 Ryan Giggs put his wonder strike into simple terms - "I took the decision that next time I got the ball I was going to have a little dribble. So that's what I did. And before you knew it, it was in the back of the net."
Manchester United - who were treble chasing at the time - went into extra-time against Arsenal evenly poised at 1-1. United's Welsh winger - now club legend - picked the ball up inside his own half after a misplaced pass by Arsenal midfielder, Patrick Viera. Giggs breezed past the Arsenal midfield and made their defenders look useless before letting rip past David Seaman.
The shirt came off and the celebrations began, United were on their way to the FA Cup final where they would face Newcastle.
United fan, Peter Bolton, has not missed a home match since 1974 and recalls the goal as one of the "best" he has seen.
"I was on the side of Giggsy's run, where there was a massive following of United fans, we massively outnumbered Arsenal fans. He picked the ball up and it all just happened so fast, it was amazing," Bolton said.
He also shared his opinion on what he thinks could have happened to United if they didn't win that match.
United fan: If Giggs hadn't scored, Arsenal would have won the double
"The FA Cup was a two-horse race between us and Arsenal that year. If they scored that penalty, they would have won the game and the Double. They went to pieces after we beat them in the semi-final - the semi-final was the final that year and the final was a bit of a walk in the park for United.
"Keano got sent off and we had a long time to play without him. Half-way through the second half and then a full extra-time playing with only ten men against the 'Double' winning Arsenal side, it was incredible - and then we thought we'd lost it when Phil Neville gave that penalty away!
"The whole game seemed to be going wrong but it ended just right. You know it is one of the most famous goals because we still sing about it today! 'He gave Giggsy the ball and Arsenal won [...]' you know the rest."
Arsenal were the side to beat that season. They started their 1998/1999 campaign with a 3-0 thrashing against United in the Charity Shield. The Gunners also beat United 3-0 in the Premier League thanks to goals from Tony Adams, Nicolas Anelka and Fredrik Ljungberg.
Giggs: London cabbies tell me I ruined their lives
In a Daily Mail interview, Giggs explained what his goal meant to both sets of fans: "In London a cabbie will say, 'You ruined my life that night at Villa Park'. United fans tell me my goal that night was the best they ever saw. Arsenal fans say they haven't forgiven me."
That semi-final victory saw United go on to win the domestic trophy when they beat Newcastle in the final with goals from Paul Scholes and Teddy Sheringham, just days after they had won the league. After that, it was the most famous night in United history when they won completed the treble with a Champions League final win over Bayern Munich at the Nou Camp.