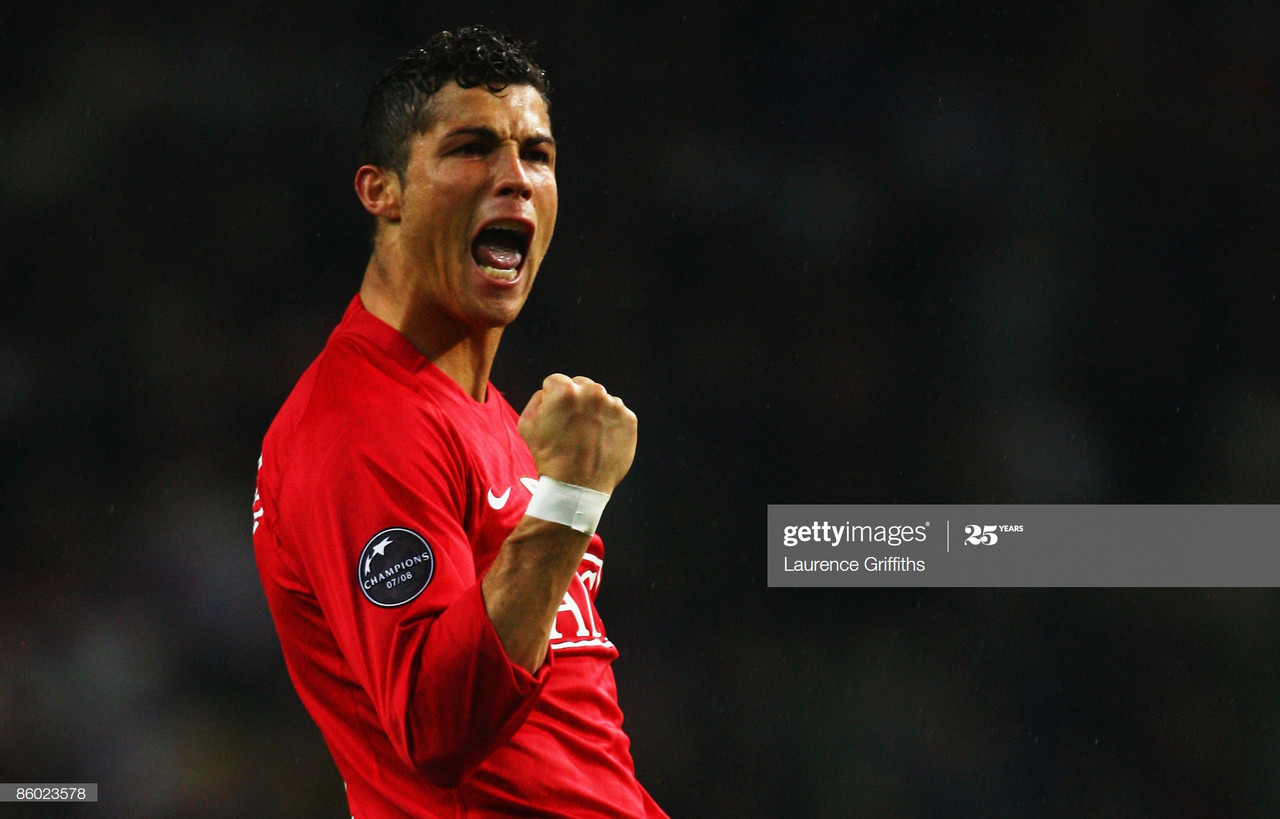 On April 15th 2009, football icon Cristiano Ronaldo scored from 40 yards in a 1-0 victory away to Porto in the UEFA Champions League, in what was arguably his greatest moment of genius in a Manchester United shirt. As of April 2020, a total of six Portuguese players have represented the club at first-team level, with varying success.
Cristiano Ronaldo
The first, and so far most successful, Portuguese international to have played for Manchester United is Cristiano Ronaldo.
Ronaldo signed for The Reds on 12th August 2003 for £12.24million, from Sporting Lisbon, as reported by BBC Sport, after impressing against Sir Alex Ferguson's side in a pre-season friendly just days before his arrival. The performance was hailed as "perfect" by Ronaldo as he spoke to Sky Sports.
During his first three seasons, Ronaldo showed glimpses of his ability, scoring 18 times in his first 95 Premier League appearances, but his meteoric rise to stardom appeared somewhat from nowhere.
Over his next three seasons, Ronaldo went on to score 66 goals in his final 101 Premier League matches. During this time, Ronaldo won three consecutive league titles and was named the Premier League Player of the Year in both 2006/07 and 2007/08, winning the golden boot in the latter season. His strong contribution to United's 2008 Champions League winning campaign saw him win his first Ballon d'or, cementing himself as one of world football's biggest stars.
Ronaldo left Old Trafford in 2009 to Real Madrid for an at-the-time world record fee of £80million, as reported by Sky Sports, having scored a total of 118 goals in 292 games, none perhaps as impressive as his 40 yard strike against Porto on 15th April 2009.
He went on to even more success in Madrid and now plies his trade in Turin for Juventus, having won individual and team trophies at every stage of his career and is now regarded as one of the best players to have graced a football pitch.
Nani
Another exciting winger, Nani, became the second Portuguese player to represent United when he made his competitive debut against Chelsea in the 2007 Community Shield in August, having signed from Sporting Lisbon in July of the same year.
An unplayable man on his day, Nani gained cult hero status during his time at the club, in which he directly contributed to 113 goals in 230 matches.
The Portuguese international boasted an impressive trophy haul at the club, having won the Premier League four times at United, and the Champions League in 2008, as well as two League Cup trophies.
Whilst he could be frustrating to watch at times, his moments of individual magic made him a luxury to have in a team made up of world-class talents, and a Portuguese player who often lit up Old Trafford during his eight-year spell at the club.
Bebe
One of the more questionable signings in recent memory for United fans, striker Bebe arrived at the club for £7.4 million in 2010 having played just one season of professional football.
It was evident that someone, somewhere at United saw potential in the attacker, but it quickly became apparent that he was not up to United standard, and went on to make just seven appearances for the club, before being sold to Benfica in 2014, after a number of failed loan moves.
Bebe now plays for Rayo Vallecano in Spain, where he appears to have found a settled home and is more suited to their level of football.
Joel Pereira
Brother to Andreas, goalkeeper Joel Pereira is currently on loan from United to Scottish outfit Hearts and has made 20 league appearances so far this campaign, for the side that sit bottom of the Scottish Premiership.
Pereira has represented United at youth level, as well as making three first-team appearances, but with the high ability level of goalkeepers at the club, the Portuguese man may not be given many more chances to play for the club. David De Gea, Sergio Romero and Dean Henderson will likely all expect to place ahead of Pereira by the time he returns from his loan spell.
Diogo Dalot
Former United boss Jose Mourinho told MUTV that Diogo Dalot has "fantastic potential" following the full-back's strong start to his Old Trafford career in 2018.
Since that day, his playing career has stagnated somewhat. Mourinho, and later Ole Gunnar Solskjaer, often chose to play Ashley Young ahead of the young fullback during the Portuguese's first season at the club. Englishman Aaron Wan-Bissaka was then signed in the summer of 2019, for a fee reported by the BBC as being £50million, and has taken the place of first-choice right-back for United ever since.
Dalot's most notable moment in a United shirt came when his shot rebounded off the hand of Presnel Kimpembe, resulting in United being awarded a penalty and knocking out Paris St Germain in one of the clubs most famous Champions League wins.
The fullback still appears to have a role in the squad at Old Trafford, but his injury record, and competition, will make it tough for him to nail down a starting spot in the near future.
Bruno Fernandes
United's latest big-money signing, Bruno Fernandes, has transformed the side since his January 2020 arrival.
During his time at the club, Bruno has directly contributed to seven goals in his opening nine fixtures for The Reds. Since his arrival, United have remained unbeaten and, as of April 2020, are on the best run of form they have seen under Solskjaer.
Bruno's influence off the pitch has seemingly been as significant as it has on it. Teammates have praised his conduct and attitude in and around the dressing room. Defender Luke Shaw told The Mirror that Bruno has impressed "on the pitch – but inside the dressing room as well. He's a leader for us too", showing just how much of an asset the player is to United.
The best of Bruno Fernandes may not have been seen at Old Trafford yet, and the prospect that there may be more to come from him will undoubtedly excite United fans; they could have their next Portuguese superstar on their hands.