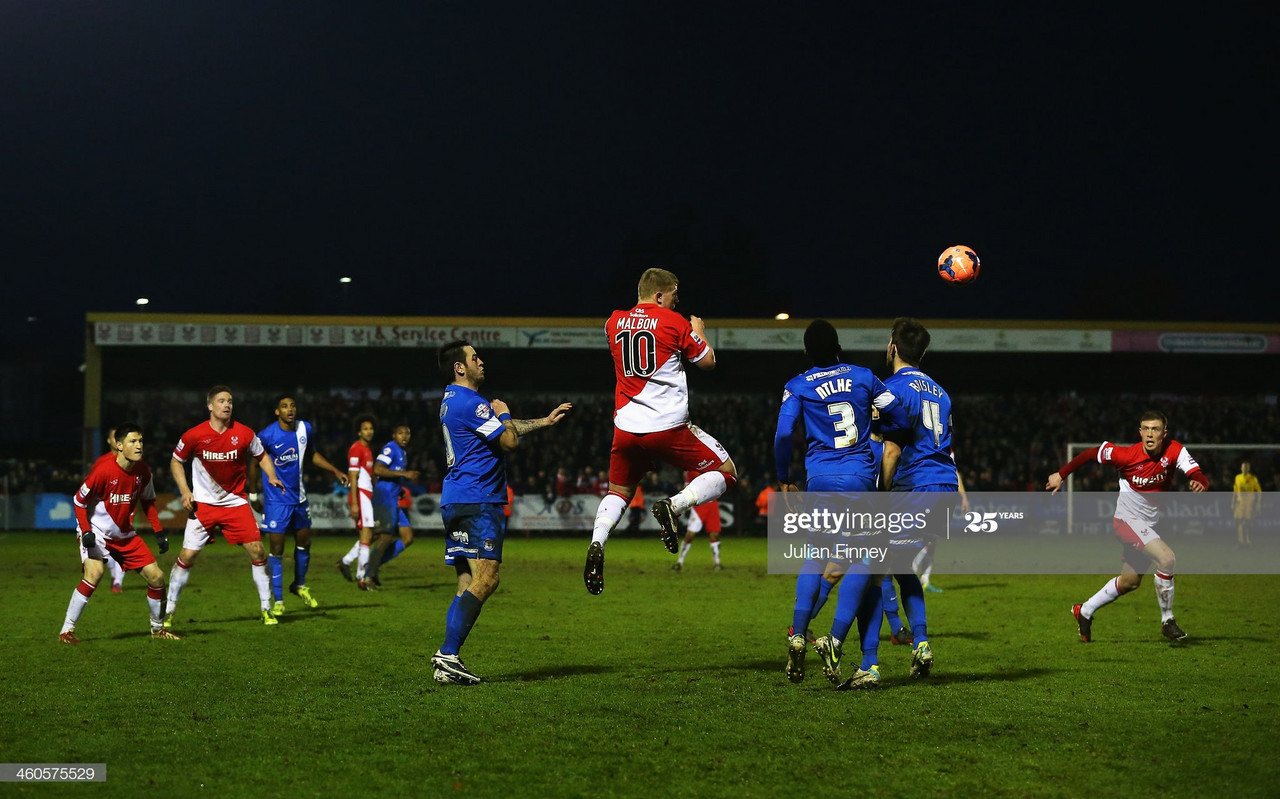 Since striker Anthony Malbon left League Two outfit Port Vale when he was only 18 years old, despite not playing in the Football League again, he certainly has found his form in front of goal on the non- League stage.
How he has impressed since leaving the Valiant's
The now 28 year old, left the Vale during the 2010/11 season after only making three appearances for the side, and since then has featured for three teams who play in the fourth step of English football, in the form of Leek Town and Newcastle Town and Kidsgrove Athletic.
At both Leek and Newcastle Town from 2010-2012, he obtained a decent goal scoring record as he grabbed 12 and 35 goals retrospectively.
His brilliant form at Newcastle earned him a move to Kidderminster Harriers, who at the time played in the National League and in his first campaign there (the 2012/13 season), he was the joint third top scorer in the league with 19 goals, and he grabbed 21 goals in all competitions.
However after claiming 34 goals in 99 games for the Harriers, due to struggles with mental health he left the club and subsequently joined Stalybridge Celtic.
Although, for the Celts he only managed to play three times; scoring once in that period before he was released at the end of the 2013/14 season.
Then in December 2014, he was brought in by Kidsgrove, and it is here where he has arguably been most successful, as he is the side's all- time record top goal scorer with an incredible 147 goals. He also is the club captain and last month he agreed to sign a new two year deal at the club.
What went wrong for Malbon at Vale Park
Despite having an impressive career up to now at non- league level, Malbon revealed in a podcast with the Kidsgrove Athletic media team, what actually went wrong at Vale in his short stay there, and he talked about the things he learnt from the experience.
"I think the major learning points of that (his time at Port Vale) would always be on myself, as that growing up I was always stupid and naïve and always thought I knew best.
"What happened at Vale is that when I signed for them, I got my scholarship. I played under Andy Porter and Mark Grew. I enjoyed it. I started out as a right winger with Vale, got youth team player of the year (2008/09 season), scored a lot of goals (23).
"Then Dean Glover ended up getting the sack, Andy Porter and that left. So in my second season with the youth team, he (Andy Porter) was with the manager.
"I got my pro (contract), did well pre- season, scored every week, but me being me thought I knew best because I did not get the chances, so I did not want to be there. I basically made a fool of myself"
How his time at Vale turned out to be a turning point in his career
Even though he admitted he made mistakes during his period at Vale, Malbon did say that it was the biggest learning experience of his career.
"I ended up leaving the Vale, going to Leek Town until the end of the season. Then the season after I signed for Newcastle Town. I had a brilliant first half of the season for Newcastle and that is why I ended up moving to Kidderminster.
"So, I learnt to become a man after leaving Vale because I was very childish, but then I look back on it and I have had a good career and I would not change it, not for anything".
2010/11 Pre- Season tour In Ireland made Malbon hate football
In addition, when commenting on whether he believes he could still be playing in the Football League if he approached situations at the Valiants slightly differently, Malbon explained the reasons why he didn't attend the pre- season tour in Ireland; a decision that ultimately cost his Port Vale career.
"I said that I did not have a passport. The truth was that I did not want to go. I hated playing for Vale at that time. I just did not want to be there. So again I made very stupid mistakes"
"Looking back on it, the only regret that I have is not going that (the pre- season tour) but other than that I left for the right reasons in the end because I wanted to just go and play football"
"Money was never an interest back then. I was 17 years old, so money was never a problem"
The forward further went on reveal that due to how that pre- season went, it made him temporarily fall out of love with football.
"By saying I hated (playing) football, I hated it as well (in general), because of how that pre-season went on. I did not want to be around it, so it is a big regret"
Back in love with football
However, it is clear now ten years on since Malbon departed the Vale, that he is back enjoying his football following successful spells at Kidderminster, Newcastle Town and Kidsgrove Athletic.
Furthermore he is fully aware that his playing career is far from over, as he knows that he still has plenty left to prove.