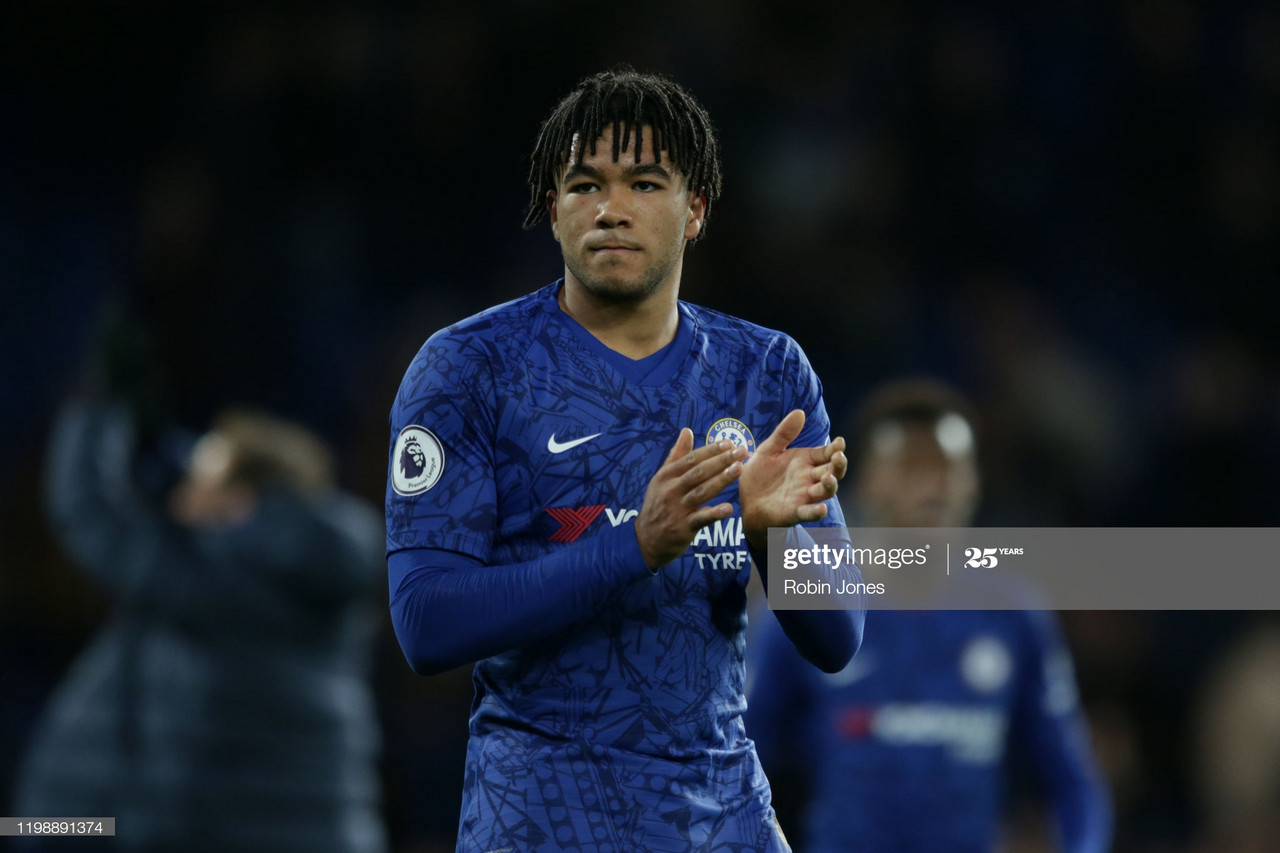 Has anyone checked the water at Cobham Training Ground, because Chelsea have become a breeding ground for the nations next generation of superstars.
Frank Lampard has not cowered away from fielding the graduates who have been made to grind their way into the Blues first team, rewarded with the riches of consistent Premier League action.
Tammy Abraham, Mason Mount, Fikayo Tomori have all benefited from their managers approach to promoting youth, yet it is Reece James' story that has arguably stood tallest from such an exciting collection of tales.
No pre-season, no problem
26 appearances across all competitions up to now is a fine return for Chelsea's full-back, made even more impressive that James did not feature once during pre-season, his absence owed to an ankle injury.
Having overcome his problem, the 20-year-old steadily etched his way into Lampard's master plan, making his debut in September during a Carabao Cup tie against Grimbsy Town. Eventually establishing himself as a first team regular, James' has emerged as an obvious candidate to make Gareth Southgate's England selection come the European Championships, postponed until next year.
Pundits, fans and everyone involved with the club is now purring at what the future beholds for the talented individual, mesmeric rise was not as instant as his performances may suggest.
'Ever since I've been back from injury, it's been going pretty well for me,' James explained to the Chelsea website, reflecting upon his own journey from the start of the season.
'Obviously in the early days it was tough getting some minutes because I was still coming back from quite a bad injury, but as the season's gone on I feel like I've gradually got better and improved.'
Blue Blood
The colours of Chelsea's strip have been running through James' veins from a young age, having joined the development centre programme at the age of six.
At the beginning of his journey back in 2005, the Blues had stormed the league by 95 points, under the guidance of Jose Mourinho, enjoying his maiden spell in England, wielding a squad packed out with world-class talent.
Mourinho made the most of owner Roman Abramovich's wealth by importing the likes of Didier Drogba, Petr Cech, Arjen Robben and Ricardo Carvalho, quite the opposite of fortunes for Lampard in his first managerial stint at Stamford Bridge, as as transfer ban enabled him to utilise those produced in the academy.
James' did not have a James', Mount or Abraham to look up to in that title winning team, instead remembering the fine foreign exquisites as one of the reasons for choosing Chelsea as his new home.
'We moved to west London when I was very young and grew up not too far from Stamford Bridge.'
'It was natural for them to be my team. My brother supported Man United but Lauren (sister) and I were always Chelsea. When I first supported them, it was people like Robben, Drogba, Cech and the gaffer that I looked up to.'
From idol to instructor
A footballing life cycle can rarely be demonstrated than the relationship James' and Lampard have no formed as player and manager respectively.
From idolising him as a child, the no.24 now has the opportunity to work under one of the greatest midfielders to play the modern game.
'Even now, as my manager, he's great. He's a man-to-man manager and he says what he thinks,' James revealed about Lampard's personal approach to his players.
'If he thinks you should be doing more, or even if you're doing well, he will pull you to a one side and tell you that. I appreciate that about him.'
'The way he's been around me, and all the players for that matter, is very good.'
Perhaps even more influential in James' and co.'s rise into the Chelsea XI is Lampard's assistant coach, Jody Morris, who still holds the record as the clubs youngest Premier League player. Morris spent many years nurturing the Chelsea talent we see today in the academy, and fully believes in the policy of promoting youth.
He told the Chelsea website, 'If you have an Academy like ours, why would you not look at the ones that are good enough? Thankfully, the way we raise the young players here, they've come over and wanted to grab their opportunities, hence why there have been so many debuts and so many minutes given to the homegrown players this season.'