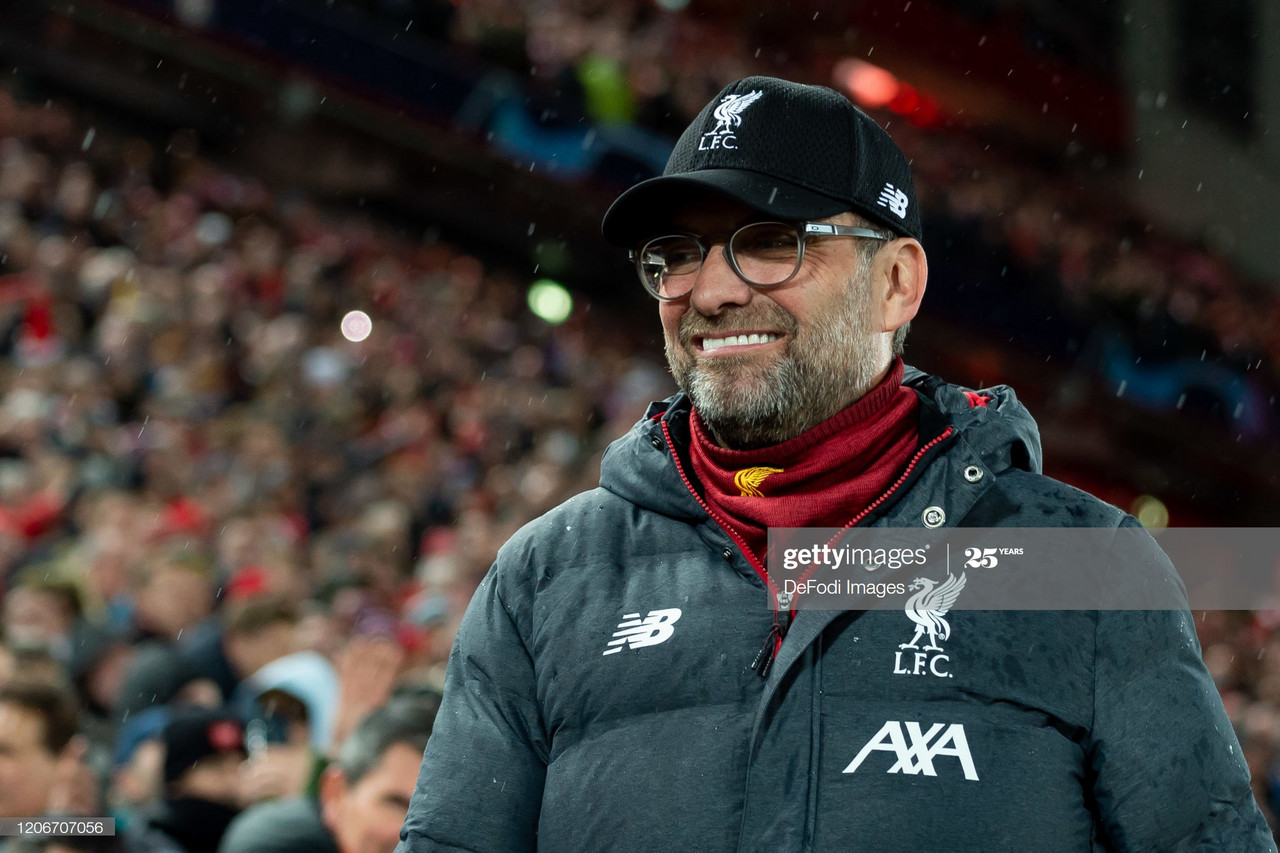 Liverpool are currently 25 points clear at the top of the Premier League table and, once the season restarts, will likely go on to win the title in a season that has already seen them win the Super Cup and World Club Cup competition.
It is safe to say that the past couple of seasons have been fantastic for Jurgen Klopp and his team, who have shown no signs of slowing down. Something that Sir Alex Ferguson did so well at Manchester United was buying players from a place of strength, while more recently Manchester City have shown that success can be maintained if the squad is constantly strengthened by both buying players and bringing youth players through.
Whilst it is difficult to predict when the summer transfer market will take place, the Liverpool side for next season can be hypothesised, looking at current transfer targets.
Is Timo Werner going to form a new front four?
It will come as no surprise that Timo Werner is first on this list. There have been reports that Klopp has wanted Werner for a while now, with current suggestions hinting that plans are in action and "meetings are scheduled", per sources in Germany.
The German international, currently at RB Leipzig, has scored 27 goals across all competitions in 36 appearances. Werner has become one of the best forwards in Europe, and aged only 24, still has plenty of time to improve. His impressive performances against Tottenham Hotspur in the Champions League showed why Klopp is so keen on him.
Werner would be a very promising player to bring in and could create a tantalising front four for the Reds. Klopp could revert back to the 4-2-3-1 formation, which he used in the middle of last season.
Werner can play in the striker role, or on the left wing, providing impressive cover for both positions. Despite Liverpool's fortunes this season, had Sadio Mane or Roberto Firmino been injured, Liverpool could have really struggled. Divok Origi, despite being a fan favourite, has underperformed this season and Klopp has mainly deployed him at left wing. This is usually to rest Mane, but Origi usually fails to impress in this position.
Another way that Klopp has tried to solve this problem is through Xherdan Shaqiri. The Swiss international can play on either wing and would provide good cover for the winger. This was seen in Liverpool's famous victory against Barcelona. However, he has been injured for large parts of the season and has struggled to gain momentum. It would come as no surprise if he was sold in the next transfer market.
Reds to make move for Willian?
Another player linked to Liverpool is, surprisingly, Willian. The 31-year-old becomes a free agent at the end of the season and has reportedly been offered a deal at Liverpool, though there has been varied reports on this deal. The Chelsea winger has played 28 Premier League games, scoring and assisting a total of 10 times this season.
Many Chelsea supporters have been critical of the Brazilian's performances this season, who is now out of favour. New signing Christian Pulisic and Mason Mount have both had impressive seasons, leaving Willian on the bench for the majority of the season.
Whilst Klopp prefers buying younger players, Willian will be a tempting deal for the German manager. With Shaqiri also likely to leave in the summer, Willian would be a good replacement for a year or so. This would also give Harvey Elliott another couple of years to develop before potentially being a first team player.
Youngsters to break into team
This season has been extremely positive for many of the younger players, who have gained valuable game-time and continued their development towards breaking into the first-team.
The League Cup game against Aston Villa saw the entirety of the Under-23s squad take on the Premier League side due to Liverpool's commitment to the Club World Cup. This gave players like Ki Jana Hoever and Harvey Elliott vital minutes and started their path to the first-team.
Other youngsters like Curtis Jones, Rhian Brewster and Neco Williams have all also gained valuable game-time and could be given more important roles in the first-team for next season.
Jones' stunning goal against Everton in the FA Cup should fill him with plenty of confidence and show Klopp that he is ready to play in the Premier League. The local lad is capable of playing as an attacking midfielder in a three-man midfield and could provide cover for Alex Oxlade Chamberlain and Naby Keita, who both tend to play this role in the team.
Against Everton, Jones found himself in high on the left side, almost playing as a winger in periods of the games and scored his sensational goal from that position. His curling shot from outside the box and energetic performance won him Man of the Match in the tie. With Adam Lallana's future unknown, Jones could find himself playing more next season, and is certainly likely to start in both the League and FA Cup.
Neco Williams is another prospect whose name Liverpool fans could see more of. Playing at right back, he has a very similar playing style to Trent Alexander-Arnold, featuring in League and FA Cup ties where he was a standout performer.
If Trent needs to rest, Joe Gomez is usually the player to fill his place, but with Gomez playing in fantastic form at centre back, Klopp may be reluctant to move him. His partnership with Virgil Van Dijk has been pivotal to Liverpool's success this season. The next step for Williams will be proving that like Trent, he too can slot in at right back. Should he show this, he could play a few Premier League games.
Rhian Brewster is also likely to have a more important role within the squad next season. He went on loan to Swansea in the January transfer market and has made 11 appearances, scoring four goals. This is an impressive return for a 20-year-old who is still developing as a player. Klopp is said to be fond of Brewster, and may wish him to step-up next season.