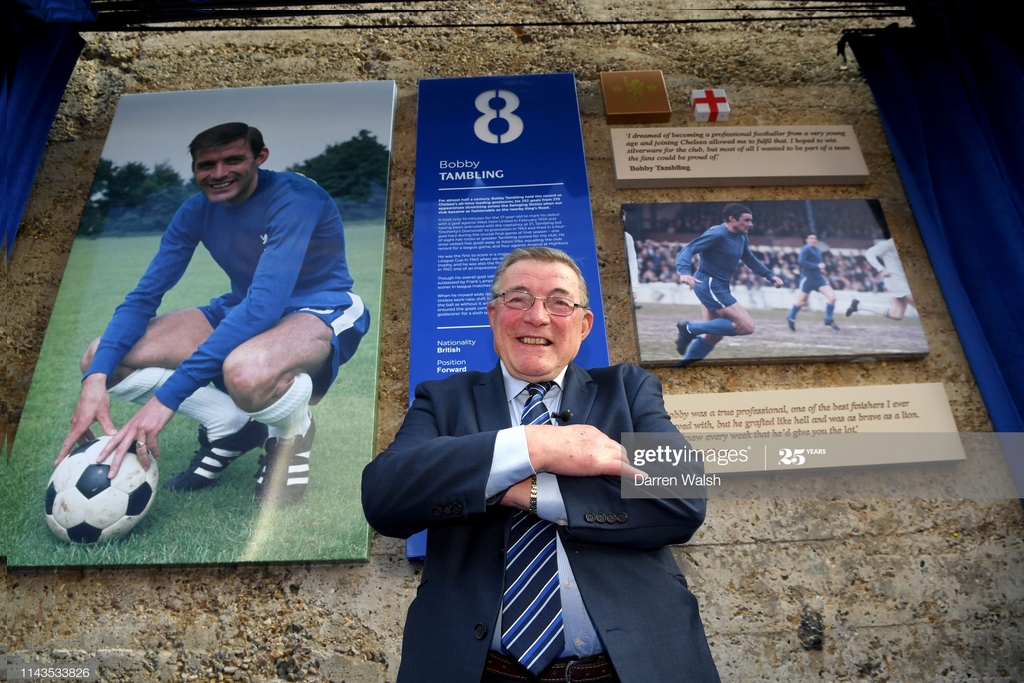 In these times of uncertainty and sorrow, celebrating those who have brought joy and hope into our lives can come as a welcome release.
Alongside Chelsea football clubs' commendable efforts towards tackling the current pandemic, including donations to the NHS and ensuring full-pay to non-playing staff, they have launched the 'Chelsea Book Club' series, reliving the memories of their most treasured stars.
The latest addition centred around a man who knew nothing over than scoring goals, scorching his name into the Stamford Bridge archives with his almost unmatchable golden touch. Introducing: Bobby Tambling.
Written in the stars to score
Hindsight is a wonderful thing, and Chelsea supporters should have known Tambling would go onto historic goal scoring heights after he scored on his debut in February 1959, eight months before his 18th birthday.
West Ham United were the opponents that day, making the moment even more satisfying as the Blues ran out 3-2 winners, the start of something very special for this young striker from Hampshire.
Understandably, this momentous match stood out in the mind of the magic forward, reliving the occasion in his autobiography, 'Goals In Life.'
'Walking out in front of over 53,000 supporters was a moment I will never, ever forget. This is what dreams are made of. They can come true.

'The ball came to me just outside the box and I took a touch, which allowed the defender to close me down, but I was still able to get the shot away in the nick of time. The ball squeezed into the net at the near post and time seemed to stand still as the crowd erupted.'
Tambling would be hearing this noise on repeat over the next decade, netting 202 goals during his glittering spell in London, a club record only recently overtaken befittingly by Chelsea boss, Frank Lampard, in 2013.
'Bobby is a gentleman of football and Chelsea Football Club,' were the kind of words of Lampard on likeminded goalscoring friend. 'If you want an ambassador, someone who shows what this club means and who transcends the generations, he is the man.'
Do not Greave, Tamblings in town
After erupting onto the scene, Tambling dropped straight back into the junior set up, securing a first Youth Cup glory with the Under-18s.
However, he was gifted another chance in the first team following the departure of fellow talismanic forward Jimmy Greaves in 1961. That season, Tambling bagged 22 goals despite Chelsea's relegation from the First Division, netting a further 37 as he captained the side to instant promotion, the youngest skipper to achieve such a feat.
His natural instinct in front of goal continued Chelsea's upward momentum as they lifted the League Cup against Leicester City in 1955, his only item of silverware with the Blues, inevitably landing himself on the score sheet in the final.
In the midst of the cup triumph, Tambling and Chelsea were in the race for the league title, requiring wins against Burnley and Blackpool over the space of three days to stand any chance of securing the trophy. Tommy Docherty and his team travelled to the coast as part of early preparation, a move that would ultimately prove costly for the campaign's conclusion.
Days before the clash in Lancashire, eight players broke their curfew and were subsequently sent home, or as Tambling described, 'eight players being treated like naughty school kids, hung out to dry'.
'If the reason for the early departure had been given straight away, we all felt the incident would have easily been resolved,' he continued. 'That never happened.'
'In that short time, the trust, spirit and togetherness had been shattered. Both sides had been in the wrong over this one, in my opinion.'
Chelsea, now eight men short, were thrashed 6-2 by Burnley, losing 3-2 to Blackpool shortly after, to end hopes of a league winners medal.

'We wanted to win and play well as much for the fans as ourselves,' added Tambling. 'But we also wanted to win as a team, as a group of friends. You couldn't have separated us as team-mates and that bond remained intact, but something changed in Blackpool and irreparable damage had been done to the relationship between Docherty and some of his players.'
The Best a Blue could buy
Tambling's time at Chelsea was coming to its climax, but the striker managed to fit in a few poignant performances to further etch his legacy into Blues hall of fame.
A man of new beginnings, he became the maiden Chelsea player to score in an FA Cup final, also recording the most league goals in a single game for the club, grabbing five in a 6-2 mauling of Aston Villa.
He made a move across the capital to Crystal Palace in 1970 after 11 years in London, ending his playing days across numerous teams in the League of Ireland.
In spite of prolific tenure in England, Tambling's only taste of European action came with Cork Celtic as player-coach, enabling him to originally feature against, then alongside, one of the greatest footballers to grace the beautiful game.
'I'd heard a few rumours George Best might be available if the price was right,' he said, recalling the possibility of signing the former Manchester United wizard.
A deal was struck between both parties, reaching an agreement that Best would appear at Celtic's home games for a fee of £1,000 per match. His manager/ teammate ensuring the superstar would be treated like one on the eve of his debut, Tambling writing, 'I arranged for him to stay in a hotel near where I lived in the hope he would get a nice, quiet night.
'I rang him about 7 o'clock on the evening before the game just to check if everything was okay and he asked if I would like to come down for a chat and a coffee. I took my eldest son Gary with me and we had a very enjoyable evening. Gary couldn't believe what a normal fella he was.'
'The next day, the crowd rolled in waiting to see a player they never thought they would see live. The crowd jumped from about 1,500 to 15,000 – that's what you call a real crowd-puller. I still get people coming up to me today saying, "I remember when Besty came over here in the Seventies."'