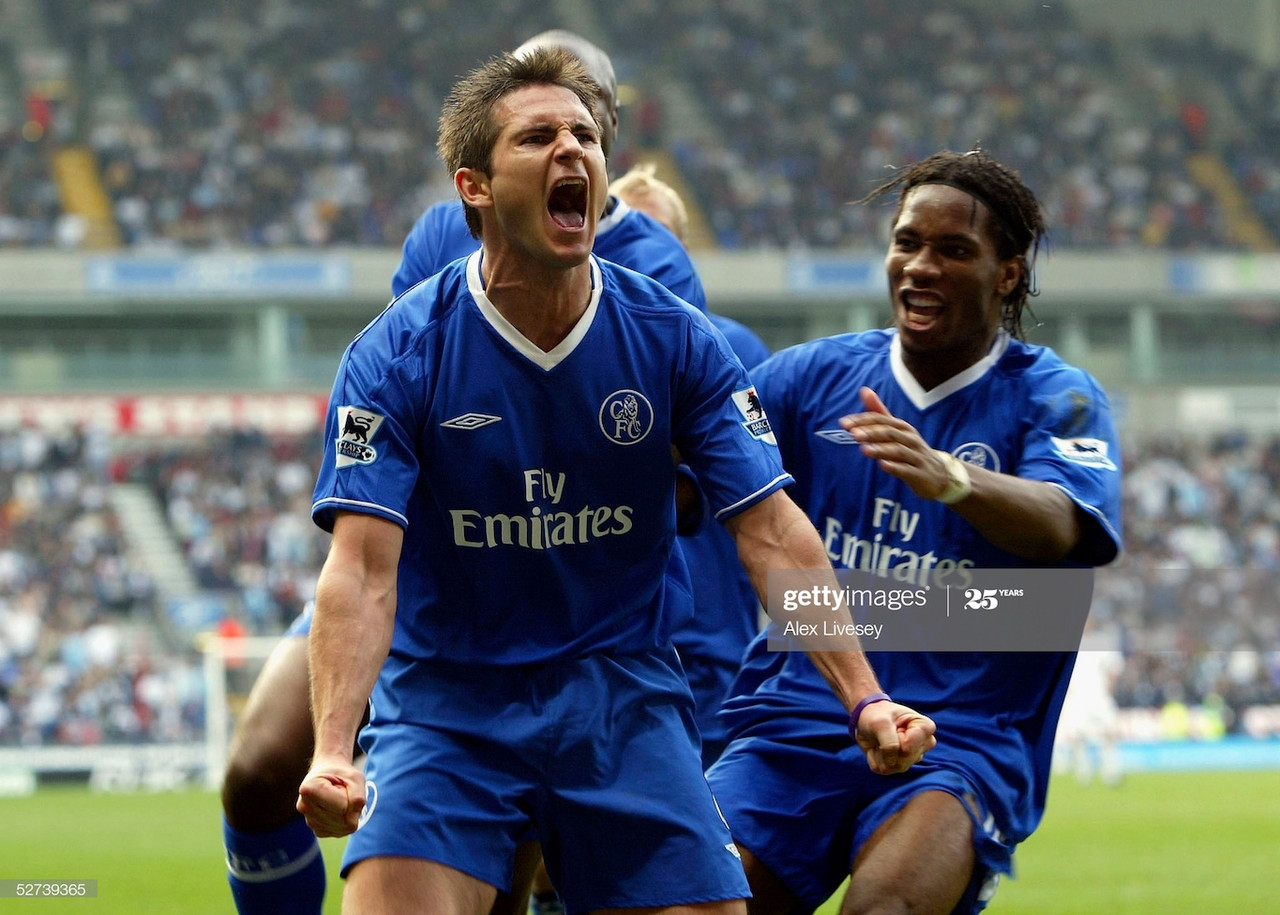 April 30th 2005 was a special day for Chelsea Football Club as they secured a first ever Premier League title with victory away at Bolton.
Two second half goals from current Blues' manager Frank Lampard made the difference, and the club's record goalscorer has not forgotten the tension going into the crucial game.
Jose Mourinho's men were held to a 2-2 draw in the reverse fixture after leading by two goals, but were in good form after two positive results against Fulham and title rivals Arsenal.
The Blues needed just two points from their remaining four league games to wrap it up, but Lampard insists that the pressure wasn't any less.
"We went up there and treated it like it was the last game of the season"
"We were aware of that but at the same time, there was the tension after 50 years without winning the league," he told the Chelsea website.
"And the pressure that mentally comes with vying at the top of the table.
"We had the Liverpool games in the Champions League running alongside that as well so we were very keen to get over the line as quick as we could and we probably put pressure on ourselves as much as anything.
"We went up there and treated it like it was a last game of the season.
"We didn't in the first half in terms of how we played but mentally we certainly did.
"We were a very strong group"
The task of motivating his charges for the club's biggest game in 50 years was not an easy one for Mourinho, but Lampard praises the characters and personalities in the side that helped to establish the strong togetherness within the dressing room.
"To be honest I don't remember the exact talk before the game," he continued.
"It is a sad state of affairs when you start forgetting all these things!
"I remember the general tension and I guess that talk would have gone on before.
"We were a very strong group but even at that point, which is quite early in our time together for that group that went on through the years, we had personalities and we certainly weren't short on knowing what it would have meant, that history was in the making potentially.

"We had good speakers before the game, whether it was John, Didier, myself, the core group who would normally speak.
"We would have built ourselves up into a bit of a frenzy to get ourselves into the right mindset to go and do it on the day."
"I didn't expect to be the man to score the two"
Lampard was in great form ahead of the trip to Bolton with six goals in six appearances in all competitions.
The culmination of this was his memorable contribution to Chelsea's history with the goals that saw the league title return to Stamford Bridge.
"I was confident because I had been on a good run.
"I had a bad patch earlier in the season when I didn't score for a while but I got into good nick before Christmas and I had a good run towards the end.
"I didn't really think like that but I was always one who just prepared for a game as well as I could.
"If I did as well as I could in a game then goals maybe were a consequence of that.

"Those things normally fall on the striker but I had been scoring pretty freely that year, it was the first year I scored those sorts of numbers around the 20s.
"But I didn't expect to be the man to score the two.
"That was a nice twist of fate for me personally."
"I felt a good connection with Didier"
The opening goal was an early example of the Didier Drogba-Frank Lampard link-up play that would see Chelsea to many trophies over the next seven years as Lampard latched onto his striker's header and made the space to fire home.
"It developed over the years but I felt a good connection with Didier at the beginning because of how selfless he was and his attributes.
"Not only could he score those goals as he went on to do but he set me up a lot.
"The best thing about that is you could trust making those runs consistently and feel that he will find you, flick it on to you, chest it to you, hold it up and put you in.
"That was something I was obviously grateful for.

"When I look back now I know how fortunate I was to play with some of those players and I took a chance on the run, he got a nick on the ball.
"As soon as I got it I thought how quickly can I get it onto my right foot and get a shot away."
"Sometimes those things go in slow-motion in your head.
"I was trying to do things as quickly and as efficiently as I can.
"I always used to joke with Tal Ben-Haim after he joined Chelsea how I managed to run past him, cut across the front of him and then cut inside him.
"I tried to be pretty focused when I got into the box with things like that. Because the ball was bouncing a bit, that helped me focus even more because I needed concentration to get nice touches to make the chance for a shot.
"It just kind of opened up in the end."
"I was not one to round the keeper normally"
The second goal came 14 minutes from time and was the product of a lightning fast counter attack following a Bolton corner.
Having been sent through on goal, with plenty of time to decide what to do, Lampard demonstrated superb composure to round the goalkeeper and put the title beyond Arsenal.
"It was like a surprise really.
It was nothing planned because when you end up with Claude Makelele playing the ball from where he did and Ricardo Carvalho being up there with you, that is not like a planned counter-attack from a defensive position.

"I saw space open up.
"Bolton threw everything into our box and I was surprised to see the space in front of me.
"I was just pleased that Maka spotted me and played the ball and then I had the blinkers on.
"I did not think about anything else but trying to score.
"I was not one to round the keeper normally, that was not usually my game, but it was just more instinct in the end."
"The Chelsea away fans are incredible"
Lampard celebrated his goals with the travelling supporters, a crowd that included his family.
The memory has stuck with the Englishman ever since.
"It was something that gives you goose bumps when you look back.
"My parents where there on the day behind the goal which was different for me.
"They would normally sit in the hospitality or the directors' box.
"That was great fate really because that is exactly where you would want to be with the way it developed.

"It was just madness in there.
"Fifty years of pent-up excitement from our fans, you could feel it with the players.
"When the first one went in, I know Bolton had a chance after that, but you felt like that was it and it was just a party atmosphere.
"It is something I will always treasure.
"They are not my best technical goals but emotionally it is right up there at the top.

"Celebrating as a group, you see the subs jumping on and Jose Mourinho running down the line.
"The Chelsea away fans are incredible.
"The Chelsea fans are generally but the away fans that travel, I had them there when I broke the goalscoring record and sometimes you want to do those things at the Bridge but to do them away, you get those fans who go through the years travelling and spend their money and support Chelsea when we go up north on a Monday night mid-season, and then they come to games like that which are memories for a life-time."
​​​​​​​