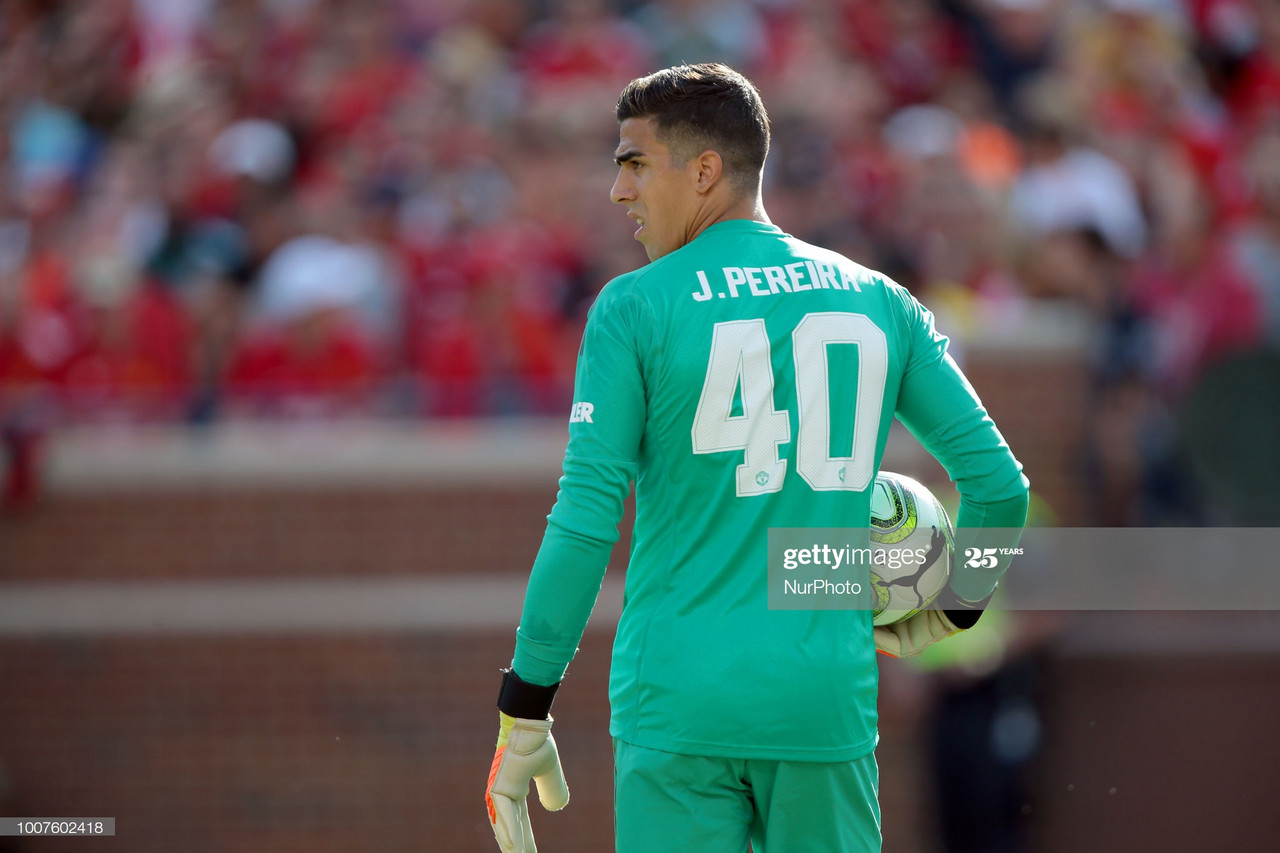 "We have a third goalkeeper that I think will be the best Portuguese goalkeeper of the next generation," said Jose Mourinho back in 2017 when he was Manchester United manager.
The future star he was talking about? None other than Joel Pereira, who was 20-years-old at the time, and had just made his first team debut for the Red Devils a few months prior after graduating from the academy.
However, things haven't quite come together for Pereira since then. He's only featured a few times for the United first team, and still hasn't made his senior debut on the international level. He's spent most of his time on loan in places like Portugal, Belgium, and Scotland. The goalkeeper hasn't had much success during those spells, however, which leaves the Red Devils with a difficult decision to make come the end of the season.
What should they do with Pereira when he eventually returns to Old Trafford?
Keep
There's no chance Pereira becomes the starter at the beginning of next year, but he still could have a role to fill.
Since 2015, Sergio Romero has served as United's second keeper, coming in for cup games or whenever something happened to David De Gea. He's almost always gotten the job done when called upon, with some calling him the greatest backup on the planet today.
Romero has always been happy with his limited game time, but that could change this summer. At 33-years-old, he's still got time for one last marquee move, making some more money while finally getting the number one jersey somewhere else. Time will tell if he asks to leave, and even if he does, the club will be able to make some cash back from his sale.
Lee Grant is the third choice goalie at the moment, and that certainly won't change. He signed a contract extension that will keep him at Old Trafford for another year, and the veteran has become more of a mentor than an active player.
Then there's De Gea and Dean Henderson. They've got both loads of quality, and United will have to figure out who they want to be the starter next season. De Gea is still better at the moment, but Henderson is much younger and has plenty of potential. The club can only keep one, so someone will stay, and the other will be sold for a hefty transfer fee.
All that considered, the backup spot could be Pereira's for the taking. He's surely good enough for that gig, and could be a reliable option for years to come.
Loan
Loaning out the Portuguese goalkeeper once again might be the most boring and conservative option available, but it's also the most likely.
Pereira hasn't had the best time in his previous spells, never managing to become the starter wherever he has gone. He lost his spot in the team this season at Scottish side Hearts, who currently sit at the bottom of the league standings.
However, maybe the issue isn't with the player, but with the teams he is going to.
Going to the right club is crucial for a loan deal to work. There needs to be a system put in place to help the player thrive, giving them game time and vital first team experience. Being a part of a winning side doesn't hurt either, which gives the loanee confidence to push forward.
Just look at the aforementioned Henderson as a prime example. He didn't do much during his first loan spell at Grimsby Town, and he had some struggles the following year at Shrewsbury Town as well. All that changed when Henderson joined Sheffield United. Playing in a well coached side behind a solid backline has done him a world of good, making him one of England's very best goalkeepers in the process.
If the Red Devils can find the right spot for Pereira next season, then there's a decent chance he can rise up to the challenge like Henderson did.
Sell
If all else fails, United can cut their losses and simply sell Pereira.
They have other goalkeepers who they can turn to instead, and it would be smarter to get rid of Pereira than have him waste his career on the bench. There's no reason to have a third string keeper who's worth a lot when you can let them leave and clear up some wages.
He's not as valuable as he once was, sure, but the Red Devils can certainly get a decent amount of money back by selling Pereira. 23 is an especially young age for a goalkeeper, so he's got his entire career ahead of him. The promise is still there, and there will certainly be a club who believe that they can be the ones to get the most out of him.
United's only worry would be Pereira recognizing that potential, and making them regret selling him. It's happened before, as Paul Pogba became a star after leaving Old Trafford, and then became the club's most expensive signing ever. Players love finding new ways to motivate themselves, and Pereira will be desperate to prove everyone in Manchester wrong if he does leave.
The good thing is United have plenty of time to make a decision. With the worldwide pandemic going on at the moment, no one knows when, or if, leagues will resume and eventually end. When that time does come, however, the Red Devils will have to figure out what they want to do with Pereira.