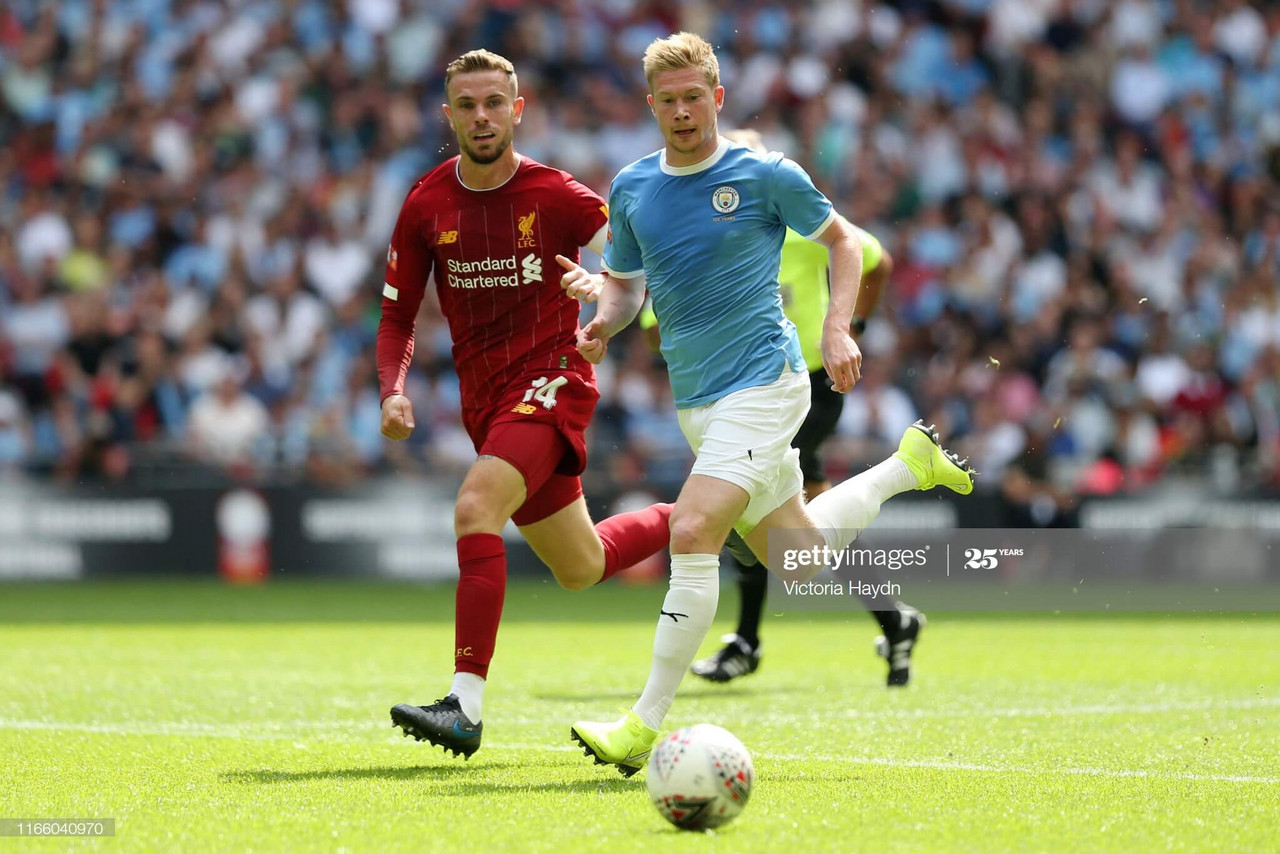 The nominees for PFA Player of the Year should have been announced on April 19, and the winner crowned at a ceremony in Manchester a week later.
Now, of course, the process is shrouded in uncertainty. According to The Times, the voting began in mid-March but has been left, like the Premier League season, incomplete.
This year's award, if it is to be handed out at all, will certainly be unique. There will be no prize gala, and the fresh ballots may be submitted significantly further down the 38-game line.
Clearest of all is the competitive picture. Jordan Henderson, captain of the most dominant side in Premier League history, is the favourite. This week he was named as BBC Sport's pick. But Kevin de Bruyne, who earlier won the backing of The Athletic's writers, will push the Englishman close.
Henderson is a very good footballer, but his case is based on less individual accomplishment than it is his all-important presence.
De Bruyne, by contrast, would have dazzled his way to England's top individual honour.
To oversimplify, then, which factor is more important - character or class?
History favours De Bruyne
In recent years, the PFA has tended to reward the headline-grabbers.
Virgil van Dijk is, in more ways than one, the defending champion. He was last year's winner on the basis of a nine-month defensive exhibition.
The year before, Mohamed Salah's record-breaking goal tally meant he could not be overlooked, even as Manchester City romped to the title as centurions.
Eden Hazard and Riyad Mahrez oozed quality on their way to the 2015 and 2016 prizes.
In recent years, only N'Golo Kante has won ultimate recognition for the subtlest midfield arts.
All 10 winners since 2009, when the 35-year-old Ryan Giggs took home the silverware for the first time after only 12 starts, can claim to have been the outstanding player in the division.
But what exactly determines who has been the 'best' player?
Henderson & the case for the intangibles
The first mistake we might make is to downplay Jordan Henderson's quality.
At 29 years old, his theoretical peak, he has completed his development into one of Europe's top midfield dictators.
Henderson combines a sublime range of passing with a relentless appetite for tackling.
He would not be a virtual ever-present for the world champions if he was anything less than brilliant.
But Henderson's status as favourite owes more to his widely revered leadership, to the work ethic that has never wavered and to his will to win.
He truly epitomises the enviable spirit of a Liverpool side that often wins by virtue of its belief rather than its quality.
Look no further than the trip to Watford, when a frankly unrecognisable Liverpool unravelled with Henderson sidelined by injury, for evidence of his integral role.
It should also be noted that Henderson has set a commendable example off the pitch, and surely that too is an undeniable contributor to 'greatness'. It could well lend him decisive support among his counterparts.
To summarise, Henderson would be a worthy winner not because he is mesmerisingly gifted, but because he has proven to be the lifeblood of the Jurgen Klopp juggernaut.
De Bruyne & the case for the 'joyous individual'
Why gloss over the other two Liverpool contenders?
Sadio Mane, the Reds' foremost attacking outlet, has become a complete winger, while Van Dijk has maintained his effortless benchmark (so effortlessly, in fact, that it lends itself to underappreciation).
Both have been magnificent - of course they have - but neither have shone quite as bright as Kevin de Bruyne, who has strung together his finest individual season yet.
The Belgian has consolidated his status as the best creative midfield player in world football. And you could easily drop 'creative' from that sentence.
Having scored eight and made 16, he leads the league for direct goal contributions. If the season gets back underway, he will not only beat, but cruise past Thierry Henry's record of 20 assists.
His vision, and his execution, are the centrepieces of his accumulating legend.
Whatever your colours, it is hard to dispute the fact that De Bruyne is a privilege to watch.
And yet, he has not been able to haul Manchester City out of their overarching malaise. At times this season, his team have sorely needed a talisman.
Does his case fall here relative to Henderson?
Gary Lineker captured the essential difference on Match of the Day's Top 10 podcast. The debate was different - identifying the greatest European import in Premier League history - but the principles extend.
He did not believe the very best players were the 'winners' or the 'warriors', those who were 'up and down' the pitch and led by example, even if they were worthy of great respect.
Instead, he sided with 'gifted, joyous individuals'. After all, he protested, 'football is about bringing joy'.
The paradox around Liverpool
Ultimately, your preference, like the voting players' preferences, depend upon the qualities you value most.
But here is the key detail in this discussion. For all their world-class talent - and there is plenty - this Liverpool team will be remembered as an almighty collective.
A shower of individual trophies would certainly be merited, but it should not be seen as obligatory simply because of the squad's achievements.
All season, their players have seemed anything but preoccupied with such recognition. Who could scorn that humility after they have displayed the strength of their team ethic time and again?
So whether Henderson is victorious or not, Reds fans should look to the PFA Team of the Year as the shrine to their unique greatness.