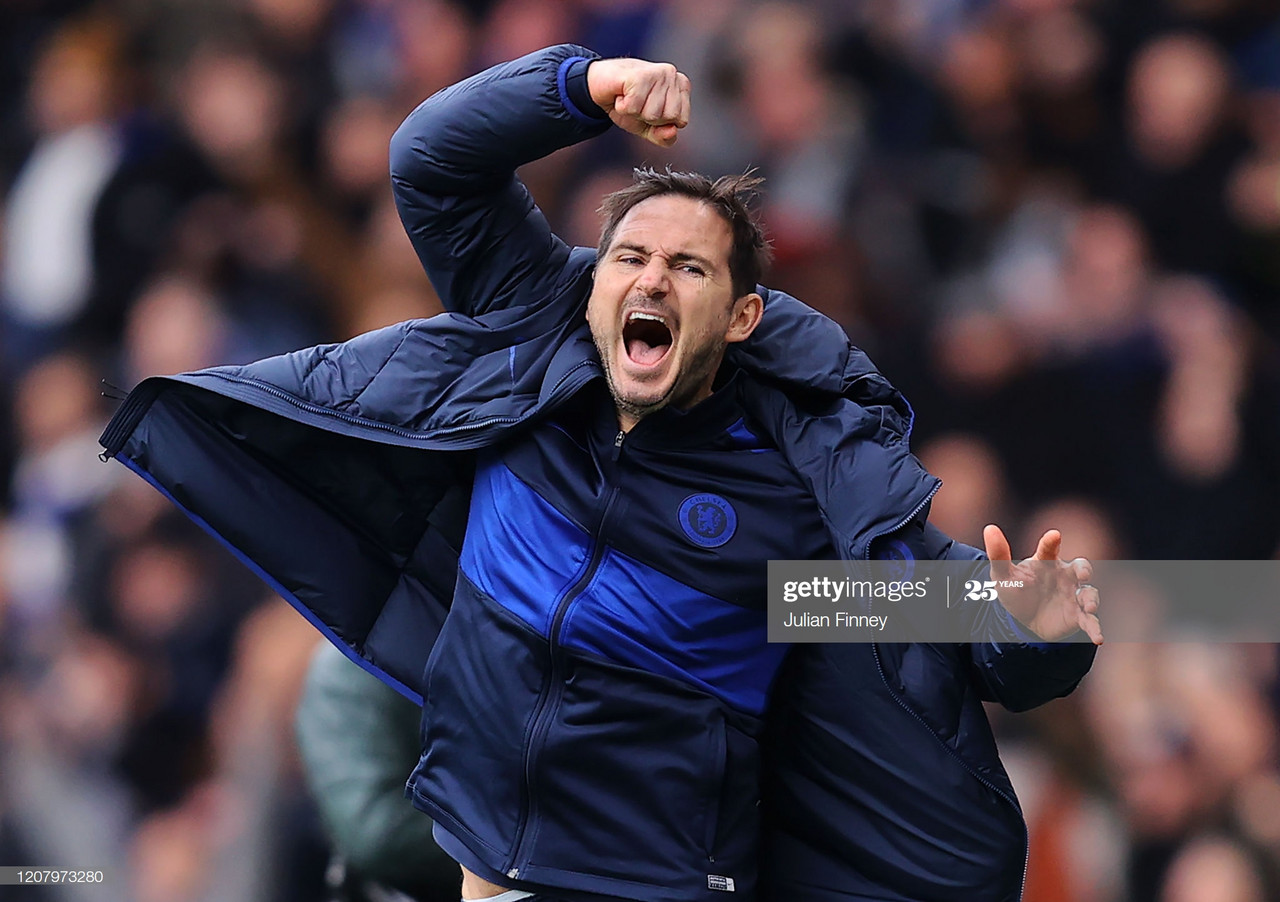 Frank Lampard says he is keeping an eye on the contract situation in the Premier League as it directly affects some members of his Chelsea squad.
With the resumption of English football still up in the air amid the Coronavirus pandemic, one major concern for clubs has been how the expiration of contracts would be handled.
The Football Association announced last week that clubs "unanimously agreed to be allowed to enter into short-term contract extensions with players whose deals are due to expire on 30 June of this year."
This agreement needs to be mutual between player and club, with the deadline to agree an extension set at June 23rd.
"It's going to have to be something we look at"
Longtime servants Willian and Pedro both out of contract next month, with no deal for an extension reached as of yet and Lampard told the Chelsea website about the great concern he has regarding the situation.
"We have big players in that position so that's obviously something I'm looking at very carefully," the blues legend said.
"The ones out of contract here have been great servants for the club and actually have a lot of feeling for the club, but of course they will be concerned about themselves in terms of how they are now, and if pre-season is rushed they'll want to make sure they're alright.
"So it's going to have to be something we look at.
"Hopefully we can have that arrangement so they can stay with us because if we play again I would love the squad to look as it's looked all season, but we'll have to see how that works."
"Our job from the coaching side is to make sure we're careful with the players"
No date has been set for the resumption of the Premier League season, but efforts are being made ahead of the players' return to training.
"We're starting to plan," Lampard continued.
"We're still waiting on a few things but we know there's a vote on Monday and there is some testing that will be done around that, and then we're looking at being back to training early to the middle of next week."
"It's been a job for us as staff to plan how phase one will look because it will be quite different due to the restrictions on how we can work.
"It's good for the players because they will be wanting to get back training in the right conditions; we know it's difficult circumstances for everyone so it's going to be a challenge to make sure that we get it right.
"We're only allowed a certain number of people at the training ground.
"We're very fortunate that we have a huge complex at Cobham, but it will be minimal numbers of staff which means we won't be able to work with the players like normal.
"Our job from the coaching side is to make sure we're careful with the players.
"It will be a small step progression from what they've been doing already: they've been working individually, some of them at the training ground, some of them near their homes, and we'll have a lot of care to make sure that we take our time and start slow and make sure we get it right.
"Health and safety is the main thing, but we also have to think about the condition of the players in terms of injury and how we can try to move forward when we don't really know the date of our next game.
"The first steps will have to be very careful but all managers will be thinking a similar thing."
"We need to know the players are comfortable"
Players like Newcastle's Danny Rose been outspoken in their opposition to football's return during such a time of crisis and the subject has been quite divisive within the football community.
Lampard knows his players better than most and knows he eager they are to get back on the pitch, but stresses the importance of empathy with his their feelings.
"I know they are good lads, their intentions and feelings for their family are good," he stated.
"They want to get in to work, they can't wait to get back and play football so the important part of my job at the moment is showing empathy towards them.
"You can't just tell them we're going in this direction because this is something that's affected everyone and their families.
"Football has been put in its place.
"Everyone wants to get back playing, we all miss it, but we need to know the players are comfortable.
"The players have been out for nine or 10 weeks, the first two weeks we were in self-isolation and they couldn't leave their houses, that's not normal for a footballer, so we have to make sure we get that right."