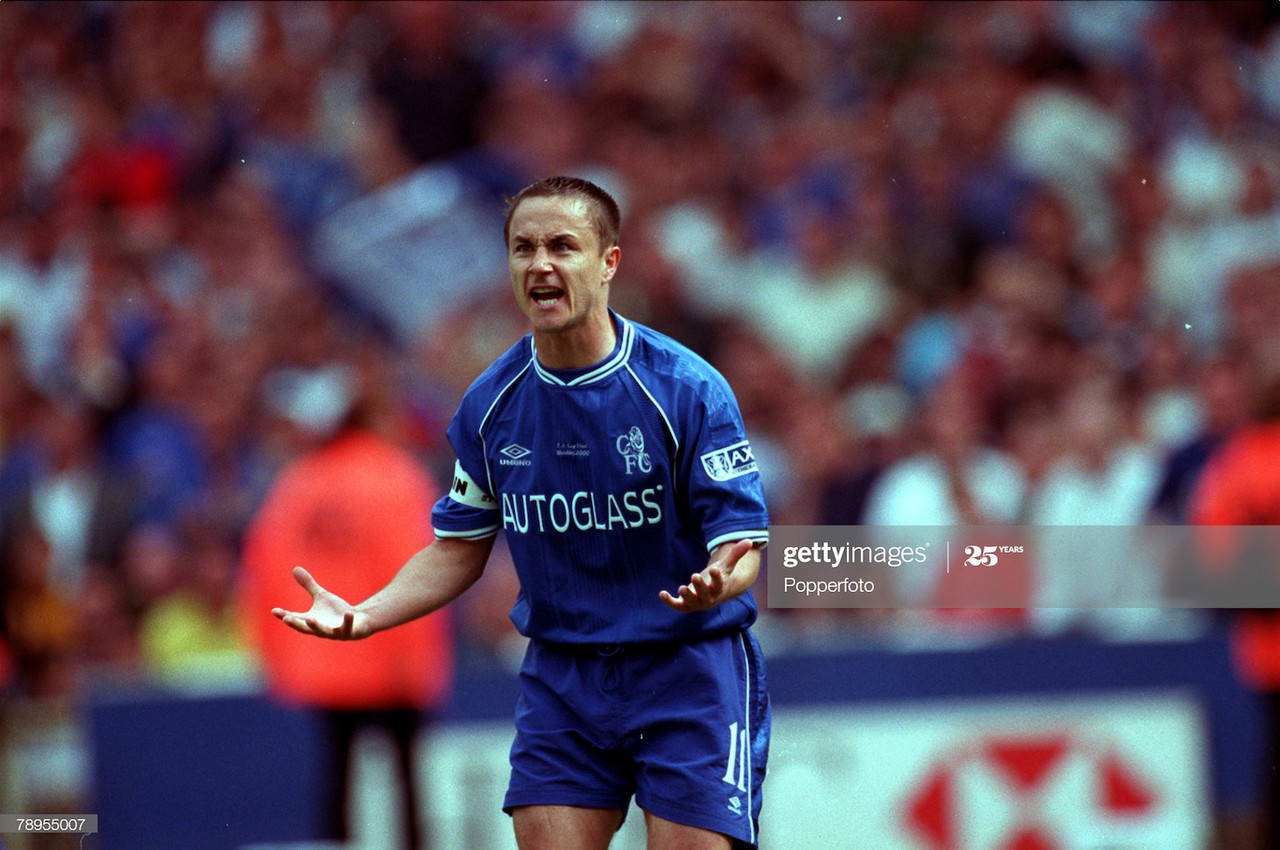 Dennis Wise: The Autobiography charts the midfielder's fantastic career.
One passage in particular reflects on a wager between Wise and Manchester United forward Eric Cantona in the 1994 FA Cup final.
During his 11 years at Chelsea, Wise won two FA Cups, a UEFA Super Cup, a European Cup Winners' Cup and a Community Shield, but his first final after moving to West London could not have gone worse.
"Being the perennial under-achievers of London football"
Wise joined a Blues side that had just completed their first season back in the top flight in 1990 and had gone without a trophy for 20 years.
"For a start the stadium needed a complete revamp," his excerpts read, courtesy of the Chelsea website.
"Before, it was like one of those huge concrete bowls of a stadium that you still see in Eastern Europe, not at all intimidating, not to the smaller clubs anyway.
"For the glamour teams there wasn't too much of a problem either.
"Chelsea have always had the image and reputation of a big club.
"At one time they were known as the glamour club of London.
"But since the early Seventies they had the problem of being the perennial under-achievers of London football.
"They never won anything; it was as simple as that.
"I hoped to play my part in changing that."
"Let's have a bet. I bet you miss"
It was during Glenn Hoddle's first season in charge that the Blues reached their first FA Cup final in almost a quarter of a century.
It was an afternoon to forgot for Wise who captained the side to their highest ever cup final defeat and lost £100 in a bet with Cantona.
"We were thumped 4-0, slaughtered on a miserable afternoon on which the rain never stopped," he recalls.
In reference to his bet, Wise explains: "I had used the tactic before when Tony Cottee was about to take a penalty for Everton.
"As he stood waiting to take it I said, "I bet you a fiver you miss."
"He just said, "Leave me alone."
"Whether it affected him or not I don't know, but I do know that he missed.
"Having succeeded once, I thought I would try it again with Cantona.
"Come on," I said, "let's have a bet. I bet you miss."
I was a bit taken aback when he said, "Okay, £100." I was thinking more in terms of another fiver but I still agreed. He scored.
"Later in the game United got another penalty.
"This time he came up to me and said, "Hey, double or quits on the £100?" "No chance," I said.
"And, of course, he put that one away too."
"I went into the crowd and pulled out a kid of about 10"
Chelsea had to wait three years for another crack at the cup where they took on Middlesbrough​​​​​​​.
Roberto Di Matteo's early goal set the Blues on their way to a comfortable 2-0 victory and a first major trophy since 1970.
"On the day of the final I had this wonderful feeling that we were going to win, that a trophy was coming to Chelsea for the first time in a quarter of a century," writes Wise.
"It took just 43 seconds for us to know it was our cup.
"The early goal from Roberto Di Matteo just about killed Middlesbrough off.
"With four minutes to go Eddie Newton got the second and that was it.
"At the final whistle it was pure elation, everything flashed through my mind – the noise, the crowd, the colour.
"As I was going round with the cup, I went into the crowd and pulled out a kid of about 10.
"His dad couldn't believe it but the kid had his full Chelsea kit on and I wanted him to know what the pitch was like, what it is like to be among winners in the team he supported.
"Not only had we won the FA Cup, we sensed there were better things ahead.
"After all those years of frustration, Chelsea were winners again and I knew, deep down, that this was just the start of something, not the end.
"Better things were coming. I just knew it."
​​​​​​​