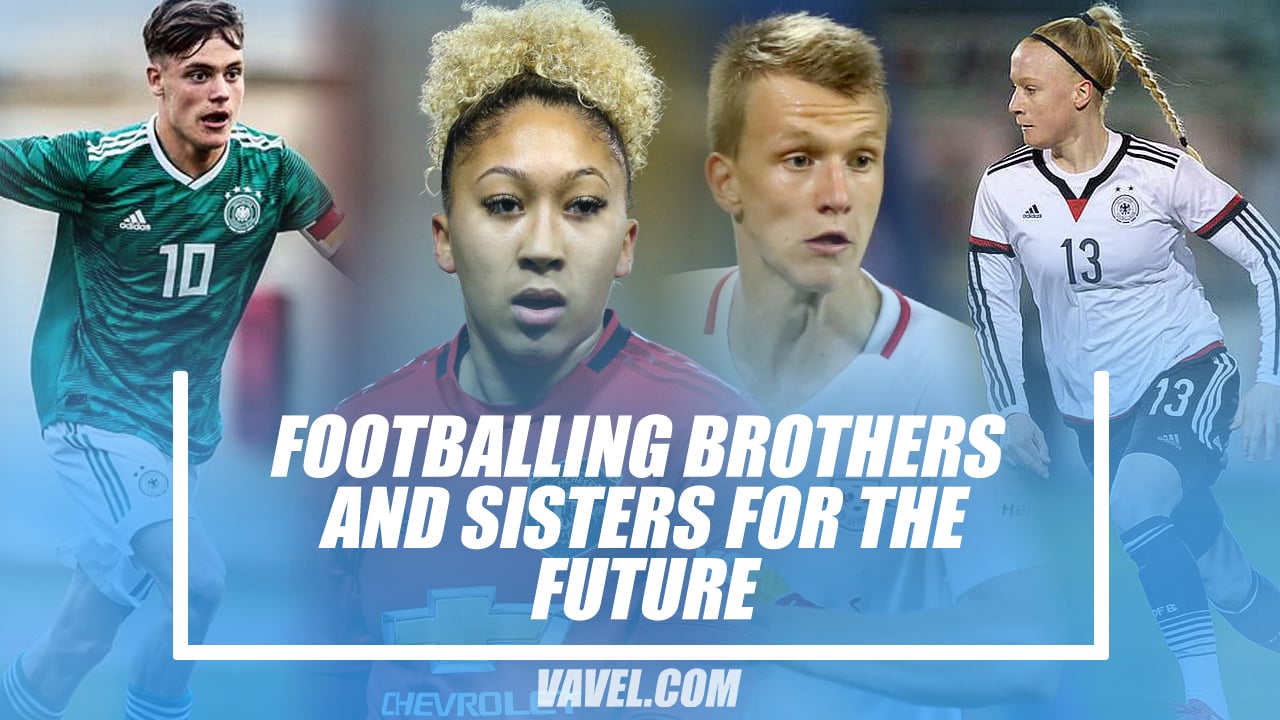 Throughout the years, there have been many relatives in the footballing world that have risen to stardom.
There are many families coming through the ranks at the minute who could be destined for fame. Many of these reach across both the men's and women's games. Here's a look at the top five footballing brothers and sisters for the future:
1. Reece and Lauren James
Both some of England's most talented players for the future, Reece and Lauren James are regularly ranked amongst the best young players in the nation.
Reece joined Wigan Athletic in the 2018/19 season and performed very well with the Latics. A fast right-back, he was crowned player of the year at the Lancastrian club's awards and was selected in the EFL Championship Team of the Season.
In the 2019/20 season, he has featured more regularly for Frank Lampard's Chelsea, becoming their youngest-ever Champions League goalscorer when he scored the fourth goal in a 4-4 comeback against Ajax. He has also played in many of England's youth teams.
The younger of the two, Lauren is one of the greatest talents not just in the English game, but in world women's football. She made her debut with Arsenal at the age of 16, before joining a newly-formed Manchester United side in the Championship in 2018/19.
She has featured extensively for two seasons under Casey Stoney's stewardship, scoring the Reds' first-ever WSL goal at the age of 17 in a 2-0 win over Liverpool. A strong goalscoring forward who had impressed in her first Super League season, she was crowned The Athletic's Women's Young Player of the Year for the 2019/20 season.
Lauren has also played a number of games for England's youth sides, and there have been calls for her to have the chance to play in the Lionesses' senior team.
2. Florian and Juliane Wirtz
After starting for Bayer Leverkusen in their 4-1 victory against Werder Bremen in the first week of the German football's return, Florian Wirtz became the youngest-ever Bundesliga starter for Leverkusen.
The 17-year-old winger is also the second-youngest player to have ever played in the Bundesliga and performed well on Monday night, playing a full ninety minutes. He has played in Germany's U15, U16 and U17 sides at national level.
Florian has followed the same paths in terms of clubs that his older sister, Juliane, has. They both started their careers as youth players at Grün-Weiß Brauweiler before a move to 1. FC Köln and eventually their current club, Bayer Leverkusen.
A central-defender, Juliane made her debut in the Frauen Bundesliga for Koln in 2018, at the age of 17, before a move to Leverkusen. In this season's top-flight, she is the only player to have started in each of Bayer's 16 matches.
She has also featured extensively in Germany's youth national teams, her first tournament game for the U19 side in a 5-0 win against Belgium at the 2019 European Championships in which Germany picked up a silver medal - losing to France in the final.
3. Millie and Jake Turner
23, Millie Turner joined Manchester United from Bristol City in 2018 when the reds announced they would be creating a women's side. She won promotion to the Women's Super League with Casey Stoney's side in her first season at the club and has impressed in defence for United in their first season playing in the top flight of women's football in England.
Younger brother and Goalkeeper Jake joined Newcastle United in 2019 from Bolton Wanderers on a free transfer. Jake is the main goalkeeper for Newcastle's U23 side in the Premier League 2. He has featured in 13 youth league games this season and had also played a few times in the EFL Trophy, although they lost in both.
4. Yannick and Anna Gerhardt
Similarly to Florian and Juliane Wirtz, the two Gerhardts both came through similar footballing roots.
From Aachen in Nordrhein-Westfalia, they both started their footballing careers at 1.FC Köln's youth academy before each going on to feature for the senior side. However, in 2016, they both went their separate ways, Yannick heading north to VfL Wolfsburg, and Anna south to FC Bayern München.
Yannick has become a mainstay in Wolfsburg, featuring 106 games for the Wolves since he joined, scoring seven and assisting eleven times in his four seasons. He has played for a number of Germany youth sides.
Anna, 22, currently plays for 1. FFC Turbine Potsdam in the Frauen Bundesliga, joining them from Bayern Munich in 2019. A central defender, she has appeared in twelve league games this season, a member of the starting eleven in each of those. She will return to league football when they face SC Freiburg when the Frauen Bundesliga returns.
She has also featured for a number of sides in Germany's youth setup, from Under 15 up to Under 20.
5. Lukas and Lisa Klostermann
Despite only being 23, right-back Lukas Klostermann has quickly risen to the top level of German football. Starting his career through VfL Bochum's youth setup, he captained the U17 and U19 sides and made his first-team debut at the age of 18.
Lukas departed Bochum in 2014 to join controversial newcomers RB Leipzig. He has come through the divisions with them, working his way up with die Roten Bullen to the Bundesliga. He has played 120 times for the side from the east, scoring ten times. He has also featured extensively for Germany, not only in youth setups but in the Olympics and latterly with the senior team.
The younger of the two, goalkeeper Lisa Klostermann is currently playing for SGS Essen in the Frauen Bundesliga. Only 20, as often ends up being the case with goalkeepers, she has not featured much with Essen since she joined from MSV Duisburg in 2017. She has won the U17 and U18 German national cups with the Westphalia football association team.