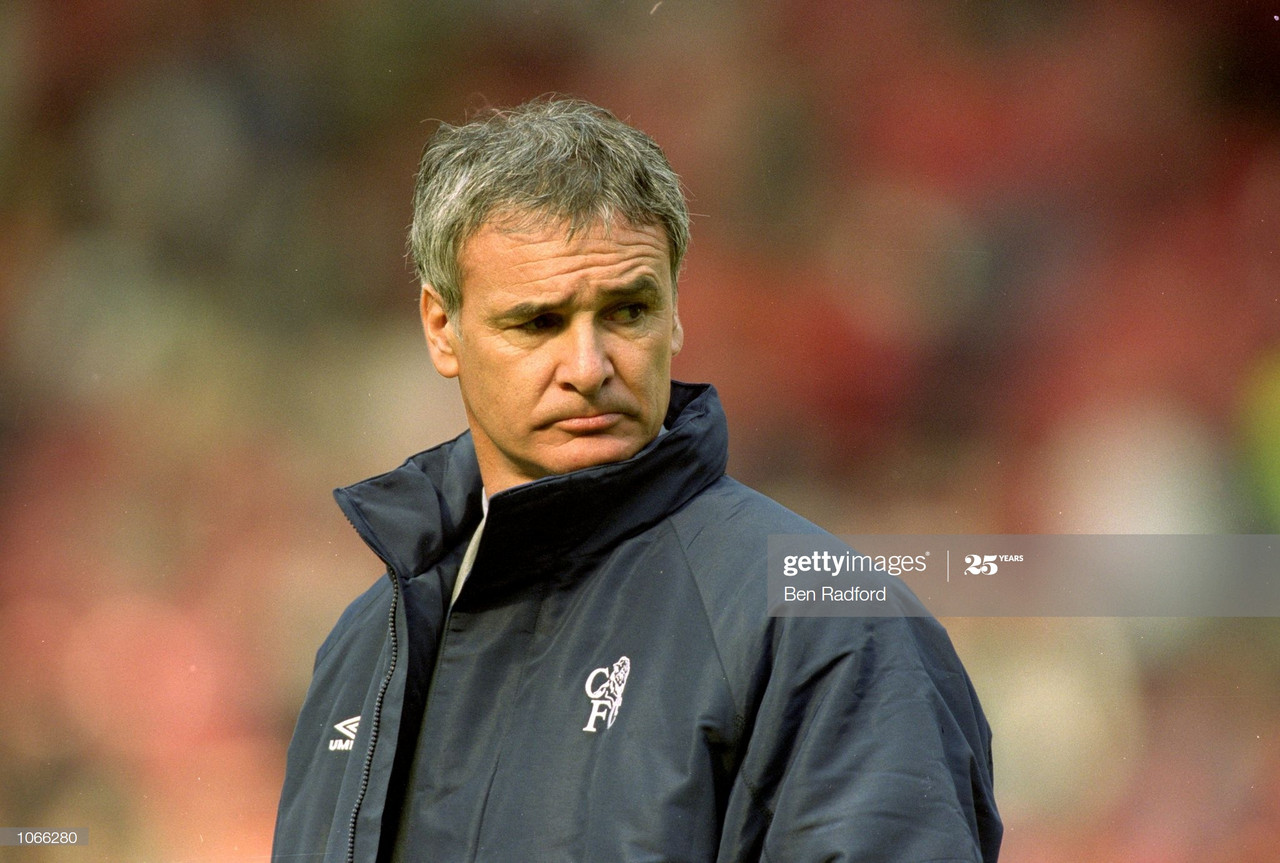 There a very few secrets left in football. Under the magnifying glass of social media, any negotiation is uncovered, all transfers are exposed, every tactical tweak solved, mind games decoded, managerial mistakes explained.
London usually acts as the grand stage for this sporting spy novel: rival intelligence services squabble over control of the city, boasting the latest gadgets as they try to out gun one another from behind the camouflage of past glories. In the end, one sector prevails as the organisation with the blue prints to unlock ultimate power upon the capital, whether that be by cryptic defence or classified attack, masterminded by the games great managers.
Ever since an influx of Russian money, Chelsea's success has been unrivalled in the war of superiority. 19 trophies have been locked into the vaults of Stamford Bridge since Roman Abramovich's arrival on English shores, however this domination was not always presented on a silver platter. Before their purple patch, the Blues struggled under a Tinkering Italian and his underwhelming four-year tenure in charge.
Chelsea compromised by Claudio's changes
At the turn of the millennium, Chelsea off their own fireworks by hiring Claudio Ranieri as their new commander and chief before the 2000/01 campaign burst into action. His fellow countryman, Gianluca Vialli, went out the revolving door, despite winning five trophies since his appointment in 1998, including the Charity Shield just a month before Ranieri was deployed.
Change would become a staple of his stint in West London, donning the Tinkerman code name during his second season. His first modification would be to replace previous top scorer Tore Andre Flo with the forward duo of Jimmy Floyd Hasselbaink and Eiður Guðjohnsen.
Instant impact was not expected and although sixth place in the Premier League may be underwhelming for the modern-day spectator, Chelsea did earn UEFA qualification by compromising Manchester City on the final day, alongside the promotion of John Terry into the senior ranks.
Chapter two read very much from the same script; another sixth-place finish, the old guard traded in for a younger, fresher model, parting ways with Dennis Wise, Gus Poyet and Frank Lebouef and welcoming Frank Lampard, Emmanuel Petit, Boudewijn Zenden, plus defender William Gallas.
An espionage into the League Cup would be halted by Tottenham Hotspurs in the semis, further injury added by defeat to Arsenal in the FA Cup and European exit at the hands of Hapoel Tel Aviv. However, Ranieri's cover had not yet been blown as the home fans began to warm to his approach, praise particularly placed on the marksmanship of his two signings, Hasselbaink and Guðjohnsen, who scored 52 goals between them across all competitions.
His 'Tinker' title was awarded in his third term, 18 of his squad making 10+ appearances as his tried but not quite trusted methods squeezed Chelsea into fourth position, pipping Liverpool on the final day by defeating the Reds at the Bridge. Instrumental to their operations was veteran midfielder, Gianfranco Zola, who even at 36 years of age conducted play, finishing as top scorer and rightly named the clubs Player of the Year. Nevertheless, a shock defeat to minnows Viking Stavanger in the UEFA Cup began to cast doubts over the tinkering taking place.
Ironically, his final campaign in charge would arguably be Ranieri's most productive. Second spot would be the highest Blues finish since 1976/77, matched only by the enigma of Arsene Wegner's 'Invincibles'. The Gunners would be infiltrated by Chelsea in the Champions League, going through to the semi-finals after a pulsating 3-2 aggregate win ending at Highbury. Over £100 million worth of players would also be purchased, many of which crucial to the future of the club, its list including: Claude Makelele, Joe Cole, Damien Duff, Wayne Bridge and Hernan Crespo.
Fifth round exits in both cups, plus the loss to AS Monaco in the penultimate round of European fixtures, would ultimately call time on the Tinkerman as he passed over the codes to one Jose Mourinho, and the rest is history.
Dutch dispute
Although so much was altered over the course of Ranieri's reign, one man became prominent throughout: his unforgettable name would be recognised alongside his distinctive scoring record as Jimmy Floyd Hasselbaink became the Blues striking officer.
Across four years, the Dutchman scored 88 goals in 177 appearances, averaging nearly a goal every two games and can only be regarded as bargain piece of business after being bought from Athletico Madrid for £15 million, then a club record signing.
He also scored the first goal of the Ranieri era in a 4-2 win over West Ham, after opening the scoring in the closing of Vialli's, the 2-0 Charity Shield victory over Manchester United. In that campaign, Hasselbaink would net 26 goals, 13 more than his nearest team mate.
That would have been Eiður Guðjohnsen, who instead of brewing on this disparity in goals tally, formed a formidable forward line with Hasselbaink in 2001/02, scoring 23 and 29 goals respectively, yet this still was not enough to propel Chelsea into the top four.
Despite his impressive form, Hasselbaink's relationship with his manager was difficult, the striker disagreeing on the tactics and tinkering that the Italian put into place, at the time telling Sky Sports, "I was in and out of the team, which did not help me at all,' and I think it tested my relationship with Mr Ranieri."
Now, in an article published by Football London, the 48-year-old's views had not differed from those voiced two decades ago.
"Those four years under him were difficult. We had a better team than the table showed and should have finished higher. He's a good man and I don't think anyone disliked him as a person – he just had some ideas that didn't work."
"We never knew which system we were playing. Even if we trained on the Friday using one system, the next morning he might have changed it to something else."
Perhaps his most infamous tinker tale was that from the first leg in Monaco. After going behind then levelling through Hernan Crespo, Ranieri brought off winger Jesper Gronkjaer for central midfield Juan Sebastian Veron at half time, disbalancing the team and thus handing the initiative to the French.
Briefly, the hosts seemed to throw their chance away following Zikos' red card, yet the removal of Scott Parker for Robert Huth and Mario Melchiot for Hasselbaink unhinged Chelsea as Monaco snatched two goals to set up a hard task in the reverse fixture, which the Blues could not overcome.
Thrown in at the deep end with 30 minutes off tie of great significance was exactly the example Hasselbaink was alluding too, continuing to say, "He believed that everyone should be able to adapt, and that it's a weapon to switch formation. But he'd do it four or five times in a game and it confused us."
To his defence, Ranieri never looked to dislodge the Dutchman as his main striker, despite the boards backing or a dip into Abramovich's treasure chest; Mourinho would be the man to swiftly move him after his anointment, selling him to Charlton, where his first Addicts goal would be rewarded with a standing ovation at Stamford Bridge.
"Back then I was in his good books because I was scoring lots of goals and he didn't have the money to replace me," he admitted, concluding his indifferent perspective on his personally prosperous period with the Blues.
Credit for Claudio
Zero trophies, one final reached, numerous cups exit and a budget to blow the mind, it wouldn't be unfair to deem Ranieri's spell as chequered one.
However, his contribution to the future of Chelsea and the powerhouse that walks before us should not be underestimated. In fact, it should be celebrated, as he paved the path for one of the Premier Leagues most iconic sides.
Had the Blues reached that Champions League final in Ranieri's farewell show, they would have met his successor and their imminent boss to be. It would have been the perfect experiment for Mourinho to assess the project he was about to embark on, yet the 'Special One' had enough material to start something special indeed.
His legendary double winning team had been bulked by the likes of Petr Cech, Ricardo Carvalho and Didier Drogba, yet half the spine had already been born under Ranieri; Terry, Makelele and especially Lampard had fantastic campaigns under the Portuguese as they stormed the league in unbreakable fashion, granted their position by their former instructor.
Duff, Cole, Gallas and Gudjohnsen, all acquired by Ranieri, were also massive to Mourinho's makeover, the latter making the second highest appearances (58) and scoring the second highest amount of goals (16).
Scroll even deeper along the timeline and you will reach Antonio Conte's impressive maiden campaign with Chelsea in 2016/17, another to win the league at the first attempt and a pioneer of the now fashionable 3-4-3 formation. And who was the original wielder of such a setup? Ranieri of course, admittedly with much graver reviews, but an admirer of the wing backs nonetheless. And which team was Conte coming to knock from the top of the table? Ranieri's Leicester City of course, who in the previous campaign achieved the unthinkable by winning the league against the 5000/1 odds.
His trophy cabinet shows no comparison to his predecessor, his results not quite to the remarkable standard, yet Ranieri began the life cycle that Chelsea are lavishing in now and the Blues should be grateful for his efforts, as invisible as they may seem at first.